Hakodate Sightseeing Guide - Transportation, Areas and Souvenirs
A guide to the fascinating city of Hakodate, Hokkaido, with information on public transport, sightseeing destinations, and popular local souvenirs.
Where Is Hakodate?
Photo provided by: Hakodate Tourism Bureau
The city of Hakodate is located on the southern tip of Hokkaido, and occupies approximately the same latitude as the Chinese city of Shenyang and the American cities of Chicago and New York.
Hakodate opened its ports in 1859 and was one of the quickest cities in Japan to welcome Western culture.
Thanks to a beautiful townscape that retains churches and other Western architecture, delicious food, famous products and many other appealing features, it ranks first in surveys about the most charming cities in Hokkaido.
Getting To Hakodate From Tokyo
From Haneda Airport
It takes 1 hour and 20 minutes to fly to Hakodate from Haneda Airport. From Hakodate Airport to Hakodate Station, you will need to take a bus and that will take 20 minutes. 1 bus to the station comes every 20-30 minutes. By including the time it takes to disembark, catch the bus and arrive at the station, it takes roughly 2 hours in total to travel by plane from Haneda to Hakodate.
From Tokyo Station
Taking the Shinkansen and then switching to a conventional train line will mean that your total expected travel time will be about 5 hours, give or take a few minutes.
Route: Tokyo Station (JR Shinkansen Hayabusa) to Hakodate Hokuto Station (JR Rapid Hakodate Liner) to Hakodate Station
We suggest reserving the Japan Rail Pass to get to Hakodate from Tokyo to save money on transportation. Click here to see options and reserve yours in advance.
From Sapporo To Hakodate
Via Train
It's a straight shot from Sapporo to Hakodate, and the trip takes three hours and 40 minutes.
Route: Sapporo Station (JR Limited Super Hokuto) to Hakodate Station (no transfers)
Transportation Within Hakodate City
City tram routes service the major sightseeing spots in Hakodate City. The city's neighborhoods are small in scale, so they're perfect for tourists on foot, and the streets are set up in an easy-to-understand grid.
A Hakodate Area Guide
From here, we'll introduce the major sightseeing locations for visitors to Hakodate: Motomachi, the bay area, Yunokawa Onsen and the airport.
Motomachi
Photo provided by Hakodate Tourism Bureau
The Motomachi area spreads out at the base of Mt. Hakodate.
Sightseeing areas dot the area stretching from Suehiro Station to Jujigai Station. Suehiro Station is a seven-minute walk from Hakodate Station, and Motomachi is 20 minutes away.
Motomachi scenery. Picture courtesy of Hakodate Tourism Bureau
Motomachi is an exotic area, with groups of churches and the beautiful scenery from the Hachimanzaka slope.
The view from the summit of Mt. Hakodate is called "the 100-million-dollar view." At night, visitors can catch a glimpse of the city glittering like a jewel box.
The night view from Mt. Hakodate Photo provided by: Hakodate Tourism Bureau
The Bay Area
Photo provided by: Hakodate Tourism Bureau
The bay area extends from the shores of Motomachi. Rows of red brick warehouses decorate the port, creating a beautiful landscape that fills the area.
Not just a pretty photo spot, the bay area also has shopping malls, beer halls and other fun places for visitors to enjoy.
Yunokawa Onsen And The Airport Area
Photo provided by: Hakodate Tourism Bureau
This area is home to Yunokawa Onsen, a longstanding hot spring resort, and centers around Hakodate Airport.
Yunokawa Onsen is 17 minutes away from Hakodate Airport by limousine bus. It is 15 minutes away from Hakodate Station by bus, and 30 minutes away by tram.
Photo provided by: Hakodate Tourism Bureau
At the Hakodate Tropical Botanical Garden, you can see monkeys relaxing in hot springs from December to early May.
Souvenirs From Hakodate
Photo provided by: Hakodate Tourism Bureau
Hakodate has long been a fishing port and a prosperous site for foreign trade. For that reason, seafood souvenirs and Western sweets are quite popular.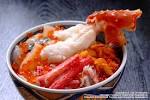 An exquisite seafood bowl Photo provided by: Hakodate Tourism Bureau
The most popular Western sweet is the cheese omelette cheesecake.
Photo provided by: Hakodate Tourism Bureau
Looking exactly like a soft-cooked omelet and with a texture to match, this super popular treat is made with only Hokkaido-sourced ingredients and zero preservatives.
Enjoy Cool And Delicious Hakodate!
What did you think? The city of Hakodate has a cool vibe and delicious food, so enjoy all the city has to offer!
The information presented in this article is based on the time it was written. Note that there may be changes in the merchandise, services, and prices that have occurred after this article was published. Please contact the facility or facilities in this article directly before visiting.