Cozy Kominka Cafes In Kamakura To Visit For Relaxing Teatime
Kamakura is home to everything traditionally Japanese, from temples to historic artifacts, to its cafes. This article suggests two kominka cafes, refurbished from classic Japanese houses. Enjoy a meal and beverage with the warm ambiance of these unique cafes ideal for relaxing.
Kamakura's Kominka Cafes - Have Teatime in a Traditional Japanese Home
Part of the charm of Kamakura, one of Japan's ancient capitals, is going to places where you can feel a friendly vibe of this quaint coastal town.
This warmth can be experienced at traditional-style homes ("kominka") that have been converted into cafes. Many of the buildings of these kominka cafes were built decades ago, with some dating back more than a century. As a result, these cafes feel much cozier compared to ordinary cafes in big cities.
Each cafe owner has a strong attachment to Kamakura and has carefully preserved the old building, so you can get a glimpse of the times and memories that once passed here.
In this article, we recommend three coffee shops in Kamakura great for relaxing after a long day.
1. Coffee Shop Minnka - A Cafe Run by Book-Loving Owner
Coffee Shop Minnka is just a five-minute walk from Kita-Kamakura Station, close to Enkakuji Temple.
When you reach the charming cafe, your eyes will be drawn to this sign:
tasty coffee
healthy herbal tea
simple meals
soil and flowers
antique books and papers
slow passage of time
Here, cafe-goers can sense time passing slowly by.
Thinking back, it may be difficult to recall the music, conversation, or sound of the train passing nearby. Only the sound of the steam escaping the boiling kettle comes to mind.
The cinnamon and ginger tea is sweetened with a scoop of brown sugar. You can leisurely enjoy lunch here as well.
This warm interior will make you want to finish a half-read book.

2. Mushinan - A Quiet Cafe Across the Enoshima Electric Railway Tracks
Mushinan is a must-visit for a number of reasons. Firstly, the cafe's location is more than perfect. It's located right in front of Wadazuka Station on the Enoshima Electric Railroad. It is merely a 10-second walk from the station.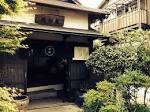 One glimpse at the exterior and you'll feel its inviting presence. It almost feels as if this kominka cafe is telling guests, "Welcome home!"
Only the soothing sound of the Enoshima Electric Railway can be heard from the cafe. The quietness allows you to concentrate and think about the little details.
Truly delicious "anmitsu"—a refreshing traditional confection consisting of red beans and cubes of agar agar (kanten)—is hard to find. However, the one served here is simple perfection
If you're in the mood to satisfy your sweet tooth, be sure to make a stop at this cafe.

3. Osaragi Saro - A Literary Haunt Cafe with 1,500 Yen Coffee (Closed as of August 12, 2019)
Please note Osaragi Saro closed for business on August 12, 2019. You can no longer visit this cafe.
Osaragi Saro is a unique cafe not far from Tsurugaoka Hachimangu Shrine. As you get closer to this kominka cafe, you'll find yourself under the illusion of being transported back through time.
This cafe originally was the second home of the popular Showa Era writer Jiro Osaragi, who was very fond of Kamakura. The Japanese interior company IDÉE converted this old Japanese home built in 1919 to the coffee shop. A cup of coffee here will cost you 1,500 yen, but don't let that dissuade you from entering the cafe.
While this cafe is expensive, this place is just too good to pass by. Adorned in seasonal flowers, the comfortable silence of this space will allow you to tap into Kamakura's serene vibe. You'll probably feel the urge to bring your parents or close friends to spend some quality time with your loved ones.
*Prices differ between the indoor and garden seats. For more details, please visit the Osaragi Saro Official Homepage (Japanese).
Relax at Cozy Kominka Cafes in Kamakura
Kamakura is home to several unique and charming kominka cafes that are great for unwinding after a day of sightseeing or visiting temples. These cafes are located in lesser-known areas and may be difficult to get to, such as only operating on weekends, or requiring transfers to local train lines. However, these factors won't pose a problem once you become a fan of these unique places that offer cafe-goers a taste of the nostalgic ambiance.

These traditional-style cafes will help you take a step back from the busy pace of everyday life to enjoy the things that truly matter.

Once you've found your favorite cafe, Kamakura will surely become a beloved town to you. Good luck on discovering your one-and-only coffee shop in this welcoming coastal town.

The information presented in this article is based on the time it was written. Note that there may be changes in the merchandise, services, and prices that have occurred after this article was published. Please contact the facility or facilities in this article directly before visiting.