Shopping In Japan - Where To Find Electronics, Cosmetics and Fashion!
Shopping in Japan doesn't have to be stressful! Follow our guide to finding and buying electronics, fashion goods, souvenirs, cosmetics and other products you might want to find in Japan.
Shopping Spots in Japan
Going shopping while on holiday in a foreign country is one of the greatest pleasures of traveling abroad. In Tokyo, shoppers can find everything in terms of food, apparel, and interior decoration at department stores, and those who find themselves sightseeing in more suburban areas can answer all their fashion needs at fashion buildings that contain a multitude of different clothing shops.
At shopping malls you can find not only movie theaters and art museums, but a plethora of other charming shops offering films, music, and all sorts of other entertainment. In Tokyo, you can also find specialty shops that are tailored towards offering lifestyle goods, electronics emporiums specializing in electrical appliances, and more. This article will introduce a number of different shopping spots that will let you find exactly what you're looking for during your trip to Japan.
Department Stores
Department stores have enjoyed a long history and tradition in Japan and are still beloved by the Japanese today. Department stores lining the streets in shopping districts offer goods from apparel to food to interior decoration and furniture. Offering reasonably priced goods with Japanese design sensibilities to the biggest name brands, these stores offer products to shoppers in every price range.
If you make your way underground, you'll find fresh fish markets and grocery stores, these types of underground stores known as "Depachika" (the basement floor of department Stores, where usually food items are sold), full of food and drink for busy housewives looking to buy groceries on the way home or for visitors looking for Japanese sweets. For more information, check out Matcha's article on Depachika.
Perhaps the most famous department stores in the country include Mitsukoshi Isetan, founded in 1673, Takashimaya, founded in 1803 in Kyoto, and Matsuya, which was founded in 1863 as a textile dealer. These large scale department stores have in recent years begun offering duty free services for tourists. Here, customers will not only find the highest quality goods but also enjoy a luxurious atmosphere that is uniquely Japanese and should not be missed by anyone coming to Japan for even a short time.
Fashion Buildings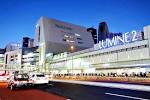 Fashion buildings, which can be found near large hub train stations and shopping districts, have become popular places for young men and women looking for the latest trends. Compared to luxury brands, the clothing stores one can find in these fashion buildings offer apparel at reasonable prices. Fashion buildings you can find throughout the whole country include Lumine, Marui, and Parco.
Shopping Malls
Offering not just fashion, shopping malls in Japan are also host to a range of restaurants and other entertainment venues. Japanese shopping malls offer all sorts of fun places to visit for the whole family.
Popular shopping malls in Tokyo house museums, viewing terraces, and movie theaters, examples of such being "Roppongi Hills", the more fashion and stylish café-oriented "Omotesando Hills", and "Ebisu Garden Place" that houses an art museum and a hotel. The perfect place to spend the day, make sure to check these shopping malls out if you are looking to get some souvenirs or catch a flick.
Outlet Malls
Offering top quality brands at low prices, outlet malls offer a shopping experience for those on a budget. As many of these outlet malls are located outside of town centers, it's best to get your route planned out before venturing out for a day of shopping. Popular outlet malls within Tokyo proper include Venus Fort Odaiba, offering lots of brands big with young ladies; and LaLaport Kisarazu which can be accessed directly by bus from Tokyo and Shinagawa stations. The large interiors of these malls offer a great, relaxed shopping atmosphere.
Specialty Shops
Tokyu Hands and Loft are two of the biggest names when it comes to specialty shops tailored to providing lifestyle goods where people of all ages come to shop. Offering kitchen goods, cosmetics, fun nick-nacks and all sorts of other items, there's a good chance Tokyu Hands will have what you're looking for. As many of these stores also offer duty free services nowadays, you'll often run into plenty of other tourists there.
At the apparel store Uniqlo, known the world-round, you can find simple, high quality clothing at reasonable prices. You'll find stores like these scattered throughout shopping districts and in train stations, so if you're looking to get Japanese souvenirs or rare health products, then check out Tokyu Hands, Loft, and Uniqlo.
Electronics Emporiums
Known for being high-tech, quality goods, Japanese electronics can be found in every corner of the globe. BIG CAMERA and Yamada Denki are just two examples of large electronics stores in Japan that offer a wide variety of high quality Japanese electronics.
Also, one more point about stores like this is that haggling is not out of the question! Try chatting up (and negociate the price with) employees to find a product that's just right for you. However, if you're buying home appliances, make sure you don't forget to look into the voltage and plug type of the product you'd like to buy lest you can't use it once you get back home.
When Are Sales?
The big 'Sale' time of the year for Japan is when shops lower their prices below the norm for a period. This is especially prevalent in Japan in January during the new year sales, as well as during summer sales held in July and August where all sorts of different goods go on sale. As you'd expect, these sales are popular with consumers, so there will likely be lots of customers around these times during the year, but if you happen to be in Japan around these times, drop by stores and see if you can't pick up something you're looking for on the cheap.

If you know where to go to find what you're looking for, you will find that shopping in Japan can be a breeze! And, if there's a particular sightseeing place that you'd like to visit, why not take a look for the shops we've mentioned here to get the most out of your trip?

The information presented in this article is based on the time it was written. Note that there may be changes in the merchandise, services, and prices that have occurred after this article was published. Please contact the facility or facilities in this article directly before visiting.