Shimokitazawa's New York Joe Exchange - Vintage Fashion Standing Out
Today we head to Shimokitazawa, the heart of Tokyo's niche youth culture, to find out more about New York Joe Exchange, a vintage shop that truly stands out in a city known for its secondhand shops.
What Kind of Place is Shimokitazawa?
Shimokitazawa is home to one of the many subcultures found in Tokyo. Full of live houses, beauty salons, and various stores selling fashionable clothes and charming interior goods, Shimokitazawa is where you will find many musicians and artistic people coming and going. Practically every fashion style imaginable can be found here, from rock to ethnic/free trade to street style all worn by the many different people walking about the station.
It is because of this diversity of fashion that so many people come to this station; and in many cases, the sources of their styles come from the many secondhand or vintage clothes shops found here.
What Sort of Shop is NEW YORK JOE EXCHANGE?
Today we would like to introduce a secondhand store that stands out from the others, NEW YORK JOE EXCHANGE. Popular with young and old, men and women, NEW YORK JOE EXCHANGE is visited by dozens of people every day.
In fact, for fans of this sort of fashion, there are very few people across Japan who haven't heard of NEW YORK JOE EXCHANGE - and now there are two locations, the first in Shimokitazawa, and the second located in Kichijoji.
Amazing Points about NEW YORK JOE
1. Built in a Former Bathhouse
The Shimokitazawa shop was actually built within what was once a public bathhouse. When you visit the shop, take a look at the floor; you can still see traces of the old bathhouse inside, such as the areas of tiled floor. And, if you look closely at the mannekin's feet in the upper central portion of the photo, you will notice that there are blue and red-edged tiles. These were the original divisions of the men's and women's baths. This division is still being used in the current shop, although now it marks the border between men's and women's vintage fashion.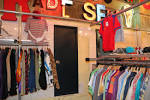 These doors too are traces of the old bathhouse; they may once have been passageways to the backrooms of the shop.
2. Trade System Unlike Any Other
One of the biggest differences between NEW YORK JOE EXCHANGE and other stores is the word 'exchange' - here you can exchange items. There are three services available at this shop that we would like to give a brief introduction to now.
1.BUY: They buy your used Western-style clothing. The assessment sum (based on the retail value of the clothing) of about 30 percent will be paid in cash for clothing on the spot. As such, if you are planning to bring in clothing to sell, you must make a reservation to do so in advance.
2.SELL: An extensive range of used clothes and fashion items, including brand goods, are sold in the shop. And, all of the items in the shop cost less than 10,000 yen, with the average price sitting at about 1500-2000 yen!
3.TRADE: This is the center piece of the NEW YORK JOE EXCHANGE system.For any items that you bring in, you can receive an in-store credit of 60 percent of their assessed value to shop with.
*For more information on their system, please refer to their website, found here.
The registers are found at this counter. The left side is where items are sold (Sell) and the right is where items are purchased (Buy). Not only that, but the first Sunday of every month at both the Shimokitazawa and Kichijoji locations, there are half-price sales on all items in the store at their popular THE FIRST SUNDAY SALE. Please keep in mind though that, on these days, both registers are used for sales and buying/payments and exchanges/Trade are not available.
And, buying/payments and exchanges/Trade close at 19:00 every day, so if you are in line and unable to do your sales by this time, you may be asked to come back the next day instead. Please keep this in mind and plan accordingly.
3. All SNS Information Transmission
This is another point that sets NEW YORK JOE EXCHANGE apart from its competitors: their vast SNS presence. On their Twitter, Instagram and shop blog news about the store, new items and the like are broadcast daily. With points about the fashionable clothes and outfits mentioned, even just looking at the styles posted can be quite fun, but there are many shoppers who see the items listed online and come in just to purchase them.
Lay away and online orders are not accepted, so if you see something that you simply want to have, it is in your best interest to hurry to the shop get it.
For the shop accounts:
NEW YORK JOE EXCHANGE Twitter
NEW YORK JOE EXCHANGE Instagram
NEW YORK JOE EXCHANGE blog
One other benefit of this store are these handy flyers, available in both English and Japanese, which explain the systems and services at NEW YORK JOE EXCHANGE. These make it easier for non-Japanese speakers and first-time Japanese customers alike to navigate through the store. Though secondhand stores might seem to be difficult places to visit for some people, NEW YORK JOE EXCHANGE aims to be a shop with an open and friendly atmosphere.
How to Get There from the Station
First, come out of the south exit of the Odakyu line Shimokitazawa station. After coming through the ticket gates, turn left and head up the road. You will pass several shoe stores, the Honda Theater (本多劇場) and many restaurants as you continue along the road.
After a short while, you will come to a T-intersection. There, as you can see on the left in the picture, you will find an archway reading "SHIMOKITAZAWA Ichiban-gai" (SHIMOKITAZAWA 一番街); head this way.
Once you pass this arch, keep walking along this street until you reach the end.
At the end, you will have reached another T-intersection, as you can see above. Head to the left again.
After turning left, keep walking straight for a few dozen meters and then you will see it on your right.
Thanks to smart thinking behind the amazing trade system at NEW YORK JOE EXCHANGE, there are two ways to enjoy the store, making it a fantastic place to shop and bring your old, unwanted clothes. If you see something that you like on their SNS, hurry on in and see what else you can find at this great secondhand store.

The information presented in this article is based on the time it was written. Note that there may be changes in the merchandise, services, and prices that have occurred after this article was published. Please contact the facility or facilities in this article directly before visiting.