What To Do In Case Of An Earthquake During Your Trip In Japan
Earthquakes occur regularly in Japan and can be a scary experience for travelers, with recent large earthquakes occurring in 2011 and 2016. This article explains what to expect during an earthquake, how to properly deal with the tremors, and other tips for a safe trip.
Earthquakes in Japan - Stay Safe and Calm
Japan is a country with frequent earthquakes due to its location on the Pacific Rim of Fire. Tremors both small and large can be felt throughout the country year-round.
Despite this, however, people in Japan do not live in constant worry or fear. This is because they know what to do in case one happens. Just in case you ever encounter an earthquake in Japan, you should know what to do, how to evacuate, and how to get in contact with others.
What to Expect and Safety Tips for Earthquakes
Earthquakes are a scary experience for many, especially if you don't come from a country where they occur. Below are tips for how to remain calm and as safe as possible when these natural disasters strike.
Outdoors
If you are on a busy street outside when an earthquake happens, do the following:
Protect yourself from falling objects, be careful of collapsing buildings, and evacuate to a safe open place, such as a park. If you don't have enough time to get to an open space, run inside a relatively new, reinforced concrete, earthquake-resistant building.
If an earthquake hits while you are at a station or on a train, do the following:
If you're at a station, protect yourself from falling objects, and move to a nearby pillar so you don't fall from the platform. If it's too crowded to move around, you should crouch down and wait for the shaking to stop.
If you're on a train, it will stop if a strong shock is felt. People may have fallen to the ground, so be careful. If you're sitting down, you'll want to protect your head with your bag or hands. If you're standing, you should get down low.
Indoors
If you feel an earthquake, you will first want to hide in a secure spot, like under a sturdy desk. Try to choose a place where things won't fall, collapse, or move. Even after the shocks have died down, you will need to be careful of broken glass pieces on the floor when evacuating outside.
If you are inside but at a convenience store or department stores, do the following:
You will need to be careful of merchandise falling and collapsing showcases. Move to the closest stair landing or pillar. Put your shopping basket over your head for protection.
Important Safety Tip: Protect Your Head
Whether you're inside or outside during an earthquake, it's important to guard your head. If you protect your head with a magazine or a bag, you might be able to prevent a fatal injury. If you ever feel the ground shaking, make this your biggest priority.
Evacuation Areas In Tokyo
When there is an earthquake or other disasters in Japan, there are designated evacuation spot you can go to. However, there are times that it's safer to wait for the instructions of staff or other people around you before evacuating. Try to stay calm, examine your surroundings and situation carefully, and then evacuate to the nearest shelter. Below is a list of several designated evacuation places in Tokyo.
Shinjuku: Shinjuku Gyoen National Garden
If you're east of Shinjuku station, the nearest refuge spot is Shinjuku Gyoen National Garden. The garden is around 10 minutes from Shinjuku Station's South Exit on foot. It is opened to the public in the time of a disaster.
Address: Tokyo Shinjuku, Naitomachi 11 Google Map
Shibuya: Hachiyama Junior High School
This junior high school is an evacuation spot close to central Shibuya. The gates are usually closed for security purposes but are opened to the public in the event of a disaster.
Address: Tokyo Shibuya, Uguisudani 9-1 Google Map
Shibuya: Shoto Junior High School
Shoto Junior High School is a refuge spot near the center of Shibuya. You should head to the one that is closer to you in case of an emergency.
Address: Tokyo, Shibuya, Shoto 1-20-4 Google Map
Asakusa: Asakusa Elementary School
Asakusa Elementary School is the nearest refuge spot to Sensoji Temple and major sightseeing spots in the Asakusa area.
Address: Tokyo Taito, Hanakawado 1-14-15 Google Map
Asakusa: Tawara Elementary School
Tawara Elementary School is a refuge spot by Tawaramachi Station, near Asakusa. If you are staying at a hotel nearby, you should head here.
Address: Tokyo Taito, Kaminarimon 1-5-15 Google Map
Disaster Preparedness Tokyo
A disaster prevention book that is available for free from the Tokyo Metropolitan government. Information about what to do in the case of an earthquake, things to be aware of, and emergency contact numbers are listed. The book is available for download in English, Chinese, Korean, and easy Japanese. We recommend downloading these pages to your computer and phone to have them ready.
Click here to download the English version
Prepare an Emergency Kit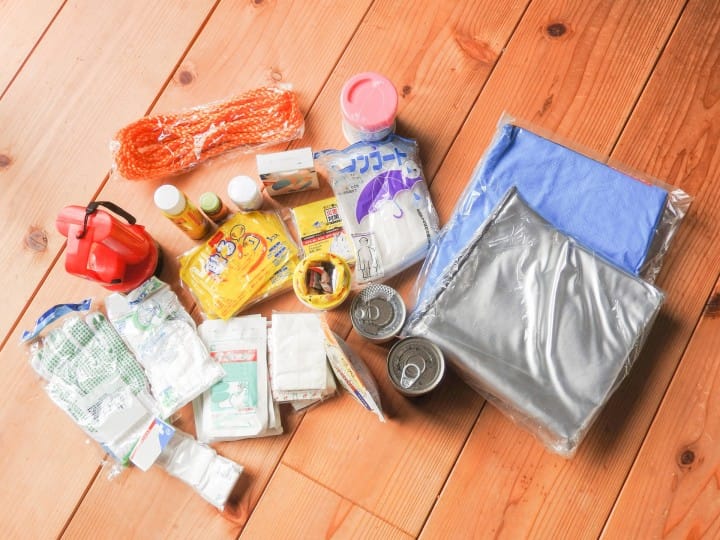 Having emergency supplies or a kit on-hand is especially important for travelers staying long-term in Japan. Damage and danger from earthquakes come not only from the tremors themselves but also secondary effects like power outages. Note that water, food, and electricity may not be available in disaster-stricken areas for days.
Emergency kits containing flashlights, towels, first-aid supplies, and other necessary items can be purchased in Japan. Yodobashi Camera, Don Quijote, and other large department and home goods stores will likely sell a kit. You can also prepare one for yourself. Be sure to include water and non-perishable food items, like nuts and protein bars.
Register with Your Embassy Online
When you travel to Japan or anywhere abroad, it is highly recommended to tell your home embassy that you are going overseas. In case of an emergency, the embassy will be able to help you get in contact with family and friends more smoothly.
United States residents should register with the Smart Traveler Enrollment Program: Smart Traveler Enrollment Program
Singaporean citizens can sign up with the Ministry of Foreign Affair's eRegister system: eRegister System
Australia has the Smartraveller program: Smarttraveler registration
If you have an emergency in Japan, reach out to your embassy to get in contact.
Stay Safe During Earthquakes
Because there are so many earthquakes in Japan, most of the buildings in Japan have been built so that they can withstand most earthquakes. It is actually more dangerous to panic in the case of an earthquake. If you encounter an earthquake in Japan, you should look around at the Japanese people and see how they're reacting, and be sure to calm down first before taking action.

Main photo by pixta

The information presented in this article is based on the time it was written. Note that there may be changes in the merchandise, services, and prices that have occurred after this article was published. Please contact the facility or facilities in this article directly before visiting.