Halal Certified Restaurants And Products In Japan: A Muslim's Guide
Muslim visitors to Japan might be apprehensive at first when it comes to finding halal foods or places to worship, but in this article you will find all you need to know and more to make your trip to Japan a fabulous one.
Halal Food in Japan
When Muslims travel overseas, they have to be very careful about their dietary restrictions. As one of the rules of Islam, Muslim people must eat things that are certified halal. In countries such as Japan with only a small population of Muslim residents, visitors to Japan will need to be extra careful. However, lately, there has been an increase in the number of restaurants that are halal certified.
In Tokyo, there are sushi and yakiniku barbecue restaurants that do not use pork or alcohol whatsoever. From ingredients to cooking utensils, there has been an increase of restaurants that respect the rules of Islam. If you would like to enjoy the halal versions of traditional Japanese dishes like sushi, ramen, wagyu beef, hot pot, dairy products or even Japanese sweets, then there are plenty of options for you to choose from in the greater Tokyo area. And if you are looking to enjoy some tastes from home, then there are plenty of restaurants to choose from as well.
Best Halal Restaurants in Japan
Sushi fans are sure to love Asakusa Sushi Ken, Japan's first halal sushi restaurant. The chefs here have diligently worked to create halal sushi that has retains the authentic flavors of this ubiquitous Japanese dish.
Naritaya, a ramen shop in Asakusa, is where you will find authentic, halal certified ramen, as well as a prayer room, fun souvenirs of your time in Japan and other facilities for Muslim guests.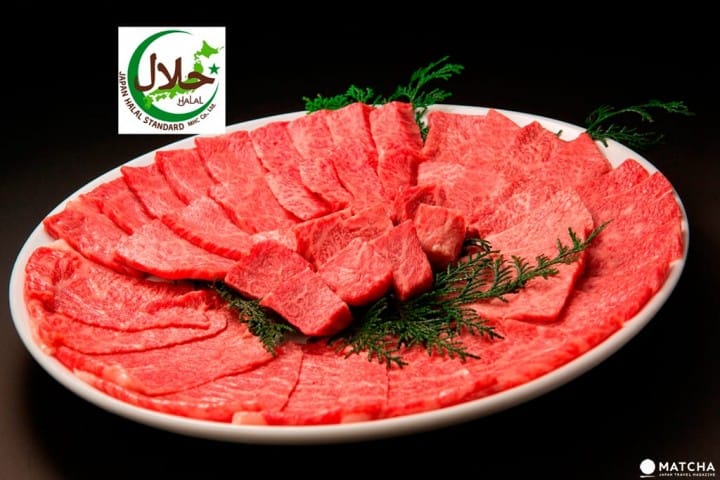 Tanden in Yoyogi, is a yakiniku restaurant that serves halal certified wagyu beef from Kagoshima prefecture. All dishes, utensils, and even the grilling surface for the beef at this barbecue restaurant are kept separately from non-halal items as well.
Shabu shabu, or Japanese hot pot, is a popular winter dish, and one that visitors to Japan should not miss out on. Hanasaka Jī-san Sakuragaoka Branch is the first halal certified hot pot restaurant in Japan, and the ideal place to enjoy some uncommon Japanese dishes.
Nakahora Pasture in Ginza, is a store selling halal certified dairy products, including milk, yogurt, and ice cream. If you are looking for a refreshing treat during your trip, this is a great place to take a break.
Ko-So Cafe Biorise in Ebisu, is a trendy cafe that only serves organic foods made without any animal products whatsoever - no dairy, no eggs, and no meat or seafood. They don't use any artificial flavors or ingredients either, so this is a very safe place to eat for people with dietary restrictions of all kinds.
For more information on places where you can eat halal food safely, please take a look at the following article.
Muslim Tours in Japan
If you join the Muslim-friendly tours made by Trip Advisor, you can go to major tourist spots such as Asakusa, Shibuya, and Harajuku with ease. In this tour, you will not only be able to taste halal certified Japanese food, go to Japan's largest mosque but also be able to take time for prayers.
Muslim-Friendly Accommodations
Aside from restaurants, there are also accommodation facilities that are Muslim-friendly in Japan. Conveniently located only two stops away from Shinjuku station, Sakura Hotel Hatagaya has prayer rooms, a cafe with a halal menu and other great facilities.
There are also fun activities arranged by the staff that all visitors from abroad can enjoy such as Japanese culture experience tours, hanami flower viewing tours, and origami workshops. Your trip to Japan will become even more memorable this way! This hotel also is suited for long term guests and have washing machines and other handy goods.
Halal Certified Souvenirs from Japan
With an increase in the number of Islamic visitors to Japan, there have also been more shops that carry souvenirs and gifts that are certified halal. Even the popular shopping spot Don Quijote made a souvenir section with Muslim-friendly goods in 2015. Recommended items sold here include the halal-certified matcha green tea waffles, the samurai ramen that doesn't contain animal products and green tea tea bags.
Aside from halal foods, the Don Quijote Asakusa location has a whole area for souvenirs including food sample key holders, anime character merchandise, chopsticks, knives, cooking utensils and many products. There's also a tax-free counter and free Wi-Fi, so visitors from abroad can shop at ease.
Mosques In Japan
Mosques are houses of prayer for the followers of the Islamic religion. From large to small, there are approximately eighty mosques in Japan. In Yoyogi Uehara, Tokyo you will find the Tokyo Camii Turkish Culture Center which is said to be East Asia's most beautiful mosque. It is a mosque that is worth stopping by whether you are Muslim or not.
Not only will you be able to give your prayers at one of Asia's most beautiful mosques, but you will be able to meet other Muslim worshipers and enjoy delicious halal foods. Non-worshipers can join a tour on weekends to learn more about the Islamic religion, the mosque itself, see a worshiping session (no photos allowed) and find some great souvenirs or Turkish food. However, it is a place of worship, so please follow the rules when visiting.
Muslim Friendly Facilities
When visiting the Shinjuku area, Takashimaya Times Square is a must - not only does this shopping center have shops to suit people from all walks of life, but they also offer Muslim friendly services, including a spacious prayer room with all the amenities on the eleventh floor. To learn more about Takashimaya's souvenirs and services for international travelers, please read Find Ideal Souvenirs And Great Services At Shinjuku Takashimaya.
Or, if you want to do some last minute shopping in the Narita area, head to the Shisui Premium Outlet, where you will find outlet stores selling brand name goods and clothing at reduced prices, as well as prayer room facilities. All of the restaurants and food items here are also carefully labeled with all ingredients and restrictions, which makes it easier to choose meals that follow your beliefs. Near Narita Airport! Shisui Premium Outlets(R) has more on this lively shopping center.
And for ladies that may be feeling inspired by the variety of nail art options available in Japan, Silis Nail Salon is a Muslim friendly nail salon in Osaka that offers halal nail polish and art. This specially formulated nail polish also for both air and water flow to the nail, and does not contain any alcohol. Even their disinfectant for hands and tools is alcohol free. Furthermore, Silis Nail Salon also has private curtained rooms for those concerned with privacy, a prayer room, and even tea and dates for a treat as well. For more about this salon and to make a reservation, take a look at Muslim Friendly Nail Salon - Silis Nail Salon In Osaka.

These are only some of the various places throughout Japan that have been established with Muslim visitors in mind. Why not have a memorable time traveling in Japan by visiting halal certified restaurants and staying in a Muslim-friendly accommodation facility?

The information presented in this article is based on the time it was written. Note that there may be changes in the merchandise, services, and prices that have occurred after this article was published. Please contact the facility or facilities in this article directly before visiting.