The Ryokan Tokyo YUGAWARA -Japanese Culture At A Relaxing Hot Springs Inn
The Ryokan Tokyo Yugawara in Yugawara, Kanagawa Prefecture, is a new type of accommodation close by to Tokyo. Here you will find a relaxing Japanese hot springs inn with an emphasis on relaxation and comfort.
Yugawara, An Onsen Resort An Hour and a Half from Tokyo
Warm all year round, the Yugawara region in Kanagawa Prefecture, close to Tokyo, Hakone and Atami, has been long beloved as an onsen area, or hot spring area in Japan. Since the Meiji era, its highly-regarded hot springs and relaxed atmosphere have been favorites of literary masters like Natsume Soseki and Junichiro Tanizaki. It is said that they created works during their relaxing stays here. The Ryokan Tokyo YUGAWARA in Yugawara has adopted a laidback "Yugawara chill out" theme to provide a soothing and relaxing environment for guests, while allowing them to experience Japanese culture. This article showcases the kind of atmosphere this ryokan offers.
Japan and Relaxation at The Ryokan Tokyo YUGAWARA
After about a 10-minute car ride from JR Yugawara, the first thing you'll see is a red gate. Pass through the series of gates that looks similar to Fushimi Inari, a well-known sightseeing spot in Kyoto. It costs around 1500 yen viataxi, but you can prearrange a shuttle service when you place your reservation. You can also get a shuttle back when you check out, so be sure request one when you check in if needed.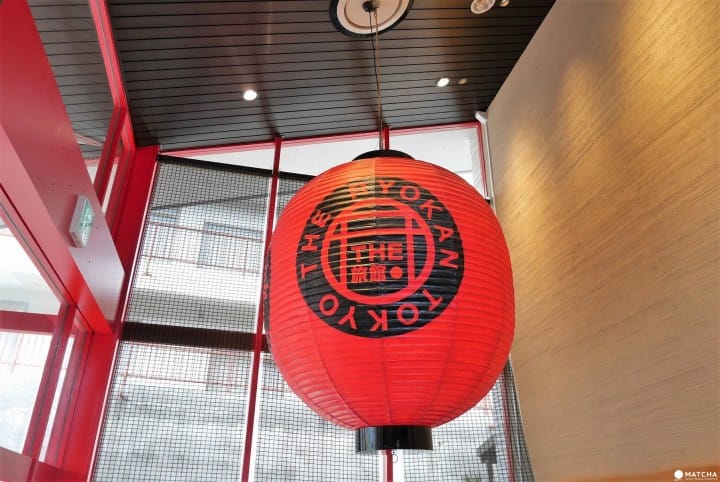 A large Japanese lantern greets visitors after they enter through the front door. Take off your shoes, put them in the locker, and check in at the desk on the right-hand side. All employees speak English, and there are also some Spanish staff. Yukata for you to wear inside the ryokan are placed next to reception. You can choose whichever color of sash and yukata pattern you like.
Rest to Your Heart's Content at Gensen Café
The space spreading out behind the reception desk is the Gensen Café. The room offers an unparalleled space for relaxing, based on the creator's desire for visitors to rest here for three hours and erase their worries and thoughts. Take your slippers off at the veranda-esque area and step up into the space divided by noren curtains to find Yogibo sofas, known to put people in an instantaneous relaxed state, on top of tatami floors. The couches will form around your body so that once you sit down once, if will be quite hard to get up again. There are traditional chabudai short-legged tables at the couches, creating a classic Japanese atmosphere.
There are shelves of curated magazines, books and manga centered around Japanese culture. Pick one up to get a glimpse of Japan and its culture. Order a drink at the cafe, read a magazine reclined in a Yogibo sofa, and lie down and relax to recover from your trip fatigue.
Chilling Out in the Guest Rooms
Choose a Private Room if You Want Relaxation
The private rooms are laid out with tatami mats, fusuma and shoji screens to create a traditional Japanese-style space. These rooms also have individual Yogibo sofas.
Works of the ukiyo-e artist Hokusai Katsushika from the Edo period are drawn onto the fusuma in each room. What sort of scenery awaits you in your room? Every room has different imagery. It costs around 9720 yen (tax included) per person each night to stay in a private room. Rates change each season, so look at the reservation page for more details.
Stay in the Dormitory to Enjoy Japanese Culture for a Reasonable Price
If you want to keep your expenses low, the ryokan also has a dormitory for 3780 yen a night (tax included). There are tables in the center area where you can take a break as well. Anyone can use the Gensen Café freely, so visitors can relax in the café space until bedtime.
Refresh Yourself in the Onsen as You Enjoy the Images of Mt. Fuji
Natural onsen, or natural hot springs are indispensable for true relaxation. At this ryokan there is a wall-sized image of Mt. Fuji in the bathing area, which you can view while you soak in the water. Yugawara has more than 100 hot spring sources, which will warm your body and spirit. You'll still feel the warmth after you get out of the hot spring, too. The water is also thought to heal bruises and cuts, and give you peace of mind. In fact, Yugawara has a history of being used as a hot-spring health resort area.
The changing rooms are spacious and feel open, as well. The operating hours are from 16:00 to 23:00 and from 6:00 to 10:00. There are also shower rooms available 24 hours a day.
Japanese Cuisine Utilizing Yugawara Ingredients
You can add breakfast and dinner to your stay here for 6,480 yen (tax included).
A 12-Dish Breakfast: Yugawara Ochoco Gozan Set
You'll want to try Yugawara's specialty, the staple Japanese breakfast of rice, miso soup and mackerel with an additional 12 dishes. The 12 Yugawara-sourced dishes, including carefully selected dried seafood, are healthy and good for the body. Seasonal ingredients are also utilized here.
Mini Kaiseki Made with Fresh Fish for Dinner
At dinnertime, you will receive a course meal consisting of an appetizer, sushi and tempura, and a small hotpot. These are also made using seasonal ingredients, so the menu changes throughout the year. Muslim or vegetarian customers can contact the ryokan ahead of time to ask for adjustments to be made to the dishes.
Make Time for Relaxation while Exploring Japan
Picture courtesy of: The Ryokan Tokyo YUGAWARA
Yugawara has been highly regarded in Japan as a place of comfort for many years. We definitely hope you take the opportunity to unwind at this ryokan steeped in culture.
Original writer: Keisuke Yamada
*Version from 2016/9/10 has been rewritten for 2018.
In cooperation with The Ryokan Tokyo YUGAWARA

The information presented in this article is based on the time it was written. Note that there may be changes in the merchandise, services, and prices that have occurred after this article was published. Please contact the facility or facilities in this article directly before visiting.