Keisei Bus Tokyo Shuttle: Going From Tokyo Station To Narita Airport
Keisei Bus Tokyo Shuttle: Going From Tokyo Station To Narita Airport
The Keisei Bus Tokyo Shuttle is a convenient way to get to Tokyo Station from Narita Airport. Find information on bus stops, prices, and how and where to buy tickets online.
Keisei Bus Tokyo Shuttle Connecting Tokyo Station to Narita Airport
Have you ever gone through the hassle of returning to the airport on a train with a lot of luggage, many transfers and having to trudge up and down the stairs? At times like this, taking an express bus from the city center to the airport is very convenient.
The Tokyo Shuttle operated by Keisei Bus is a popular transportation method due to its budget-friendly rates and operation times. In this article, we have created a guide on the bus fare, how and where to buy tickets, and directions on how to get to the bus stop going to the airport from Tokyo Station.
How Inexpensive Is It? Compare Prices
There are various ways to get to Narita Airport from Tokyo Station. Some of the ways are listed below.
JR Narita Express (Train)
Price: 3,020 yen (with express fee included)
Time: Approximately 1 hour
Keisei Skyliner (Train)
Price: 2,630 yen (with one transfer at Nippori Station)
Time: Approximately 1 hour (From Nippori to Narita Airport is around 30 minutes)
Keisei Bus Tokyo Shuttle (Bus)
Price: 900 yen with a reservation made two or more days in advance. 1,000 yen bought on the day. 950 Yen using an IC Card (SUICA, PASMO).
Time: Approximately 1 hour (Varies on traffic conditions)
As you can see, this is why we recommend using the Tokyo shuttle bus as a travel option to Narita.
How to Purchase Tickets
Next, we will show you how to purchase tickets for the Tokyo shuttle bus. Please select which method you would like to choose according to your plans.
1. Online Reservations
You can make reservations on the official Keisei website (English available) or Rakuten Travel (Japanese).
You will be able to make reservations on the same day of your desired departure (depends on availability) and up to around one month in advance. Use a credit card to buy tickets.
2. Ticket Purchase from Japanese Convenience Stores
Convenience stores such as Family Mart, Lawson, Sankus, or Seven Eleven also sell bus tickets. Tickets here can be purchased from one month to two days in advance from your desired departure date. Being able to pay at the cash register makes this a very convenient option. However, please be aware that the ticket vending machines are only available in Japanese.
3. Buy on Site
This is the most convenient variant, but the number of available seats is unknown, so there may be times when you would have to wait until the following bus if there are no available seats.
Getting From Tokyo Station to Keisei Bus Stop
After getting off at JR Tokyo Station, look for the sign leading to the Yaesu North exit.
Yaesu exit is in the same direction as going toward the Hokuriku and Tohoku bullet train lines, so you may think you are heading in the wrong direction, but do not fret. You're going the right way.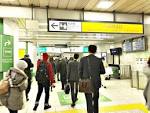 After walking for about one minute, you will find the Yaesu north exit.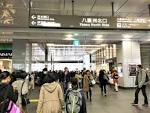 Once you exit, you will see DAIMARU, a popular department store known for its nice gifts,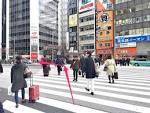 Go out the exit until you reach a large street. After crossing, turn left.
Then, you should be able to spot the bus stop. If it says Tokyo Station 3 on top, that is the stop going to Narita Airport.
The indicator also shows 'Highway Bus for Narita Airport' in English as well.
Here, you will line up into three rows. The middle and right lanes are bound for Narita Airport. The middle row is for passengers with prior reservation and the right lane is for passengers without any reservations. If you already made a reservation, you are set to go once you present your voucher or ticket.
If you haven't made any reservations, you would need to pay when you board the bus on the day of your departure. If you have 1,000 yen in hand ready, payment should go smoothly.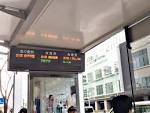 The electronic signboard clearly displays the timetable of the buses, the next bus departure time, and if there are any delays, it will show up there too.
You should now be able to navigate to the Tokyo shuttle without a problem! Make your way to Narita Airport from Tokyo Station with ease.

The information presented in this article is based on the time it was written. Note that there may be changes in the merchandise, services, and prices that have occurred after this article was published. Please contact the facility or facilities in this article directly before visiting.