Coffee And Rice Crackers? The 200 Year Old Matsuzaki Senbei Cafe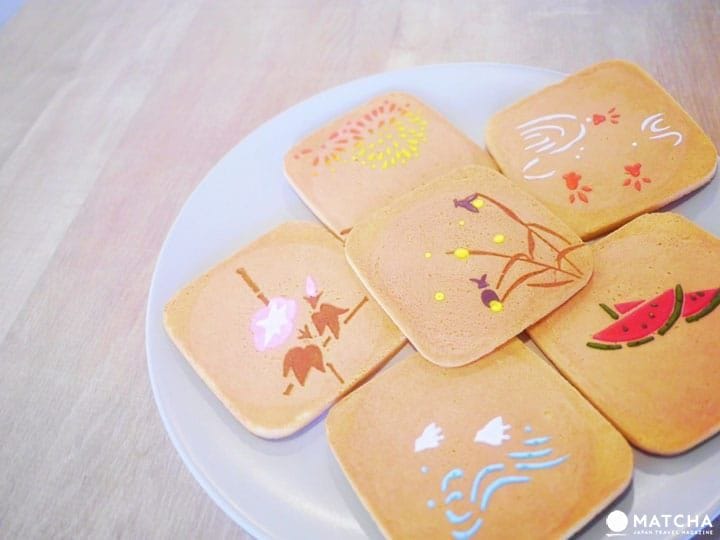 Have you heard of this charming, history-rich rice cracker shop near a famous shrine in Tokyo's Setagaya area? This is the perfect place to stop for a rest and a delicious, well-loved snack.
A Rice Cracker Shop with a 200 Year Long History and its Modern Charms
To many Japanese people senbei, or rice crackers, are a daily snack. They go very well with Japanese tea are enjoyed by everyone.
Today we called on the new shop established by the Matsuzaki Senbei Shop, a famous rice cracker shop with 200 years of history to it. It's a new type of shop where you can drink coffee and enjoy your rice crackers or Japanese style desserts, located near Shoinjinjamae Station on the Setagaya line.
The History of the Matsuzaki Senbei Shop
The Matsuzaki Senbei Shop first opened its doors in 1804 and has over 200 years of history behind it. When it was first founded, it was located near Tokyo Tower and focused primarily on selling rice crackers and Japanese style snacks, but in 1865, Mr. Sohachi (the third generation owner) moved the main store to its current location in Ginza. It became a wildly popular store that everyone in the neighborhood knew about, and as the Ginza area flourished, the popularity of the Matsuzaki Senbei Shop grew nationwide too.
The New Logo Brings Us Back to When the Shop First Opened
The name Matsuzaki comes from the founder's last name. That's why in 2007, they used the meaning behind 'matsu' (pine tree), to create a new logo modeled after pine.
However, this is different from the logo that was used when the shop first opened. In 2016, with the grand opening of the new shop in mind, the current eighth-generation owner resurrected the original logo and added modern elements to make it ready for a new start for Matsuzaki Senbei.
Returning to its Roots, a Community-based Shop
The snacks from Matsuzaki Senbei are considered by many to be precious souvenirs for a special time. That's why at the Ginza shop, most regular customers only come at most once a month to make their purchases.
Customers from all over Japan come here as well, and they might only visit the shop once. These points are two of the reasons that the eighth-generation owner of Matsuzaki Senbei thought about doing something just a little different.
To open a new store with a new theme, the owner decided once again to go back to the roots of the company, and open a community-based shop in Shoinjinjamae.
With the goal of having rice crackers once again be a part of their customers' daily lives, this shop has opened as a place where the neighborhood can gather, and where you can hear the happy voices of children ring out.
Coffee with Japanese Desserts? An Ambitious Menu
Quite different from their Ginza location, the Shoinjinjamae shop offers a coffee and lunch menu.
Despite being a rice cracker-based shop, they are quite particular about their coffee and use only beans purchased from a small shop near the coast of Kanagawa prefecture.
The staff diligently brew the coffee every day, and it has a distinctive, slightly sour bitter edge to it. This is a coffee that really awakens your taste buds.
With an order of a coffee or any other drink comes a complementary tile shaped rice cracker. Rice crackers and coffee are a combination that you'll rarely ever see, even in Japan.
The broken rice cracker seen in this picture is known as a 'kyusuke'. In the world of senbei, any chipped or cracked cracker is called kyusuke. If a perfect score is a 10, then something that is slightly off would be a 9. As the Japanese word for nine is 'kyu', this name stuck to these broken senbei pieces. Coffee with kyusuke costs 540 yen including tax.
Another popular dessert offered here is the vanilla ice cream with honey and red bean paste. Not only is there ice cream, but also agar jelly, adzuki beans, and sakura and pine shaped yokan (*1) to top off this very traditional dish. The anko in this dish is rather rich, but even if you eat it all up, your mouth with still feel refreshed. This dessert costs 918 yen with tax.
*1 Yokan: a sweet made from red bean paste that has been hardened with agar.
Read also:
A Wide Array of Souvenirs from Edo
The best selling item in the store by far, the Edo Wara Reki, a rice cracker tile based on the Japanese calendar, which features different drawings depending on the season. These illustrations of flowers, birds, the moon and other patterns certainly are reminiscent of the Edo era and are each hand-drawn by the talented staff at Matsuzaki Senbei.
While common rice crackers use rice as their main ingredient, these Edo Wara Reki are made from flour, eggs, and sugar, giving them a pleasant aroma and delightful crunchiness when eaten. An 8 piece box costs 1080 yen with tax, and a 16 piece box costs 2160 yen with tax.
This is the Edo Soka Komaru, a small cracker that has been made with great care and is perfect to send to someone as a gift or to keep for yourself. Soka is a city located in Saitama prefecture that is famous for its rice. It's said to be the region where rice crackers first became widespread among the people. A 24 piece box is 648 yen including tax.
Most of Matsuzaki Senbei's products have an association with Edo (Tokyo's former name). These Ginza Matsuzaki Narukami are named after a popular Edo era kabuki play, for example.
Made using sticky rice, these rice crackers have a light, pleasant taste and come in twelve varieties that are sure to satisfy. 240 grams of this senbei costs 2160 yen.
Must See Sightseeing Spots in Nearby
Shoinjinjamae Station gets its name from the famous Shoin Shrine located in this area. This shrine is where the spirit of Yoshida Shoin, an activist and intellectual born in 1830, is enshrined. Known as one of the men behind the foundation of modern Japan, he led his capable disciples well, and for many generations after his death he was thought to be a god of learning - for that reason many come here to pray for success on their exams.
Within the shrine grounds is a statue of Yoshida Shoin.
There are 26 stone lanterns engraved with the names of his students within the grounds, as well as a reproduction of the Matsushitamura School that he taught at too.
In Conclusion
Shoinjinjamae Station is a small station along the Setagaya line, but this whole area is filled with beautiful boutiques, well-established shops, and many historical sites that are all still a part of the residents' daily lives fill this region. If you come to this area, please take your time and savor the charms of a place that greatly differs from the modern big city around it.


The information presented in this article is based on the time it was written. Note that there may be changes in the merchandise, services, and prices that have occurred after this article was published. Please contact the facility or facilities in this article directly before visiting.