Join a Paper Making Workshop at Ozu Washi, Nihombashi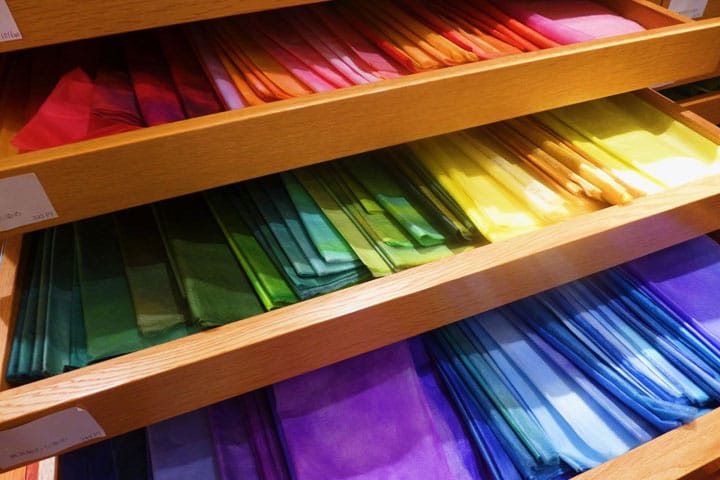 Welcome to Ozu Washi, a shop in Tokyo's Nihombashi that has been handling washi for more than 360 years. For only 500 Yen why not give paper making a try?
Is there a special type of paper famous to the country where you come from?
Japan is home to a special type of paper,washi (和紙). It has been manufactured for hundreds of years using traditional methods. Comparing to other types of paper, washi is sturdier and lasts longer than usual paper.
Ozu Washi in Tokyo's Nihombashi district has been selling Japanese paper for more than 360 years. At their store you can have a unique washi making experience, tesuki, for 500 yen.
Note: reservations come first, however you can join if there's an opening on the day you visit. Each session is limited to 7 people.
Read also: Echizen Washi-History of Echizen and its Paper
Ozu Washi, a Shop With A History Spanning Over 300 Years
Ozu Washi first opened in a small shop during the Edo era, in 1653. Ever since they have grown into a major store known especially for their high-quality washi.
At their present location they occupy three whole floors. On the first floor is a retail store while the second floor is a gallery and a space for culture classrooms. The third floor is occupied by a museum explaining the long history of Ozu Washi.
Let's start off with the washi making workshop!
Give Washi Making a Try!
Before you get to start, you'll be told about the paper making process from start to finish as well as about some things to be careful about during the workshop.
Years before the advent of modern technology the entire washi making process was carried out by hand. Although some steps today are done utilizing machines, it is a traditional craft that still relies heavily on the human hand, time and hard work.
Now let's get the workshop underway. Even if it's your first time, there is no need to worry as an instructor will be there to guide you all the way.
First, an apparatus called sugeta, a flat tray encased in a wooden frame with a removable bamboo mat, is lowered into a water tub and gets filled with the raw material. Then by swinging it in a back and forth motion the raw material is spread out evenly at the bottom of the sugeta.
First the sugeta is tilted forwards and then backwards 20 times in a vertical manner, then 20 times side to side horizontally, then again 20 times back and forth in a vertical fashion. By repeating this procedure of filling the tray with raw material and then swinging it back and forth vertically and horizontally, the bottom of the tray is covered with multiple layers of the raw material and the excess is removed.
Depending on how many times you fill up and then swing the tray, the paper gradually becomes thicker and thicker, which is something that you should be careful about.
Next, the bamboo mat is removed from the tray and placed onto a different surface, face down. Using both hands, pressure is applied on top in order to drain excess water. The bamboo mat is then lifted off, leaving behind only the paper (see photo below).
Then a dryer is used to remove any excess moisture. The instructor will be there to assist you so no need to worry about this step either.
Finally the paper is laid on a heated, stainless metal sheet. Then using quick strokes and moving from the center to the outer edges, hake, a Japanese brush is used to smoothen out the paper and remove any air bubbles.
If this process isn't carried out quickly, the material will dry with the air trapped inside.
Now we need to wait for about 5-10 minutes.
The metal sheet is extremely hot so be careful to not burn yourself! Before starting, the instructor warns everyone about it, but every time someone forgets and goes on to accidentally touching it.
Our work here is now done!
Including the introductory explanation, it takes up to one hour to complete the workshop.
The design and thickness of the finished washi will differ from person to person. The charm of creating washi by hand is that each and every piece of the paper is unique. Workshop participants will be given a clear folder so that they can take their washi home with them. This thoughtful gesture might be one reason why Ozu Washi has had a loyal following for over 360 years.
Note: For groups of 1-2 participants the workshop will last for about 30 minutes, for a group of 7 paticipants it can take up to an hour, so please join when you're not rushed for time.
The Fun Doesn't Stop Here!
As we hinted in the beginning, there is a lot to see at Ozu Washi. Let's start on the first floor.
On the first floor you can find sensu (hand-held fans), bookmarks, notebooks and various accessories all made using washi.
Aside from being a reliable writing material, you'll be pleasantly surprised to learn that this paper can be used in a wide variety of ways in daily life to make it a bit more colorful!
In addition to the accessories, you can also buy washi decorated with beautiful Japanese patterns by the roll. We were told that people in design-related work often drop by looking for the best washi to use in their projects while some come to pick up something to cover their tables with. One of washi's attractive features is that it can be used in a multitude of different ways, limited only by one's imagination.
In one corner of the store customers are free to try writing on different types of washi to find out what kind best suits their needs.
On the second floor there's a gallery and cultural classrooms. They have courses starting from calligraphy (shodō), pressed flower craft (oshibana) and indian-ink painting (suibokuga), among others.
And on the third floor there's a museum documenting Ozu Washi's 360 year history.
In Closing
In today's era we are surrounded by digital technology. Though paper is indispensable for our daily lives, we've gradually come to have fewer opportunities to use it.
By taking the time to use traditional methods during our washi making experience, once again one can't help but feel the paper's warmth and presence.
We recommend stopping by at Ozu Washi where you might just leave with a deeper appreciation for the importance and significance of paper.
For more on Japanese traditional crafts
Edo Shitamachi Traditional Crafts Museum!
Japan Traditional Crafts Aoyama Square: A Great Display of Handicrafts
Japanese Encyclopedia: Urushi, Urushinuri And Shikki (Lacquerware)
Coffee in Edo Kiriko Glass Cups – A Delight for All Senses
The Fabulous Metalwork That Enchanted Apple Inc. at Tsubamesanjo Wing

The information presented in this article is based on the time it was written. Note that there may be changes in the merchandise, services, and prices that have occurred after this article was published. Please contact the facility or facilities in this article directly before visiting.