Hiroshima PARCO - Enjoy Shopping While Visiting Hiroshima (Part 2)
Known for its rich history and culture, Hiroshima is also known as a great shopping destination. Let us introduce you to seven shops from Hiroshima's PARCO New Annex.
Known as a city with rich history and culture, Hiroshima is also a great shopping destination.
In this article, we would like to introduce you to seven recommended shops in the new wing of Hiroshima PARCO. International visitors can check out the latest trends among the Japanese youth right in these shops.
Read also: Stop By "Hiroshima PARCO" for Shopping in Hiroshima (Part 1)
1. MUJI Ryohin
MUJI Ryohin is a popular brand even beyond the borders of Japan. There are stores all over the country, but the one in Hiroshima PARCO is the largest in the Chugoku and Shikoku region, as it occupies the entire seventh and eighth floors of the department store.
From food, interior decoration items, miscellaneous goods and clothes, there are all sorts of simple, yet high-quality products throughout the massive shop.
This is a suitcase that is extremely popular among tourists. Many customers who bought a little too many souvenirs during their trip purchase this sturdy MUJI brand suitcase to pack their additional souvenirs.
Among food products, these "strawberries covered in white chocolate" are very popular. Their sweet and sour taste is praised by many visitors from abroad.
For those who would like to personalize their souvenir, use the free stamping corner to decorate the notebooks and stationery purchased at MUJI to make them into original gift with cute stamps.
Aside from stamps in various languages, there are also picture stamps that will get the message across in any language!
2. EDIFICE
EDIFICE is a French casual clothing brand with a simple, yet elegant style. They provide a variety of stylishly designed clothing for men.
One of the recommend items in this shop are the ones made in Japan. This is a collaborative piece with the Umeda knit, a knit brand located in Niigata. You can feel the great Japanese quality just from the gentle texture of the fabric.
There are also limited edition products only sold in Hiroshima. Why not search for a special item you can only find here?
3. Hysteric Mini
Hysteric Mini is a children's clothing line that began in 1985. Lately, you can commonly see people who used to wear Hysteric Mini clothes in their childhood purchase the same brand clothes for their own child. It is a brand that has been loved by generations.
Their original character, Mini with a mix of rock and pop design is the reason for their popularity.
Visitors from abroad enjoy purchasing towels, small items, and Japanese-style lunch boxes as souvenirs.
4. TOWER RECORDS
Tower Records Hiroshima Branch is located on the ninth floor of the new wing of Hiroshima PARCO. It is a large music shop that occupies the entire floor and has approximately 120,000 music CDs in stock.
Lately, they have an original clothing line as well. A popular souvenir item is this "Death Metal" T-shirt and other music genre T-shirts written in Japanese.
At the Hiroshima branch, they also carry a collaborative T-shirt with the local baseball team, Hiroshima Toyo Carp. It is a rare item you can only find in Hiroshima.
Many international visitors come to purchase traditional or authentic Japanese music along with modern pop music artists such as Kyari Pamyu Pamyu and BABYMETAL. It seems like many people come seeking the Japanese editions of their favorite musician's works.
The girl group from Hiroshima, Perfume, is also very popular.。
If you stop by, take souvenir picture at the photo booth inside the shop!
5. Nakagawa Masashichi Shop
Nakagawa Masashichi shop opened in 1716 in Nara as a store specialized in hemp cloth products. It is a historical shop that just celebrated its 300th anniversary in 2016.
Currently, they mainly focus on "good-old products with a modern taste" and sell wonderful items from all over Japan. From interior decoration to crafts and food, it offers a collection of products that have been remade in order to be used in modern times.
Nakagawa Masashichi Shop has many branches around the country, but the one item that is very popular among non-Japanese visitors in all the shops is this "float lemon tea". This lemon is actually from Setoda town in Hiroshima. If you're looking for a souvenir from Hiroshima, this is a great item to pick up from this very location.
In the hometown of Nakagawa Masashichi shop, Nara, a sock factory collaborated with the shop to create the "2&9 (NITOKYU)" socks. Unlike standard socks, their fabric is breathable, keeping a gentle feel against the skin, which makes them very comfortable to wear.
We highly recommend this umbrella with a design of Mt. Fuji! In addition to being a stylish design, it is a great item to use on rainy days.
6. URBAN RESEARCH DOORS
This is a selected merchandise shop run by the clothing brand "Urban Research". It carries items such as clothes, household goods, food and interior decorations.
With "ecology" as their main feature, many of their items are made from organic products. Their collection of jams is quite impressive! With standard flavors such as strawberry and peach, they also carry unique flavors such as cafe au lait and ginger as well.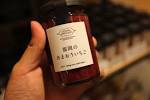 For those visiting Japan, flavors such as Amaou strawberry from Fukuoka or purple potato from Kagoshima might be quite novel. We highly recommend this item which would make a great souvenir from your trip to Japan.
Their outdoor goods, books, and even bonsai items are carefully selected, so it is a great place to find a gift from Japan.
7. Francfranc
Francfranc is a shop specialized in interior decorations, well-known throughout Japan for their cute and elegant items.
Their great taste in items has been bringing in many customers from not only Japan, but also Korea, Taiwan and other Asian countries.
This is a shamoji (rice scooper) in the shape of a rabbit. It became widely known among Asian tourists after it went viral on social media. Currently, it's the most popular item in the store.
This polka-dotted dishware collection is widely popular among visitors from Korea.
The Disney themed collection of kitchenware has been loved by customers for a long time.
As Francfranc became widely known, many new items have been added to their shelves.
As you can see, the new wing of Hiroshima PARCO offers a vast variety of Japanese souvenirs. If you go through all nine floors, you will probably run out of time. Why not use this article as a reference to narrow down your choices for souvenirs? Your trip in Hiroshima would likely become even more fun!
Read also: Stop By "Hiroshima PARCO" for Shopping in Hiroshima (Part 1)
Information
Hiroshima PARCO

Address: Hiroshima, Hiroshima city, Naka ward, Hondoori 10-1
Business Time: 10:00 - 20:30
Fixed holidays: January 1
Wi-Fi: Available
Credit Cards: VISA, Master card, JCB, American Express, Diners club international, Discover, Union Pay (Starting September, 2016)
Language: Varies on store.
Menus in other languages: Pamphlets in English and Traditional Chinese characters available.
Nearest station: Hachobori Station on the Hiroshima electrical railway
Access: From JR Hiroshima station, transfer to the Hiroshima electrical railway. Get off at Hachibori Station and walk 1 minute.
Price range: Varies on shop.
Telephone number: +81-082-542-2111
Website: Hiroshima PARCO(English・Korean・Traditional Chinese・Simplified Chinese・Thai)

The information presented in this article is based on the time it was written. Note that there may be changes in the merchandise, services, and prices that have occurred after this article was published. Please contact the facility or facilities in this article directly before visiting.