Fine Care Leads To 365 Days Of Shine! Aeca Hair Salon In Ginza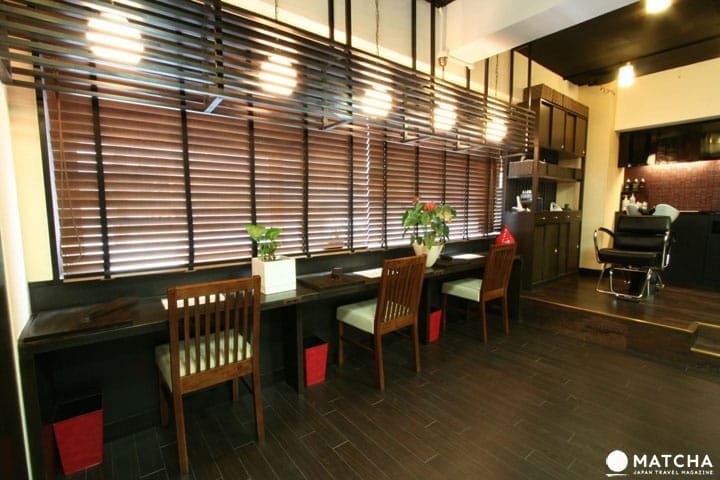 aeca is a Japanese hair salon located in the high-class shopping area of Ginza. With shampoo sommeliers to pick the best plan for your hair, this is a luxurious place to treat yourself and your hair to some pampering.
Ginza is a first-rate shopping town and popular area where travelers from all over the world gather. The main road is lined with department stores, high-class luxury brands and famous Japanese restaurants, that are said to be representative of Japan. In this article, we'll introduce you to a top notch hair salon and the only one of its kind in Ginza, the Japanese style hair salon, aeca.
On the corner of Ginza 1st street where buildings with famous brands like Tiffany and Tokyu Hands are lined up, you will find the Japanese style hair salon aeca. A Japanese style themed hair salon is a rarity even in Japan, and the atmosphere is such that you will surely enjoy a slow and relaxing time in there. Of course, they have the techniques to give you the latest looks, but with their particular care towards hairstyles, they can give you a timeless hairstyle with ease. Let's take a look at what aeca is all about.
If You Like Tidy Hairstyles, We Recommend Aeca
Photo courtesy of: aeca
Most of aeca's customers are women in their twenties and thirties. We recommend aeca for those who want a high class and tidy hairstyle. Their very skillful stylists are here to offer you beautiful styles 365 days a year.
The Shampoo Sommelier You Always Dreamed Of
People can easily shampoo their hair at home. But your hair can easily be damaged by store-bought shampoo ingredients and by how you wash your hair. At aeca, a shampoo sommelier will counsel you by first checking your hair and scalp condition, then selecting the best shampoo and treatment that matches with what you want your hair texture and style to be.
25 Different Shampoo and Conditioner Combinations
aeca has 5 different types of shampoo and 5 different types of conditioners. They're made so that they can be matched into 25 different combinations based on a customer's needs and wants. By the way, the shampoo and conditioner are from COTA, a Japanese brand.
These are gentle shampoos and conditioners, meaning that even people with sensitive hair skin can feel at ease. Please enjoy your time and relax while wrapped in the calming aromas of jasmine and lavender.
The Ideal Glossy Hair
aeca also has a made on the spot fresh conditioner and uses a super sonic wave iron to make your hair glossy. Which conditioner to use is decided after a discussion with the customer and by adjusting it to the traits of their hair. Since this treatment is made on the spot, it differs from regular conditioner in its freshness and in how the fresh nutrients seep into your hair.
The 10,000 vibrations a second provided by the super sonic wave iron finely break down the particles of the conditioner, making it easy for the nutrients to soak into your hair. This combination makes it possible for you to have the glossiest hair you've ever imagined.
aeca has other carefully selected hair care menus, perm options, and hair color menus as well. They only use truly fantastic products, so for people who feel like their hair quality has been changing lately or aim to have beautiful hair, aeca is the place for you. To make a reservation go to this website (in Chinese).


The information presented in this article is based on the time it was written. Note that there may be changes in the merchandise, services, and prices that have occurred after this article was published. Please contact the facility or facilities in this article directly before visiting.