Hot Springs with Stunning Ocean View at Enoshima Island Spa
Enoshima Island Spa is a place where you can enjoy the stunning ocean views of Fujisawa while bathing. Enjoy the outdoor pool and the spa pool which should be used wearing a bathing suit!
Enoshima is an island in Fujisawa, Kanagawa prefecture. It is famous for its rich nature and beautiful ocean. The island attracts both domestic and international tourists everyday.
Have you heard of a place in Enoshima where you can enjoy hot spring while overlooking the ocean? Enoshima Island Spa is a resort facility along the coast of Enoshima that offers just that.
Here are the wonderful things you can experience at Enoshima Island Spa or Enospa for short.
Read also: Whitebait burger and fish cake hot dog? Gourmet in Enoshima Island Spa
Fujimiyu -  A Public Bath with Stunning Views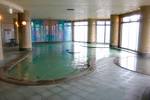 In addition to its wonderful baths, Enospa is most well-known for its breathtaking views.
Fujimiyu is a big public bath facing the beautiful ocean of Fujisawa. Soaking in the warm waters of Enospa while gazing at the beautiful views across the ocean relaxes like nothing else.
One of the many types of baths is a carbonated bath where carbon dioxide has been added to the bath water. Soaking in the bath small bubbles emerge and treat your skin, helping with blood circulation.
Sauna and cold water baths are also available for complete relaxation.
Outdoor Pool
Image courtesy of Enoshima Island Spa
Image courtesy of Enoshima Island Spa
In addition to the indoor baths, Enospa offers outdoor bathing facilities as well. If you are lucky, you may get to see Mt. Fuji on a sunny day while bathing in the large pool at the second floor.
The water temperature is adjusted to the outside temperature, so bathing will be pleasant at any time of the year.
Remember to Wear a Bathing Suit at the Spa Pool Area
Image courtesy of Enoshima Island Spa
You can wear a bathing suit at the pool, so if you are too shy to be naked, this is where you can spend a pleasant time. Sunlight shines into the center pool. The bottom of the pool has an illustration of a hibiscus flower.
You can enjoy taking a jet bath and soak in a Jacuzzi too.
Image courtesy of Enoshima Island Spa
A special water pearl show is held after the darkness falls. The skilled use of light and water creates a mysterious atmosphere! These special events make sure that you will not have a dull moment even if you stay from morning to evening.
Have a Break In a Cave
Going down from the outside pool on the second floor to the first floor using an elevator, a cave-like area appears in front of your eyes.
This area is a rest space with another pool and a café. You will feel as if you were in a real tropical cave while enjoying refreshments.
If you go through falls, you will find an open-air pool facing the ocean. Neyu, as it is called, is a flat bath where you can stretch your legs while taking in the breathtaking views. The ocean is right in front of you as it is on the first floor.
Chill Out After The Baths
After soaking in the baths, you might want to visit the second floor resting area to let your body rest.
Near the main entrance on the first floor is Enoshima Café where popular foods such as Enoshima coffee ice cream with original blend coffee are served. Cold ice creams and drinks will cool down the body that you have heated up in the springs.
Tips for Making the Most Out of Your Stay at Enospa
The manners regarding bathing are described at the entrance of the hot spring area. They are written in multiple languages such as English, Chinese, and Korean so there is no need to worry about the etiquette even if it is your first time at a Japanese hot spring.

English speaking staff is available at the reception, so if you have any questions or concerns, feel free to consult them!

Unfortunately, people bearing any types of tattoo cannot use this facility, even if they are small or those fake sticker tattoos. Elementary school children are not allowed on Sundays.

Massages and aroma treatments are available too. Please visit their website for details.

Enoshima Island Spa, right next to the entrance of Enoshima island, is a fascinating place where you can enjoy hot springs overlooking the ocean. Visit Enospa in the summer for a very special and relaxing moment.

The information presented in this article is based on the time it was written. Note that there may be changes in the merchandise, services, and prices that have occurred after this article was published. Please contact the facility or facilities in this article directly before visiting.