Travel Tips For Tokyo - A Complete Guide
This guide introduces useful information for travelers to Japan's capital. You can find here information regarding the local transportation system, places to stay in Tokyo, Japanese currency, shopping facilities and other useful tips.
Contents:
1. The Charisma of Tokyo: See some of Tokyo's charms through photographs.
2. About Japan: Need-to-know information on Japan overall.
3. Things to Bring: What you need for each season.
4. Airports: Information on Narita and Haneda Airports.
5. Main Stations in Tokyo: A guide to the biggest stations.
6. Places to Stay: Information on hotel types.
7. Food: Information on the best dishes to try in Tokyo.
1. The Charisma of Tokyo
Tokyo is one of the largest cities in the world; here you can find many different kinds of people, products and cultures. As the center of Japanese economy and politics, the face of the capital of Japan is changing every day. It's a place where new businesses, technologies, and cultures constantly take shape. This sleepless city will never bore you, but can surprise you with its excitement and inspiration. This list of travel tips will help you to make your stay in Tokyo more meaningful.
Tokyo Tower: 333 Meter Tall Landmark Photo by: Alex Chen

Takeshita Street, Harajuku: Counterculture Fashion Paradise Photo by: Carlos Mejía Greene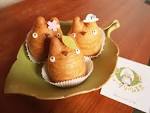 Totoro cream puff from the most well-known animation studio, Studio Ghibli. From:

Kawaii Girl's culture: Lolita fashion From: