Travel Tips For Tokyo - A Complete Guide
This guide introduces useful information for travelers to Japan's capital. You can find here information regarding the local transportation system, places to stay in Tokyo, Japanese currency, shopping facilities and other useful tips.
Contents:
1. The Charisma of Tokyo: See some of Tokyo's charms through photographs.
2. About Japan: Need-to-know information on Japan overall.
3. Things to Bring: What you need for each season.
4. Airports: Information on Narita and Haneda Airports.
5. Main Stations in Tōkyō: A guide to the biggest stations.
6. Places to Stay: Information on hotel types.
7. Food: Information on the best dishes to try in Tōkyō.
1. The Charisma of Tokyo
Tōkyō is one of the largest cities in the world; here you can find many different kinds of people, products and cultures. As the center of Japanese economy and politics, the face of the capital of Japan is changing every day. It's a place where new businesses, technologies, and cultures constantly take shape. This sleepless city will never bore you, but can surprise you with its excitement and inspiration. This list of travel tips will help you to make your stay in Tōkyō more meaningful.
Tōkyō Tower: 333 Meter Tall Landmark Photo by: Alex Chen
Takeshita Street, Harajuku: Counterculture Fashion Paradise Photo by: Carlos Mejía Greene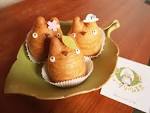 Totoro cream puff from the most well-known animation studio, Studio Ghibli. From:
Kawaii Girl's culture: Lolita fashion From:
2. About Japan
Geography of Japan
Japan is a formed from a series of islands, some close together and others a short flight or ferry ride away. There are numerous forests, waterfalls, mountains, volcanoes and even a desert spread across this nation.
One of the most commented on features of Japan is the clear distinction between each of the four seasons; which have given rise to a culture where seasonal differences are well-noted, from seasonal dishes to sightseeing spots. The seasons are generally broken down as follows: March to May (spring), June to August (summer), September to November (autumn) and December to February (winter). June has its own seasonal point - tsuyu or the rainy season, this month typically has heavy rains off and on.
The summer in most of Japan is quite hot and humid, with temperatures hovering around 30°C (86°F). On the other hand, winters in the North East of Japan regularly experience heavy snowfall and temperatures below 0°C (32°F). For more on the weather in Tōkyō, please refer to this link.
Language
The common language is Japanese. The majority of signs and maps are written in Japanese first, though most street and station signs are written in English, Chinese and Korean as well. Outside of major cities however, the number of signs and maps in other languages may decrease significantly.
Many restaurants, shops, sightseeing spots and taxi services have increased the number of multilingual staff they have on hand, however these staff are not always available. To make it easier to navigate your way through your travels, it would be a good idea to check out these 100 phrases to memorize before traveling Japan.
Currency/Prices
The currency of Japan is the Japanese yen (¥ or 円). At present, the Japanese yen is roughly equivalent to the American dollar (subject to currency exchange rate fluctuations). For example: at present (June 2016) $1 USD = ¥101, so a 500 ml water bottle will cost 120 yen or $1.19 USD.
General price reference guide:
[Bus] Adults 210 yen Children 110 yen (Tōkyō 23 wards)
[Taxi] First Ride 730 yen (Up to 2 km). Plus 90 yen per 280m. (Tōkyō 23 wards)
[Hamburger] from 100 yen
[Coke (500ml)] 150 yen
[Beer (350ml-500ml)] 400-600 yen
Public Transportation

The main forms of public transportation in Tōkyō are trains, buses, and taxis. Public transportation during rush hours is very crowded, as it is in other major cities overseas. Japanese trains are known for their reliability: they are seldom late or off-schedule by more than 1 minute.
That being said, accidents and bad weather can throw off even the best laid plans, so it is a good idea to give yourself some extra time when planning out your travels within Japan.
Train maps for the Greater Tōkyō Area: JR Train Lines in Tōkyō
Tōkyō Metro Lines
Train Related information:
Get Around With Ease: How To Buy Your Own Suica
How To Charge Your Suica
13 Manners on Train: Obvious But Important
If you want to take a bus, prepare 200 yen in change or your Suica IC card and pay when getting on the bus. Taxis are more expensive when compared to trains and buses, but are very convenient for traveling late at night or when you want to get somewhere directly in a hurry. Please check this article for more information on how to catch a taxi in Tōkyō.
Internet
There are limited Cable LAN and wireless LAN services in public areas in Japan; however there are numerous free wi-fi spots spread across the country. We will introduce ways of accessing Internet with your tablets and smartphones later.
Water
It is safe to drink from the tap though a 500 ml water bottle costs around 120 yen.
Alcohol/Cigarettes/Drugs
In Japan, only those who are 20 years of age or older are allowed to purchase alcohol and cigarettes. There are strict punishments for those that break these laws, including fines and potential jail time. In order to purchase cigarettes or alcohol, you may be required to present your passport and/or a second form of photo identification.
Both cigarettes and alcohol may be purchased at convenience stores and supermarkets; look for the osake (酒). Though there are cigarette vending machines, they require a "taspo" identification card which is not available to those residing in Japan for less than 6 months consecutively. For more information on cigarettes, please refer to this article.
The possession and use of marijuana or any other drugs, including some common prescription drugs overseas, is against the law. For prescription medications, make absolutely certain that they are allowed in Japan before your flight - check with your embassy for more details.
Convenience Stores, ATMs and Coin Lockers
Convenience stores are great places to purchase small commodities and daily need items, as well as souvenirs. Most convenience stores also have public bathrooms available for customers. ATMs are also available in most convenience stores, though not all machines can accept non-Japanese issue cards. Please refer to this article for more information.
Convenient coin lockers are located at most train stations and some sightseeing spots, so you can enjoy your vacation without having to worry about carrying around your bags. If you would like to use a coin locker, follow our step-by-step guide found here.
Emergency Services
The police may be reached in emergencies at 110, while fire and ambulance services are at 119. If you are able, make certain to take any necessary medical information with you before heading to the hospital. Do not forget to take contact information of your nearby hospitals.
Tōkyō Metro Fire Department: Emergency contact instructions (multi-lingual)
If you are on the train or in the station and notice something that seems unusual or any unattended baggage, notify the station staff immediately. If you see that someone has fallen on the tracks or has become ill within the train car, please press the Emergency Stop button. Many stations are also equipped with phones where you can directly call the staff from the platform. Do not hesitate to contact them in an emergency, they are there to help.
Rubbish
Japan ranks highly on the list of cleanest countries in the world, which may surprise you when you realize just how difficult it is to find a public trash or recycling bin. If you can't carry the rubbish with you, head for the nearest convenience store where you are sure to find the bin you're looking for.
Keep in mind though, Japanese garbage is separated into different categories: cans & bottles, PET bottles, combustible rubbish (paper, food waste, etc) and non-combustible rubbish (plastic spoons, plastic bags).
3. Things to Bring
This is a list of what you must have with you when you travel to Japan.
Passport
You must have this with you at all times; you may be asked to present it if stopped by the police and when shopping at tax-free shops. Make sure that it will not expire during your stay in Japan- you may be refused entry if so.
Visa
If you are only staying in Japan for a short time and are from certain countries, you will not need a visa to visit Japan. For other countries, regardless of your length of stay, you will need a visa. This link will help you to determine whether you need a visa or not.
Credit Card
The main credit card companies in Japan are VISA, JCB, and MasterCard and can be used at most medium to major shopping centers. However in smaller shops and in rural areas, credit cards may not be accepted, so it is a good idea to always have enough cash on hand to take care of any bills that may come up.
Cash Card/Debit Card
If you have an international cash card, you can withdraw yen directly from your bank account at an ATM in Japan. Most stores do not accept debit cards, and those that do, do not have cash-back options. For more on bank cards, please refer to this link.
Smartphones/tablets/PC
Airports and some cafés and shopping centers offer free Wi-fi. You can also purchase a SIM card to use your phone in Japan if you like, however extra fees etc may apply. For more details on SIM cards, please check this link.
Clothes
Most hotels have a coin-laundry or dry-cleaning service available for their guests.
Charger/Transformer/Adaptor
Bring your own chargers. You will also need to prepare a transformer or adapter that allows you to connect your chargers to the plug like the picture above.
4. Airports
To reach Tōkyō, you will either have to use Narita airport or Haneda international airport. Narita airport is often used by many international airlines. Both airports are pretty large so it's better to check the maps of your airport to avoid being lost after you get your baggage.
Haneda International Airport (Tōkyō International Airport)
How to get airplane ticket to Japan
An airplane ticket to Japan can be purchased at the websites below. You can also go to a travel agency that will help you to organize your travel plan including airplane ticket, but these websites may also be useful.
From the Airport to the City
It takes roughly 1-2 hours to reach Tōkyō from Narita Airport, depending on your mode of transportation. Taking the bus is the cheapest option though it will take 2 hours or more, while the Narita Express and Keisei Skyliner trains are both good but somewhat pricey options. For more on routes to Tōkyō from Narita, please check this link.
JR Narita Express HP
Keisei Skyliner HP
If you would like to take a regular train, we would suggest purchasing an IC card such as the Suica or Pasmo card in order to make transfers between stations easier. For instructions on how to purchase an IC card and fill it, please click the respective links.
For the JR train line map of Tōkyō: JR Train Lines
For the Tōkyō Metro train line map of Tōkyō:Tōkyō Metro Lines
Exchange Your Money into Yen
One of the first things you will want to do if you have not already done so is to change some money into Japanese yen. The exchange rate is not ideal in the airports, so it is a good idea to visit an exchange office or bank as soon as you are able. Most hotels and even some convenience stores in popular sightseeing areas have currency exchange information or even machines in the lobby if you need money in a hurry. Some credit and debit cards allow direct withdrawals from your overseas account into Japanese yen, so please check with your bank at home to see if this service is available.
Wi-Fi/SIM card
Directions on how to connect your gadgets to the wi-fi at Narita Airport are introduced in this link. Both Narita and Haneda airports have free wi-fi for those in the terminal, so please take advantage of this service.
5. Main Stations in Tōkyō
Areas that have Easy Access from Tōkyō Station
Areas that have Easy Access from Shinjuku Station
You can access free wi-fi at most Tōkyō Metro stations.
6. Places to Stay
Accommodations in Japan run from the very cheap to 5 star luxury spots, so choosing a place to stay not only depends on location but on your budget. In general, the average prices for a single occupant in a given facility type are as follows:
Luxury Hotel: from 15,000 yen per night
Japanese Ryokan Inn: from 7500 yen per night
Business Hotel: from 4500 yen per night
Capsule Hotel: from 2000 yen per night
Guesthouse/hostel: from 1000 yen per night
Depending on the type of accommodation that you choose, you may have a curfew at night, or may need to bring your luggage with your during the day. Please read through any accommodation information carefully before making your reservations.
The majority of accommodations in Japan now offer wi-fi in room and have onsite laundry and dining facilities, but there are some exceptions to this. In particular, if you are planning on staying in the countryside, you may find that wi-fi is not available or not especially strong, so please be aware of these kinds of issues.
7. Food
Food, who could forget this part of travel? From sushi and ramen to amazing halal dishes and vegan crepes, Tōkyō is a foodies paradise. It's been said that you could eat at a different spot for 3 meals a day and still not visit every restaurant there is in Tōkyō. If you would like more information on a particular type of food, please use the search function at the top of this page, or check out the recommended links.
Japan is Waiting for You!
We hope that this page has helped you in planning your trip to Japan. If someone you know is planning a trip to Tōkyō, please send them this link - I'm sure that they'll really appreciate it. Happy travels!
For more information on travel in Tōkyō: