Soba Noodles: Their Calorie Content, Ingredients And Where To Eat Them
Soba noodles are a food loved in Japan for centuries and one of the representative dishes of the country. Find out more about the many varieties of soba noodle dishes, how to eat them and the best soba restaurants in Japan!
Differences in Flavor Between Kanto and Kansai
In both the Kanto region and Kansai region, there are subtle differences in the tsuyu, the flavoring made from soy sauce and dashi, that is used with both soba and udon.
In Kanto, the tsuyu is made with katsuobushi at the heart of the stock, with a strong soy sauce and mirin added to it; this tsuyu is quite dark in color and has a somewhat strong flavor to it. Kansai, on the other hand, starts from a kombu kelp based stock, and adds a diluted soy sauce to that, giving their tsuyu an overall lighter color but an effective flavor.
If you happen to be traveling through both regions, why not sample soba or udon from both Kansai and Kanto to see these flavor differences for yourself? Check out What Are The Differences Between Soba and Udon Noodles? for more about this.
Soba Prices
The prices of soba vary from place to place and by what sort of topping they are served with. The lowest price soba chain shops tend to offer single dishes in the 300 to 600 yen range, while specialty stores can be priced between 600 to 1000 yen. High ranking restaurants may have soba dishes costing anywhere from 1000 to 2000 yen on their menus as well.
A rough estimate of the prices of popular types in most shops would be:
Kakesoba: 300-800 yen
Zarusoba: 300-800 yen
Tempura soba: 500-800 yen
In general, if you have 1000 yen, you will be able to enjoy almost all varieties of soba in any given shop.
Chain Shops
Fuji Soba, Yudetaro, Komoro Soba, and Hakone Soba are four of the most popular soba chain restaurants in Japan.
No matter which restaurant you select, they are going to have kakesoba starting from about 300 yen, which is an honest price indeed. For those traveling in Japan on a tight budget or with little appetite, these are excellent places to stop for a healthy meal.
Recommended Shops
Here are some of our recommended soba shops found throughout the Tokyo area.
Fukudaya (Shibuya)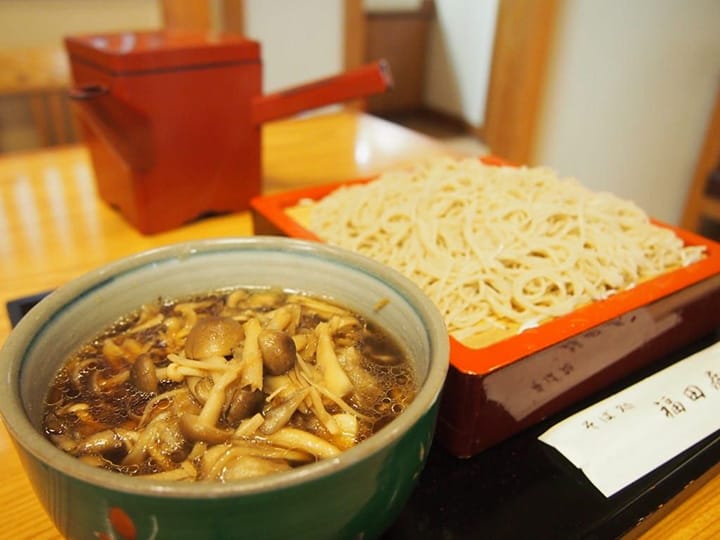 If you are in Tokyo's Shibuya area and are in the mood for soba, we recommend visiting Fukudaya, a shop with a 50 year long history. It is a shop where both men and women, young and old love to visit, and also has udon on the menu. Fukudaya, Soba restaurant in Shibuya has more on this amazing restaurant.
MatsuGen Ebisu (Ebisu)
This shop, located in the popular Ebisu area of Tokyo, has soba, sukiyaki, and tempura on the menu - which also come in English, by the way. Our recommended dish here is their elegant and skillfully flavored sea urchin topped soba. Please look at this article for more on this delicious restaurant: "MatsuGen Ebisu": Soba and Japanese Cuisine from Selected Ingredients.
Namikiyabu Soba (Asakusa)
If you are getting hungry while sightseeing in Asakusa, then stop by Namikiyabu Soba, which is right by Kaminarimon. This shop was established in 1913 and is a prominent shop of longstanding in Tokyo. At this shop you can savor the aroma of the soba as you enjoy their flavorful noodles. Take a look at: Namikiyabu Soba: a 100 Year-Old Soba Shop Loved By Everyone! (Asakusa) for more information.
Takahashike
This restaurant, found on the World Heritage recognized Mount Takao has been offering tororo soba to travelers for over 170 years. With grated yamaimo and nagaimo and other types of Japanese yam combined and poured over these noodles, this tororo soba is said to give you a lot of stamina, making it the perfect food to eat when you are hiking up a mountain. Read the following article for more: Tasty Fuel For Your Mount Takao Hike: Takahashiya Tororo Soba.
Soba Allergy
Soba is considered to be a health food as it has plenty of vitamin B2 and dietary fiber in it. Rarely though, the proteins contained in buckwheat flour may cause individuals to have an allergic reaction.
For countries that do not have a tradition of eating soba or buckwheat flour based products, there may be some that are not aware of buckwheat allergies. As a result, of the people that eat soba for the first time when in Japan, there may be a few tourists that unfortunately experience this.
If you have a soba allergy, within 10 minutes of eating the noodles you will experience:
- pain inside your mouth
- the inside of your mouth/tongue will begin to swell
- the throat will feel itchy
And other symptoms may start to occur.
As time progresses, stomach pain, nausea, diarrhea, and other internal issues may occur; in severe cases, you may suffer from anaphylactic shock. If you start to have a strange sensation in your mouth while eating soba, stop eating and spit out or throw up what you have eaten right away, then drink as much water as possible.
To get more information on this important topic, please read this article: Japanese Encyclopedia: Soba Allergy.
Enjoy Yourself with Soba
Perhaps the greatest charm of soba is that, slurped up with the right condiments, this is a dish that has been loved in Japan by the common people for generations. And without having the rigid etiquette of tea-ceremony dishes, soba is truly a dish that anyone can enjoy.