4 Delicious Treats to Enjoy at Tea Room Nicol in Yufuin, Oita
Along with Beppu, Yufuin is a hot spring resort that is highly popular among visitors from overseas. In this article we introduce a relaxing and nature-rich resting spot in Yufuin: Tea Room Nicol.
Oita prefecture is famous for its hot springs. Along with Beppu, Yufuin is a hot spring resort that attracts many visitors from around the world. The area boasts not only great onsen, but also many unique restaurants, souvenir shops, and variety stores.
Today, we'll be introducing Tea Room Nicol, a spot you should definitely stop by when strolling around the Yufuin area, as well as some of its most popular dishes.
Tea Room Nicol
Tea Room Nicol is a cafe space located in one of Yufuin's most famous onsen ryokans: Yufuin Tamanoyu. The space can be used by non-overnight guests as well. It's a highly popular cafe that many travelers stop by.
The cafe space is open from 9:00 to 17:00, and after that Nicol's Bar next door opens.
Green-Rich Relaxing Atmosphere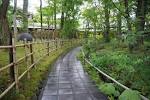 The woods leading to Tea Room Nicol offer a different beautiful view depending on which season you visit, such as fresh verdure and autumn leaves. When we visited, we enjoyed the vivid green leaves after some rain.
The interior has an open and bright atmosphere, thanks to the light pouring in from the large windows. Before your eyes are many green trees, allowing you to sit back and relax without being distracted by the people passing by.
4 Items You Should Try at Tea Room Nicol
From here, we'll be introducing four dishes that we think you should definitely try when you visit.
1. Apple Pie
Thinly sliced apples are placed on a very thin pie pastry. It's so deliciously good that many of the customers come here just for this! It costs 520 yen. With a nice sweet taste and crispy texture, it'll be gone before you know it. However, it's so popular that sometimes it sells out before noon, so if you want to taste it we recommend you stop by in the morning.
2. Chiffon Cake and Herb Tea
If you want to enjoy a relaxing time, we recommend the Nicol-original chiffon cake (480 yen) and fresh herb tea (750 yen) made in Yufuin. The herb tea uses local herbs, and has a great scent and flavor.
3. Anpan Set
This is a combo set including an anpan sweet bread from the popular bakery Tomonaga Panya in Beppu and milk from a ranch in Yufuin. Inside the soft bread is anko with just the right amount of sweetness.
The anko-filled anpan (140 yen) can also be taken home. Even if you're already full from the apple pie you just ate, we recommend getting this one for home.
4. Yuzumitsu Squash
If it's a hot day and you need something refreshing, order the Yuzumitsu Squash (620 yen), which uses Yuzumitsu from Hita. The perfectly carbonated drink is sure to quench your thirst.
In Conclusion
What do you think? We think the best season for visiting Tea Room Nicol is in April or May, when you can admire the fresh verdure. However, the cafe space will let you enjoy its natural surroundings no matter what season you visit. If you're visiting Yufuin, take a break from the bustling streets, and stop by this relaxing cafe. You'll probably want to stay here forever.

The information presented in this article is based on the time it was written. Note that there may be changes in the merchandise, services, and prices that have occurred after this article was published. Please contact the facility or facilities in this article directly before visiting.