Kawagoe Bicycle Sharing - Tour The City On A Green Stallion!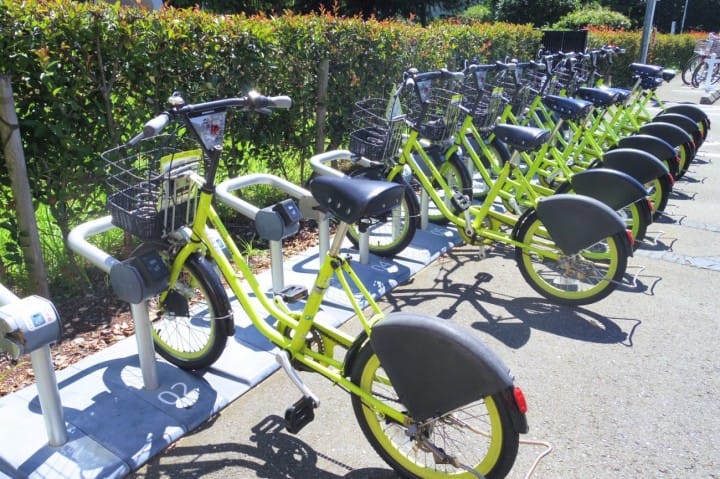 Kawagoe, or the "little Edo" of Saitama prefecture, still has the old streets and its traditional charm. With many confectioneries, shrines, and other tourist spots, it is difficult to make rounds on foot. So, let us introduce Kawagoe bicycle sharing!
A Great Way to Explore Kawagoe! Drop off Rental Bicycles
Kawagoe city in Saitama prefecture flourished as a castle town during the Edo period, and has preserved much of its Edo-style charm to this day.
Although you already might have heard of Kawagoe as a representative "little Edo" (*1) city, it still has a lot up its sleeve – the sweets alley, the Buddhist temple Kitain, Kawagoe Hikawa Shrine, and many other fascinating tourist attractions. And it takes only about an hour by train from Tokyo's Shinjuku! Isn't that amazing(ly close)? It does live up to its often-recommended-to-visitors name!
This time we will tell you more about one great way to thoroughly explore Kawagoe City – their Kawagoe Bicycle Sharing service, thanks to which you can rent out a bicycle and drop it off on one of many designated locations throughout the city!
* 1 Little Edo: cities that flourished in the way Japan's former capital Edo (Tokyo) did, are called "little Edo".
Where to Find the 11 Rental Ports
You'll find bicycles available for rent at the special bicycle-sharing ports. Even if navigating the area isn't your strongest features, don't worry, because they are also quite hard to miss – painted in a refreshing pea green color.
There are eleven bicycle-sharing ports in the city of Kawagoe – Kawagoe Station, Kitain, Hatsukari Park, Kawagoe City Hall, Festival Pavilion, Saiwai, Agresh Kawagoe, Koedo Kurari, Hon-Kawagoe Station, and Hikawa Shrine. It makes all the difference to be able to rent out a bicycle not only in front of the city station, but also at any of these well-known tourist attractions, don't you agree?
You can rent out a bicycle for as long as 24 hours, and adjust the renting time and the returning time, as well as the returning place to your touring itinerary. This service gives you all the freedom you need to get to know the city and the surrounding area in a satisfying and relaxing way. Has there ever been a time when, after all that looking around, you just don't have the strength left to go back to the starting point of your route by foot? Well, you can say goodbye to those trouble in Kawagoe!
Ride Your Heart Out For Only 200 Yen!
You might not be able to believe this, but this amazingly useful bicycle sharing service costs only 200 yen (the initial price)! However, do note that the initial 200 yen is the fare for a 40 minute period from the moment of rental until the moment of return, so should you need any extra time you will have to pay additional 200 yen for every 30 minutes.
Nevertheless, you have the right to use the bicycle whenever you feel like it and for as much as you'd like during that particular day, so if you remember to return your bicycle to each port (at the tourist attractions) every time, you should be able to finish your day trip without any trouble having paid the initial 200 yen only.
Rental and Return Procedures
You can get yourself your lovely bicycle by choosing one of the following two methods: 1. Rent it out using the touch panel at the corner of every port; 2. Rent it out at the counter for cash payment (Hon-Kawagoe Station Tourist Information Centre).
1. How To Use the Touch Panel at Ports (For Credit Cards)
The first thing you have to do to rent yourself a bicycle using the touch panel is to select your preferred period of rental time and to unlock the bicycle, after which you should insert your phone number and credit card number. With your IC card as the key, you can use your bicycle right away! If you don't choose IC card unlocking method, you will get a special password which you can use to unlock your bicycle and start your adventure.
Should you feel lost in all that Japanese appearing on the touch panel, just select the instructions in English, Chinese (Traditional and Simplified), or Korean, and get your hands on that bicycle in no time.
Also, if you don't feel like bringing your credit card all the way to the chosen port, you can sign in from the Kawagoe Bicycle Sharing Official Website (Japanese) in advance.
2. The Counter for Cash Payment
Visitors who don't possess a credit card can make their reservation and rent out their beloved bicycle at the counter with a cash payment.
Bear in mind that you'll find the counter for payment in cash only at Hon-Kawagoe Station, so you should finish up the procedure beforehand. Also, don't forget to bring your ID with you! To get your bicycle as soon as possible and get your IC card, be sure to fill out the rental application papers, prepare your ID and show it to the personnel in charge, and to bring your 200 yen for initial payment, as well as 800 yen for deposit (*2) – a 1000 yen in total.
* 2 Deposit: the key money; when returning your IC card, you will get the remaining amount after paying for all the additional time you used (if you spent any additional rental time).
As the last step before you finally set out for that horizon, you should use your IC card to unlock the bicycle – use it either on the sensor on the side of the front wheel, or on the machine at the port's corner (for those who chose the password unlock method, insert the correct numbers). Now, let's see what lies ahead!
As for the returning procedure, there is only one small step – drop off your bicycle at one of the port's racks, and you're free to go! If, by chance, all of the racks are taken and you're at loss about what to do, don't panic – you can leave your bicycle at the port's corner (for times when the parking lot is full), but make sure you leave it locked with the provided key!
What About Manners?
If you'd like to get the best out of this superb experience and enjoy it without any troubles, do make sure you follow Japan's traffic rules. There might even be some rules that differ from the ones in your (or other) countries, so it is of vital importance to ask and learn about them beforehand. So, we have written down some of the basic rules bicycle users should follow in Japan.
1. Bicycles should, in general, run on the road.
2. Ride on the left side of the road.
3. In pedestrian zones the pedestrians have right of way, so you should ride your bicycle slowly (slower than on the road).
4. Follow other safety rules as well.
Other important rules:
You cannot ride after consuming alcohol; two or more people may not ride the same bicycle at the same time; bicycles may not cycle side by side one another.
You must have your lights on at night.
You must abide by the rules and pay attention to the traffic lights, the signs on the road, just as any other vehicle would.
Get to Know Kawagoe On a Bicycle!
The Bicycle Sharing service could get you to those faraway places you've already given up on, and make it possible to explore every corner of the city of Kawagoe. Why don't you try it out, and create plenty of exciting memories, all while (safely and cautiously) riding that handsome pea green stallion of yours?

The information presented in this article is based on the time it was written. Note that there may be changes in the merchandise, services, and prices that have occurred after this article was published. Please contact the facility or facilities in this article directly before visiting.