Visit The Pola Museum Of Art In Hakone! Installations And Exhibits
The Pola Museum of Art in Hakone has a massive collection that includes 19th-century French impressionist paintings, Japanese paintings, Oriental pottery and more!
A Place Overflowing with Light: The Pola Museum of Art in Hakone
Two and a half hours from Tokyo by train, Hakone is a popular hot spring resort area with abundant natural beauty. This city is also known for being home to the Pola Museum of Art.
The building's use of glass creates a bright structure that feels very open, and the interior is flooded with light so that visitors feel as though the building is part of the Hakone forest.
The art museum opened in 2002 and has displayed works from famous artists, including Monet, Renoir and Picasso; it has a varied collection that features Western-style paintings by Japanese artists, Japanese paintings, woodcut prints, Oriental clay pieces, glasswork, cosmetics items and more. Many of the over ten thousand total items in the collection were gathered by Tsuneshi Suzuki, second-generation head of the Japanese cosmetics manufacturer Pola Orbis Group, over more than four decades. In addition to many works by famous artists, the museum has a promenade and restaurants where you can enjoy lunch while seated out on a terrace. Naturally, it's great for art lovers, but even art appreciation novices will find something to enjoy here. The Pola Museum is a place where you can get away from the hustle and bustle of Tokyo and relax to your very core, through contact with music and art.
The Installations and Exhibits Change Every Six Months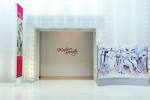 The Pola Museum of Art has had permanent exhibits and installations since opening. In the permanent exhibits, up to 300 pieces from the museum's collection of over 10,000 items are displayed in conjunction with a theme, being rotated out twice a year. The installations are not limited to the Pola Museum of Art collection; valuable art pieces are gathered and put on display, and these are also around for six months.
When we went (August 2016), the permanent installations "Paintings of the Pola Museum of Art - Collection Highlights!", "Oriental Clay x Contemporary Ceramics: The World of Pottery Seen In Color", "Glasswork and Words" and "Carefully Looking Up At and Out Onto 06" were on display.
The exhibition room for "Oriental Clay x Contemporary Ceramics: The World of Pottery Seen In Color" has pottery from China, Korea and Japan on display. You can examine pottery items that have crossed through area borders, compare them, and gaze on the creators' attention to coloration.
In the exhibition room for "Glasswork and Words," the display centered around work with "words" etched into them. According to the Daum brothers, these two pieces have various ornamentation, and the words "plus penser que dire (thoughts over words)" etched into them. By reading the words of sermons, proverbs and prose etched into these glass works, you will be drawn in by their allure even more.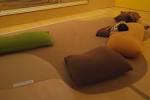 In the exhibition room for "Carefully Looking Up At and Out Onto 06", there are plenty of different perspectives from which you can view the displays; you can lie down in front of the pieces, or look at it from the platform behind them. Gaze at the artwork from a perspective other than standing directly in front and you may discover a new way to be fascinated by it.
The "Modern Beauty" exhibit was on display from March 19th to September 4th, 2016, and contained French paintings and cosmetics. Visitors to the exhibit could take a look at "feminine beauty" from a century ago through the lens of fashion.
From September 10th, 2016 to March 3rd, 2017, the Looking at the Boundaries of Paris: Rousseau, Fujita and Photographer Atget exhibit was open at the Pola Museum. These three artists all created various works that don't adhere to conventional wisdom. They all lived in the low areas around Montparnasse and left behind works that looked at the great metropolis, Paris, and the suburbs. Take a look at the boundary lines of Paris that so fascinated them.
The interior of the museum is very relaxed, and we were able to leisurely enjoy each piece. The collection is excellent, and since the installations change twice a year, you can discover something new every time you visit.
The Pola Museum Shops
The museum has two shops that stock more than 2000 items.
The first floor shop has items that are just perfect as Hakone souvenirs, such as small Yosegi-zaiku trinkets. It stocks fascinating accessories, imported French teas and various other goods. You can buy things without entering the exhibition area.
In the basement shop, you can find mugs, cute sweets, calendars and other original goods that number more than 200 in total. These are exclusive to the Pola Museum of Art, so buy all means, pick something up to take home.
We Also Recommend the Restaurant Next Door
The Pola Museum of Art also has a promenade surrounded by nature and restaurants with limited-edition menus that connect to the theme of the current exhibits. You can sample dessert inspired by Monet's famous Les Nymphéas painting, and more. For more information, read the companion piece to this article.

The information presented in this article is based on the time it was written. Note that there may be changes in the merchandise, services, and prices that have occurred after this article was published. Please contact the facility or facilities in this article directly before visiting.