Stay Safe: The Yokohama Disaster Risk Reduction Learning Center
Yokohama Disaster Risk Reduction Center is a facility where you can learn about disasters and experience simulations for free. Japan is known for its many natural disasters, so it's a good idea to know the basics of what to do in the case of one.
Learn About Natural Disasters in Japan
Although a generally safe country, Japan is known for its many natural disasters which include earthquakes and typhoons. Do you know what you should do and how to protect yourself in the case of a natural disaster while traveling in Japan?
The Yokohama Disaster Risk Reduction Learning Center in Yokohama is a free facility where visitors can learn about disasters in Japan and how to act if one happens, through simulations of earthquakes, fires, and more.
We decided to visit and experience the facility ourselves!
Experience the Terror of an Earthquake
The Learning Center has an area where visitors can experience what an earthquake is actually like. We recommend you first experience for yourself what the shaking and fear of an earthquake feels like.
You will be able to learn just how much you can move during different levels of shaking, so that you can keep calm if you ever find yourself experiencing the same in real life.
There are various patterns to earthquakes.
Video images are combined with the shaking simulation, allowing for an experience that is very close to reality. One pattern we saw was the long-period swaying motion that happens in skyscrapers.
You can also experience a simulation of the 2011 Great East Japan Earthquake. The shaking is so strong that you have to grab onto a handrail to stay standing. The duration of the experience here is about 20 seconds, but the actual earthquake continued to shake for over 2 minutes. It's a valuable experience that will remind you of how terrifying natural disasters can be.
Fires and Fire Extinguishers
Climb the stairs to find the Fire Simulator, where you can learn about how to act in the case of a fire. Here, supposing the fire was caused from oil ignition, visitors will experience how to extinguish a fire with the proper equipment.
Fire extinguishers in Japan are red and easy to find. To use one, you will need to pull out the yellow part above the black handle. Normally, a special powder will shoot out of the extinguishers, but at the Learning Center, the fire will go out when you accurately hit the sensors.
Fighting a fire is a race against time. The children taking part when we visited were doing their best to quickly put out the fire.
How to Evacuate if a Fire Can't be Extinguished
There is a possibility that a fire can't be put out despite your best, desperate efforts. In that case, it's important to get away from the fire and to secure your safety. The Learning Center also offers knowledge on how to evacuate different places safely and quickly.
When evacuating from a fire scene, the largest obstacle is often the smoke. You should get down low and be careful not to breathe in the smoke.
The smoke used in simulations at the Learning Center has a sweet scent. If you can smell it, that means you have breathed in that much smoke, and you should try to get in a better posture when evacuating.
The smoke used at the Learning Center is man-made and harmless to the body.
Put Your New Knowledge Into Practice at the Disaster Mitigation Training Room
The Disaster Mitigation Training Room offers a realistic disaster experience.
The room used for the simulation is one that you would find in a common Japanese home. The experience requires participants to quickly handle the situation with all their new knowledge.
This time, we were hit by an earthquake. Participants were quick to secure the safety of their heads.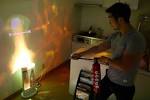 Next, we found the heater was on fire. I was quick to extinguish the problem.
You will also find evacuation bags and flashlights in the room, as well as water and food in the fridge. It might be difficult for tourists to have all of these ready, but having the bare minimum of emergency items (drinking water being key) is always good for your peace of mind.
Learn How to Protect Yourself Through Documentary Videos
The Disaster Theater is a corner where you can watch documentary videos on what can happen during a natural disaster.
Subtitles are available in English, simplified Chinese, and Korean, so we encourage tourists to check it out as well.
Raising Awareness of Disaster Prevention
The Learning Center was reopened after renovations in April 2016. Everything here can be experienced for free.
Other than the attractions we introduced today, there is also an area called the Disaster Prevention Library where visitors can learn more about disaster prevention. You can also enjoy some related quizzes, and they aren't very easy! They are also available in English, so visitors from overseas should also give them a try.

Stop by the Yokohama Disaster Risk Reduction Learning Center to learn about what to do in the case of a disaster, and safely enjoy your trip in Japan.


The information presented in this article is based on the time it was written. Note that there may be changes in the merchandise, services, and prices that have occurred after this article was published. Please contact the facility or facilities in this article directly before visiting.