Find A Good Match - The Musubi Cafe At Kawagoe Hikawa Shrine
Kawagoe Hikawa Shrine in Kawagoe, Saitama, is known as a matchmaking shrine. At Musubi Cafe, which is located in the precincts of the shrine, you can enjoy meals and buy gifts within a bright, pure atmosphere.
A Cafe That Brings Encounters in Kawagoe, Saitama
Kawagoe Hikawa Shrine is a historic shrine that was established approximately 1500 years ago, and is well-known for bringing good luck in matchmaking. Musubi Cafe, of which concept is musubi (relationships), is located in the precincts of this shrine.
Some of the ingredients used in their meals are purified by the shrine before being prepared. Don't you feel like your meant-to-be will appear after a meal like this? Why not enjoy a hearty meal and go home with souvenirs related to musubi for your loved ones? Let us tell you about Musubi Cafe's attractions in this article.
Please refer to Hikawa Shrine In Kawagoe - 8 Things To Do To Improve Your Luck In Love for information about Kawagoe Hikawa Shrine itself.
Feel Close to the Shrine and Its Hearty Atmosphere
Musubi Cafe is located on the first floor of Hikawa Hall which is right next to Kawagoe Hikawa Shrine.
The door knob at the entrance is made from the tree that fell in the storm a few years ago. A touch of this wood before entering the cafe will make you feel the warmth of this place.
Their furniture is wooden and the main color is white, which helps to create a comfortable atmosphere. One of the tables uses the same material as the torii of the shrine. This is yet another way to feel closer to the shrine.

On the wall there are different Mamori musubi (relationship ties), a good luck charm displayed in homes. Each musubi symbolizes a seasonal event or a monthly festival, and it is fun just looking at them.
Postcards with illustrations of mamori musubi can be purchased here as well. Wouldn't it be nice to send seasonal greetings, congratulations, or thank you notes with postcards that stand for that month?
Taste Some of Their Fancy Cafe Meals
There are many pretty cakes displayed in the showcase of Musubi Cafe.
The most popular is Musubi Roll (432 yen with tax). The sweetness from the foamed cream in which high-quality sugar is used, and the light taste of chestnut go perfectly well together.
Hanakanzashi (486 yen with tax) is another popular menu item. This fancy mousse cake was designed after the traditional Japanese hair accessory, the kanzashi. White chocolate and berries are the secret to its perfect sweet and sour taste.
Their Healthy Menu Is Also Recommended
On weekdays, they offer a healthy lunch menu which is full of vegetables. This is a Japanese meal, Musubi-zen B (2160 yen with tax). This seasonal meal is very colorful and looks like a treasure box!
For lunch, customers can choose either a French or a Japanese meal, depending on the day. Each consists of three courses. They also offer light meals such as curry and rice balls. Some of the dishes have limited quantities or need to be reserved in advance, so we recommend that you check their website before visiting.
Check Out Souvenirs for Your Loved Ones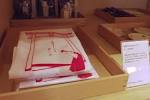 They also offer nice souvenirs. Illustrations on how to worship in a shrine are printed on this hand towel (1100 yen with tax). The red illustrations stand out very well against the white cloth. Don't worry if you cannot read Japanese, as there is a simple English explanation on the back.
Salt is believed to have the power of purification, and therefore it is deeply connected to shrines. At Musubi Cafe, you can also buy Wajima salt warashibari (1000 yen with tax), which is a type of salt produced by Noto island's Agehama salt-making technique (agehama is an artificially flooded salt farm above the high-tide mark). Delicious salt wrapped with straw would make a great souvenir.

Rice is a staple food for Japanese. Musubi mai (702 yen with tax) is rice selected by five-star rice meister, which is kind of a master's degree of rice. They have chosen the rice that match the best for rice balls. It is wrapped in a traditional way and makes a good choice for a souvenir too.
Enishi (432 yen with tax) are sweets that were inspired by the enmusubi-dama (a matchmaking stone), which is passed out at the shrine for free in the early mornings. These red and white marshmallows come in an assortment of flavors, including wild strawberry, and lime. There are sold in a set of eight, a lucky number in Japan.
Feel the Sense of Connection at Musubi Cafe

The logo of Musubi Cafe comes from roppou-ojime (hexagonal fastening), and the symbol itself has two meanings. One is to tie in six directions, north, south, east, west, plus heaven and earth. The other one is "to connect". Behind these two meanings hides the owner's wish to make this place not only somewhere that connects people, things, the past, and future together, but also a place that expands them.

Don't you feel like you'll have a good encounter after taking a purifying, relaxing break at the Musubi Cafe?

The information presented in this article is based on the time it was written. Note that there may be changes in the merchandise, services, and prices that have occurred after this article was published. Please contact the facility or facilities in this article directly before visiting.