Rainy Season Sweets To Brighten Your Spirits
When the weather is dark and dreary, you might find yourself looking for something to brighten your spirits. Colorful wagashi sweets are just the thing to satisfy your need for a lighter, happier spot during rainy season!
All-day rain, humidity... when you get tired of the gloomy weather, why not find something you can only enjoy around this season instead?
Seasonal Japanese Sweets
When it comes to wagashi, there are plenty of seasonal sweets to choose from; jonamagashi are particularly important, as they are designed with the season itself in mind, and make use of ingredients that can only be found during that time frame. Japanese sweets with names like risshun (first day of spring), geshi (midsummer), and Tanabata (star festival) line the shelves of traditional Japanese sweet shops, and make excellent party foods too. It's often said that there are over 100 different kinds of sweets produced by confectionery shops through the course of a year in Japan.
Today let's look at some beautiful tsuyu related sweets sure to brighten any rainy day.
Ryokuu (Green Rain): Fukujudo-Hidenobu
A sweet from Fukujudo-Hidenobu confectionery shop in Osaka. Ryokuu refers to the rain in the season when fresh greenery appears. This sweet is made to represent a young leaf with a rain drop almost falling off of it. The rain drop is made from gelatin, while the leaf is formed from a Japanese cake base called nerikiri, and is stuffed with anko, or sweet red bean paste. This sweet tastes best when enjoyed with a cup of green tea.
Available: end of May - start of June
Website: http://www.fukujudo-hidenobu.co.jp (Japanese)
Rain: Taneya
Taneya opened its first shop in Shiga prefecture. Covered by soft and jellied kudzu, there are several types of sweet bean paste inside this cute hydrangea flower. This dessert is not too sweet, so it goes well along with tea or coffee also.
Available: early June - early July
Website: http://taneya.jp/home/ (Japanese)
Hydrangea Kinton: Tsuruya-Yoshinobu
Tsuruya-Yoshinobu in Kyoto has four hydrangea sweets sold during this season. The color of gelatin balls and kinton (made from mashed sweet potatoes and chestnuts) really catch your eye. The inside is filled with a coarse sweet bean paste, which is not too heavy to eat as a snack.
Available: end of May - mid-June
Website: http://www.turuya.co.jp/en/index.html
Hydrangea: Tsuruya-Hachiman
I found another hydrangea at Tsuruya-Hachiman in Osaka. The bright light blue is sure to catch your attention, while the vivid yellow red bean paste makes for a vibrant contrast.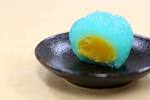 After taking your first bite, you will relish the springy soft texture of the outside while the lightly egg-flavored filling blends perfectly into the mix. This is another great confectionery to eat with matcha green tea.
Available: June 1st - 15th
Website: http://www.tsuruyahachiman.co.jp/
Hydrangea: Keishindo
There are crackers to match the season too; these ones come from Keishindo, a shop that originated in Nagoya and has now spread all across Japan. These hydrangea crackers have the light taste of shrimp to them, while the leaves have accents of shiso (perilla), and the snail has a richer shrimp flavor to it it. The white and cream colored 'rain drops' are made from sweetened rice crackers.
Available: early May - early June
Website: http://www.keishindo.co.jp/foreign/index.html
Seasonal Calendar - Hydrangea: Tsuruya-Yoshinobu
This is a half-dried type of sweet known as a higashi, which can be preserved for longer than other sweets like we have already encountered, which are called namagashi (raw or fresh sweets). The surface of these higashi sweets is a dried gelatin and they somewhat resemble sweet bean paste. When you open the packaging, these cute sweets almost seem to greet you.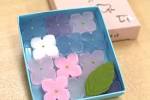 The subtle sweetness of the gelatin will spread across your taste buds after the first bite.
Available: end of May - end of June
Website: http://www.turuya.co.jp/ (Japanese)
Walking Through Wagashi Stores
When visiting a traditional Japanese sweet shop in early summer, you are sure to find many different confections in the shape of hydrangeas, the most popular flower of this season. Despite the flower being found in many different shops, each has their own unique way of representing this seasonal blossom. If you would like to see these and other season-limited treats, simply head to your nearest department store and pay a visit to their food floor - you won't regret it!

The information presented in this article is based on the time it was written. Note that there may be changes in the merchandise, services, and prices that have occurred after this article was published. Please contact the facility or facilities in this article directly before visiting.