Charming Japanese Candles - The World of Atelier AKARI, Kagurazaka
Charming Japanese Candles - The World of Atelier AKARI, Kagurazaka
The soft light of candles has always been important in traditional Japanese culture. This article explains the special features of warosoku (traditional Japanese candles) and introduces Atelier AKARI, a Japanese candle shop located in Kagurazaka, Tokyo.
In his essay on the features of traditional Japanese aesthetics titled "In Praise of the Shadows", writer Tanizaki Jun'ichiro highlighted the preference of the Japanese for soft, dim light, which doesn't show everything but leaves a lot to the imagination of the beholder, for shadows and darkness.
*Tanizaki Junichiro (1886 - 1965), one of the prominent figures of modern Japanese literature published "In Praise of Shadows" in 1933.
Candlelight has always been present in traditional Japanese culture, nurturing the creativity of artists and craftsmen, and inspiring the imagination of writers. In this article we will introduce Atelier AKARI, a unique shop found in the Kagurazaka area of Tokyo, one of the very few shops specialized in warōsoku - traditional Japanese candles.
Japanese Candles - What Makes Them Special
Japanese candles (warōsoku) are made with wax obtained from the berries of a tree called hazenoki (wax tree). This is the main feature that differentiates them from beeswax candles or the common ones made with paraffin wax.
The wick is made of dried reed wrapped around Japanese paper (washi). Layer upon layer of wax is added gradually until the desired thickness is obtained. The washi paper ensures that the candle core is hollow, resulting in a luminous flame. There is almost no smoke and no melted wax dripping out, which makes these candles ideal also for narrow spaces.
The warōsoku candles are handmade by skilled craftsmen, of whom there are only few left in Japan. The one place in Tokyo to find traditional Japanese candles from various regions of the country is Atelier AKARI. Seeing their assortment, it is fascinating to notice the distinctive features of each type of warōsoku.
Atelier AKARI - A Charming Store in Kagurazaka
Atelier AKARI opened in 2012 in Kagurazaka, an area in Tokyo well-known for its refined atmosphere and long-established shops. It all started with the wish of Ms. Tomoko Nakamura, the shop-owner, to make Japanese candles better known to Tokyo citizens, and prevent this precious traditional craft from being forgotten.
The shop interior was designed and decorated by Ms. Nakamura herself, who has been involved with the restoration of old traditional houses (kominka). In addition to candles, the shop also sells other types of handmade items such as incense lamps, candlesticks, paper-shade lamps, tapestries and small flower vases.
The Japanese candles found on the shelves of AKARI come from all over the country - Kyoto, Fukuoka, Gifu, Shiga, Ishikawa, Niigata, Yamagata, Fukushima - and have an impressive variety of shapes and designs. Each one of them shows the talent of the craftsmen and the dedication to their craft.
These candles, with a sophisticated design of elements that are thought to bring good luck in Japanese culture, are some of the most popular items at AKARI.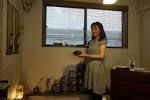 This is Ms. Nakamura herself, a very kind and knowledgeable person, eager to let her customers know more about the craft behind the charming warōsoku candles. If you would like to know more about how Japanese candles are made, she will be happy to show you pictures of the workshops that provide the candles found at AKARI.
Cultural Events by the Candlelight at Atelier AKARI
Atelier AKARI holds regular events such as poetry readings, tea ceremony workshops and storytelling accompanied by chant in the narrative tradition of "The Tale of the Heike", one of the most important classical works of Japanese literature. The soft light of Japanese candles creates each time a very special atmosphere, making one feel as if on a trip to Japan's past.
The picture above shows the Chinese Tea Ceremony held on September 15th, the day of the Mid-Autumn Festival in Chinese culture, which coincided this year with the day of the full moon (jugoya). The guest speaker was Kyoko Nakatsu, a certified chageishi (tea expert), who deepened her studies on tea and obtained her certification in China.
The joy of savoring various types of tea prepared with the utmost care and admirable skill of a chageishi was enhanced by the subtle light of Japanese candles. The warm atmosphere created by candlelight was both an enriching and relaxing experience.
In Conclusion
Although amazingly practical and beautiful, Japanese candles have become a rarity. Atelier AKARI is one of the very few shops in Tokyo where you can find these exquisite items of Japanese craft. If you are looking for a special souvenir from Japan, or wish to enjoy the atmosphere of a space where traditional Japanese aesthetics is at work, we warmly recommend you visit Atelier AKARI in Kagurazaka.
The information presented in this article is based on the time it was written. Note that there may be changes in the merchandise, services, and prices that have occurred after this article was published. Please contact the facility or facilities in this article directly before visiting.