Harmonica Alley, A Kichijoji Landmark: Have Fun Getting Lost!
Head to Tokyo's most desirable neighborhood Kichijoji and pay a visit to Harmonica Alley - a history rich warren of small shops and restaurants you're sure to happily find yourself lost in in no time!
The Best City to Live in? Why, Good Old Kichijoji!
Kichijoji has had the honor of being one of the most desirable pieces of Japanese real estate for several years running - it is consistently ranked as being the Number 1 place to live in Tokyo. In Kichijoji there are many exciting and interesting places to visit, and has an overall fun and relaxing atmosphere, making it an excellent place to both live and play. Of these places, one of the best areas to enjoy an authentic Old Japan atmosphere is Harmonica Alley.
Why Harmonica?
During the chaos of the post-war food shortage, numerous black market shops appeared here, which slowly changed over the subsequent 60 years, becoming an integral part of the community. The restaurants and shops that line this narrow alley resemble the blow holes in a harmonica, so it was nicknamed Harmonica Alley.
The Early Bird Catches the Worm!
Starting in 2011, several shops have voluntarily started the Harmonica Alley Morning Market, where handmade goods, fresh vegetables and sweets are sold. This market is held on the third Sunday of the month from 7:00 to 10:00 in the morning, weather permitting.
A Hideout-like Taiyaki Shop
In Harmonica Alley there are many old and new shops, with customers both brand new and familiar milling about in the alleyway. My recommendation is the taiyaki shop, Amane. Keep your eyes peeled for the bright red banner outside, but be extra careful - you just might miss this small shop if you're not careful!
The fresh, hot taiyaki is filled with a perfectly-sweetened red bean paste from head to tail, and crispy hanetsuki taiyaki (taiyaki that 'have wings', or are square due to extra dough) are available for 150 yen. Amane closes when the daily batch of taiyaki have sold out.
The majority of the shops in Harmonica Alley, including Amane, are very small and concentrated on narrow roads running in every direction. If there is a shop that really takes your fancy, you would do well to remember its name as you might have trouble finding it again if you're not careful! The atmosphere in this area changes completely from day to night too, making it even more difficult (but fun!) to navigate.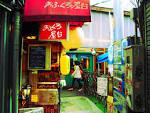 If you want to see something you won't find anywhere else, head to Tokyo's most popular area Kichijoji and have fun getting lost amid the amazing shops in Harmonica Alley!
Information
Harmonica Alley
Address: Honmachi, Kichijoji, Musashino, Tokyo
Nearest Station: Kichijoji Station on the JR Chuo/Sobu and Keio Inokashira lines
Access: Head out of Kichijoji Station's North Exit, it is right in front of you
Hours: Depends on the shop
Other Services/Languages: Depends on the shop

The information presented in this article is based on the time it was written. Note that there may be changes in the merchandise, services, and prices that have occurred after this article was published. Please contact the facility or facilities in this article directly before visiting.