Enjoy the Japanese Winter by Eating Nabe, a Tasty Hot-Pot Dish!
Thinking what to eat for dinner on a cold winter night? Look no further and try the Japanese "nabe"! This hot pot dish is not only very nutritious and tasty, but also low calory! Let's see what the nabe dish contains and how to make it!
There is nothing more enjoyable in winter than a hot pot brimming with natural ingredients, a dish which is easy to make and requires almost no time for cooking. This dish makes the cold Japanese winter bearable, even pleasant, as it belongs to the season's charm. The name of this dish is nabe or nabemono, and it refers to a hot-pot dish that the Japanese enjoy in the cold season. It is a warm and healthy meal shared with the family over a cozy winter dinner.
Nabe - A Simple But Very Popular Japanese Dish
Nabe is a hearty wintertime favorite of both locals and guests from abroad. Having people over for nabe is a communal experience in Japan. Everyone can help and cook together to prepare a warm pot of goodness. Nabe represents good times and makes one feel relaxed while spending quality time with friends. Nabe preparation is very easy and it is cooked quickly. Moreover, the necessary ingredients are quite common, easy to find in supermarkets at very affordable prices.
Nabe is popular for one more reason - its versatility. You can choose so many different ingredients and make a nutritious meal which warms you from the inside. The best thing about a nabe dish is being able to enjoy a succession of different tastes and textures as the various vegetables and morsels of seafood are pulled out of the pot and eaten. The soup is also nutritious, making nabe a wholesome and fat free dish, enjoyed by everyone.
Ingredients for Making Nabe
The soup base for nabe is made from dashi (traditional Japanese soup base), soy sauce and sake. There are many different types of nabemono, depending on the ingredients used. Stews featuring oysters, scallops, cod, salmon, and chicken are all popular. One such variety is known as chanko-nabe. It contains chicken, seafood, potatoes, and other vegetables. Chanko-nabe is the staple dish in the daily diet of Japan's sumo wrestlers.
A nabe with a wide variety of ingredients (such as a combination of beef, chicken, and seafood) is called yosenabe ("yose" comes from "yoseru" which means bringing many various things together). You can also stick with a single-ingredient nabe (such as crab, duck, or pork) served with assorted vegetables and noodles.
Vegetables and Flavoring in Nabe
Hakusai (Chinese cabbage) is one of the most common winter vegetables in Japan and tastes delicious when softened. The negi (green onion) is sliced diagonally when used in nabe cooking. Because of its distinct aroma, it is also used as a topping. Mushrooms come in many different kinds, such as shiitake, maitake, shimeji, and enokidake. They add texture, as well as increase the flavor and depth of the dashi broth.
Tsukune (chicken meatballs) are made from minced or ground chicken mixed with spices. The more you chew, the more its savory flavors spread throughout your mouth. Chicken meat is usually cut into bite-sized pieces. Depending on the style of the nabe you're making, beef or pork may also be used. Some nabe dishes use only seafood, such as octopus, crab, and squid. Tofu is an all-time favorite since it is soft, smooth and delicious. Seasonings such as scallions, grated daikon radish, red pepper or ponzu (a citron-flavored soy-based dip) are usually added in one's own plate, according to one's preference.
Necesary Items for Cooking Nabe: Donabe Pot and Gas Burner
A donabe is basically an earthen ware pot used for cooking nabemono. It can be found in various sizes and designs. The size depends on the number of people who will eat the nabe. For example, you can find a 1-2 person nabe, but also pots for 12-14 persons or even larger. They are made of very heavy ceramic that retains the heat well. These donabe are especially made for cooking over an open flame. Traditionally, the older a donabe is, the better it is for cooking delicious food. Nowadays, electric skillets can also be used to prepare nabe.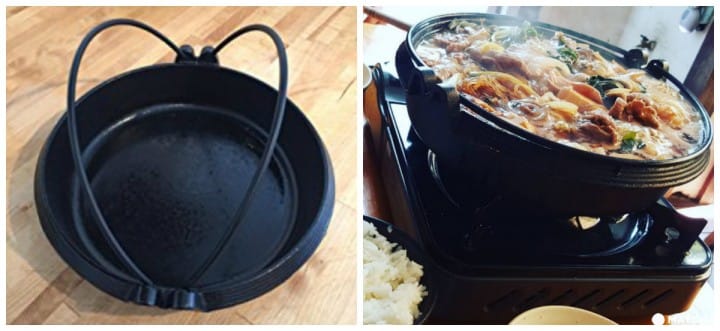 A gas burner is the key item to make the delicious nabe a fun, interactive experience. This item looks a bit like a camp stove and it can be used indoors. It is fueled by gas canisters. You should look for one with a good stable base, a variable flame, and specifically designed for nabe cooking.
Where to Find Donabe Pots
In the cookware department of any home store or large supermarket, you will find donabe pots of various sizes as well as gas burners and gas canisters. Most of the ingredients for nabe are easily found at supermarkets or convenience stores at very affordable prices. Supermarkets also carry nabe kits that already contain all the necessary ingredients to make nabe for dinner.
How to Make Nabe at Home
In Japan everyone will agree that nabe is the best home-cooked dish in the winters. The best thing about nabe is that there is no fixed recipe and that it can be customized to everyone's tastes. Let's see how we can make a delicious nabe for 6 persons.
Basic Broth for Nabe:
6 cups dashi soup base

1/4 cup soy sauce

1/4 cup sake

2 tsp. salt
1. Cut the vegetables, meat and seafood in bite size pieces and place them on plates for easy cooking.
2. Take a donabe and put the dashi soup base, soy sauce, sake and salt in it. Put the donabe on the gas burner and bring its content to boil.
3. Slowly add the vegetables: carrots, negi onion slices, cabbage, shiitake mushrooms, spinach, daikon (radish), tofu.
4. Next you can add udon noodles or harusame (starch noodles), whichever you prefer in your nabe.
5. Add meat such as boneless chicken cut in chunks, sliced beef, sliced pork, or assorted seafood.
6. Let it boil for about 10 minutes until the ingredients soak in the broth and they are ready to be eaten. Do remember to put harder ingredients first as they take longer to cook; tender ingredients such as shrimp and tofu should be added in the end so they don't overcook.
7. Take out the ingredients you want to eat and put them on a separate plate. Before eating each piece you can dip them in ponzu sauce for an extra refreshing flavor.
8. Once the first nabe batch is eaten up by everybody, keep on adding vegetables, noodles, seafood or meat as you like it in the pot. Use the same soup base as progressive cooking in same broth makes the ingredients taste more flavorful.
In Conclusion
People love nabe hot-pot dishes because of their simplicity and variety. Nabe is also available in Japanese restaurants, so visitor from abroad can also enjoy this great dish in the winter. By all means, don't miss the chance to indulge in enjoying this delicious meal with friends.
By the way, nabe tastes even better when served in traditional Japanese style, by surrounding a table under which there is a kotatsu (traditional heating gadget). Nabe is a tasty, wonderful dish and I highly recommended to everyone!
Recommended articles by the same author:
Japanese Craft Ideas - How To Make A Gamaguchi Mini Purse

Japanese Craft Ideas - Decorating Phone Covers with Washi Tape

Natto – A Must-Try, Even If You Are Told Otherwise!

The information presented in this article is based on the time it was written. Note that there may be changes in the merchandise, services, and prices that have occurred after this article was published. Please contact the facility or facilities in this article directly before visiting.