At Art Aquarium in Nihonbashi you'll find plenty of traditional Japanese design items used with new and very modern applications.
Do you have a plan to stay in Tokyo from July to 23 September,2014?
If you say "Yes", you should go to the"Art Aquarium" in Nihonbashi near Tokyo Station.
Theme of this aquarium is "Edo/Cool off by seeing the golden fishes".How about having a good time at artistic space where 5000 golden fishes are swimming beautifully?
What's the Art Aquarium?
Art Aquarium is the "Art Exhibition of Golden Fishes" in a word.
There are many water tanks designed Japanese traditional motif. These tanks change various colors many times by LED light and projection mapping .And more, in the space,incense is burning ,so you can enjoy this art space from body and soul.
This huge water tank named "Oku (Palace's ladies chambers in Edo)",stands out conspicuously is really overwhelming.
This is "Bonborium" which created by inspiring "Bonbori(a Japanese table lamp with a paper shade)".You can see golden fishes in bonborium is fascinating.
This one  is named  "Golden Fishes Competition" which you can see from above.
You can enjoy a fusion of golden fishes and art everywhere in this space.
Here space is other situations in the exhibition.
Colored carps are swimming in a spherical object,"Earth Aquarium Japonism".
You may think" I came to the other world".
Art of backside is changed,"Byobu-Aquarium".
In entrance,shop curtain printed on golden fish mark is located because producer of this exhibition's family crest is golden fish motif.
You can buy many goods of golden fish at souvenir shop.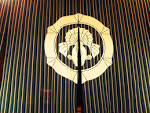 If you want to see them more,please check this movie of Art Aquarium image created 2013.
https://www.youtube.com/watch?v=JCamg7MWOrU#t=69
Night Aquarium is opened from 7 p.m.
Even though it is extraordinary space where is surrounded by golden fishes in the dark,it becomes another space from 7p.m.The performance of music and lightning is changed and bar is opened.And more,you can see pole dance on the stage.
Check Kimonos and hair styles which designed like vertical fins of golden fish swinging in water.
Enjoy the cool in Edo with 5 senses
Art Aquarium appears in concrete jungle,Tokyo.When you see golden fishes swimming fancy-free,you can forget about summer heat.
Actually,this event is called ECO EDO NIHONBASHI 2014 ~Enjoy the cool in Edo with 5 senses~and is hold with other events around Nihonbashi area.Other events,"Looking for wind chimes"and "Big strategy of sprinkling with water" are also hold in there same time.
If you wear Yukata or show the stub of a ticket,you can receive various service, so check the official Homepage before going the event.
English Homepage
Information
~Enjoy the cool in Edo with 5 senses~&Night Aquarium
Term of this event:11 July~23 September,2014
※10 September is already reserved so Night Aquarium will be canceled.
No holidays
Opening time:11:00 a.m.~11:30 p.m.(The last admission is 11:00 p.m.)
/Art Aquarium 11:00 a.m.~7:00 p.m.
/Night Aquarium 7:00 p.m.~11:30 p.m.
※You can see art aquarium with having drink from 7:00 p.m.
※Special Live is hold after 7:00 p.m. on Saturday and the day before the national holiday
※Person under age cannot enter after 10 p.m.
※Admission fee is not changed and ordering of drink is option.
Place:Nihonbashi Mitsui Hall
Address:COREDO Muromachi 5floor(Entrance is 4 floor)
2-2-1Nihonbachi Muromachi,Chuo-ku,Tokyo
Access:Exit A6 of Mitsukoshimae Station,Tokyo Metro Ginza Line or Hanzomon Line/Shin-Nihonbashi Station of JR Sobu Line or Yokosuka Line/8 min. walk from East Exit of Kanda Station/8 min. walk from Nihonbashi Exit of Tokyo Station
Admission Fee: Adult 1,000yen/Child(Before entering elementary school)600yen
Art Aquarium Official Homepage (only Japanese):http://h-i-d.co.jp/art/

ECO EDO NIHONBASHI 2014 Official Homepage(Japanese):http://www.nihonbashi-tokyo.jp/ecoedo2014/
ECO EDO NIHONBASHI 2014 Official Homepage(English):http://www.nihonbashi-tokyo.jp/en/ecoedo2014/

The information presented in this article is based on the time it was written. Note that there may be changes in the merchandise, services, and prices that have occurred after this article was published. Please contact the facility or facilities in this article directly before visiting.