Valentine's Day In Japan - Special Events And Romantic Places To Visit
Celebrating Valentine's Day in Tokyo? Here are five romantic places to visit on this love-filled day!
Valentine's Day is a significant event in Japan that has been celebrated since the post-war period by the masses. However, the ways in which it is celebrated in Japan differ from most of the Valentine's Day celebrations around the world.
If you are planning a romantic date, but aren't sure where to start, this is the guide for you. First, we will take a look at fun Valentine's events and romantic illuminations taking place in Tokyo, and finally at some shrines located in various regions in Japan which are guaranteed to help the lovelorn find their match.
Valentine's Events
Tokyo Tower
Valentine's Day might mean chocolates, sweets, drinks, dinner. You might be feeling a little full after a day like that! You might even be inspired to exercise after such a rich day, and Tokyo Tower is an ideal place to do so in.
On February 13th and 14th, Tokyo Tower has a special Love Step Up event, wherein you and your partner can take the 600 steps up to the first observation deck and enjoy the sights of the city together. The stunning night views of the city and the sweetly lit-up tower are sure to cap off your romantic Valentine's Day in the best way possible.
On these days, Tokyo Tower is illuminated in alternating colors of pink and red. The illumination will start from sundown and finish at 10 pm,
offering the most enticing view.
Korakuen/Suidobashi: Tokyo Dome City
Tokyo Dome City keeps its illuminations from Christmas through to Valentine's, but that doesn't take away from their charm in the slightest. If anything the changing weather allows these lights to feel fresh whenever you see them.
Ebisu: Yebisu Garden Place
Yebisu Garden Place is a shopping and office complex located in Ebisu, a short train ride away from the ever-popular Shibuya Station. If you are looking for a present, want to have a romantic dinner, or just want to stroll about under the illuminations, then this is the place to go.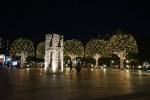 If you are going to be meeting your date in Ebisu, you might want to meet here, at the Marionette Clock Square, as it can easily be reached via the Ebisu Skywalk from the station.
The central plaza of Yebisu Garden Place is always beautifully decorated for the season, with the theme changing annually. You are sure to find yourself in a romantic wonderland of light when you visit here.
Tokyo Skytree Town Solamachi
The main square of Tokyo Solamachi is located right under Tokyo SkyTree, and is full of charming illuminated trees. This is an excellent place to take a romantic photo with your significant other.
A great shopping and dining spot as well, Solamachi has numerous services and facilities that can assist you with almost any need. Floor guides are available online in English, Japanese, Mandarin, and Korean. There is also free Wi-Fi, a currency exchange booth, coin lockers, ATM, and other services to make your Valentine's date even more convenient.
Romantic Shrines In Tokyo and Around Japan
If you are looking for love and would like a little help from the Shinto deities of Japan, then there are three shrines in the Tokyo area that we would like to recommend to you.
Tokyo - Imado Shrine
Photo from: Imado Shrine, Find Love at the Home of the Maneki-neko
Kawagoe, Saitama Prefecture: Hikawa Shrine
Photo from: Hikawa Shrine In Kawagoe - 8 Things To Do To Improve Your Luck In Love
Saitama prefecture is located less than an hour's train ride away from Tokyo and is a place full of natural wonders, delicious foods, and a famous match-making shrine. Hikawa Shrine has been granting love-related prayers from its worshippers for about 1500 years, and if you visit in the morning, you might be able to receive your very own sacred match-making stone.
Chikugo, Fukuoka Prefecture: Koi no Ki Shrine
Photo from: A Shrine Covered In Hearts! Fukuoka's Love Shrine "Koi no Ki"
Fukuoka is considered by many to be the gateway to Japan's westernmost region, Kyushu and is known for its exciting blend of old and new Japan. Although quite the distance from Tokyo, here you will find the peculiar, one-of-a-kind shrine, Koi no Ki Shrine. This pink, heart-covered shrine is for those seriously seeking love, and with many charms, fortunes, and statues to gather inspiration and luck from, you're sure to feel blessed after visiting this shrine.
In Conclusion
What are you waiting for? Let's head out and enjoy these fun Valentine's spots!
The information presented in this article is based on the time it was written. Note that there may be changes in the merchandise, services, and prices that have occurred after this article was published. Please contact the facility or facilities in this article directly before visiting.