Tokyo's Sumida River Fireworks Festival: 4 Ways To Enjoy This Event!
The Sumida River Fireworks Festival is the largest fireworks display in Japan, viewed by about a million people every year. Learn 4 ways to enjoy this annual summer festival at its very best, from lesser-known spots to view the show and eating festival food.
About one million people gather to watch the Sumida River Fireworks Festival in Tokyo at the end of July every year. In 2019, it will take place on Saturday, July 27, from 19:00-20:30. On the day of festival, there are so many people coming to see the fireworks display that you might end up lost in the crowd if you don't know where to go.
Here are four recommended ways to enjoy this annual festival and make the best out of this seasonal activity.
1. Sit and Enjoy with Drinks

This picture shows the riverside near the second launch place. It will be extremely crowded on that day.
If you want to enjoy the fireworks as the locals do, we recommend going to the riverside. In Sumida Park on the Asakusa area side of the Sumida river, there will be food stalls selling foods and drinks. If you sit between the first launch place (between Kototoi Bridge and Sakura Bridge) and the second launch place (near Kuramae Bridge), you can watch the wonderful fireworks from both your left and right sides.
However, please be aware that the spots nearest these places might be reserved well in advance. People put their picnic sheets out and camp out to hold their place starting from the day before the festival. If you have time, you can also reserve your place beforehand. In this case, don't forget to protect yourself from the heat during the daytime!
If you want to escape from the crowd and watch the fireworks, you can get on the yakatabune - the small cruise boats on Sumida river. They serve delicious dishes, which you can enjoy while watching the fireworks. Seats are reserved beforehand, so check their schedule as early as you can.
2. Watch the Fireworks Up Close
The blue bridge in front is the Komagata Bridge.
If you want to watch the fireworks from top to bottom, we recommend you to go on the bridges. There are three bridges between the two main launch places - Kototoi Bridge, Azuma Bridge and Komagata Bridge.
You can easily see the fireworks from all three bridges. There will be many people gathered there, so please walk slowly and pay attention to your surroundings. Traffic will be one way only and you won't be able to stand in one spot. For this reason, choose to cross the bridge when your favorite type of fireworks will be launched into the sky in order to get the best views of them.
Japanese traditional fireworks are called "fire flowers" (hanabi: hana - flower, bi - fire) because of their artistry. From the bridges, you will be able to fully appreciate their beauty.
3. Eat Festival Food and Wear Summer Kimono
If watching the fireworks display is not enough for you, we recommend walking around Asakusa in Taito Ward. The view from this area, where you can admire both temples and fireworks together, is very beautiful. There are few high buildings in the area, so you can enjoy a mostly unobstructed view of the fireworks, which is another plus.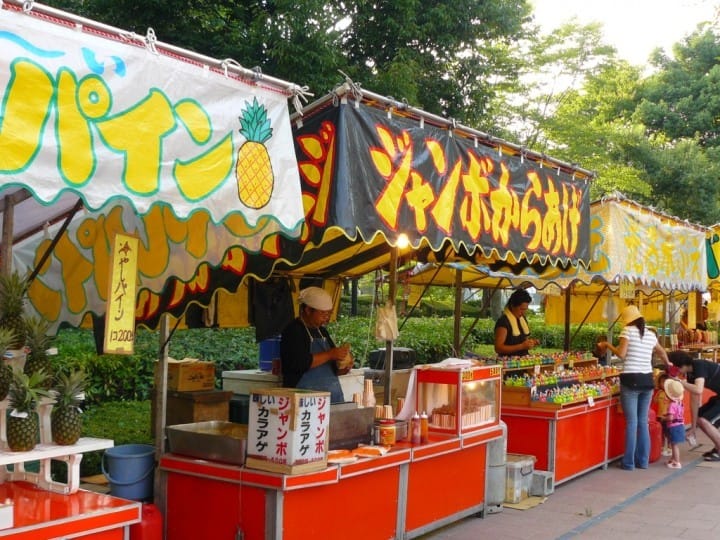 Picture from Popular Festival Food In Japan
There will be a great number of yatai (food stalls) selling traditional festival foods, like rice dumplings and Japanese fried chicken, here too. On the east side of Sensoji Temple, many people gather every year during the display to watch the events, so you can enjoy the festival atmosphere here too.
Would you like to experience summer in a more Japanese way? Then try wearing a yukata (summer kimono) and use an uchiwa fan. In the Asakusa area, you can find many shops that rent out Japanese traditional clothes like yukata. The EKIMISE department store is especially convenient - not only can you find summer clothes here, but it is also part of the station building for both the Tobu Skytree and Tokyo Metro Ginza lines. There is a kimono store on the fourth floor, plus a store selling traditional Japanese goods on the seventh floor.
4. Watch the Fireworks From a Lesser-Known Area
Do you want to watch fireworks from different place than others?
Then Tokyo Skytree is the place to go. From its observation deck located 450 m above the ground, you can look down on the fireworks display! You will be able to admire the peony and chrysanthemum shaped fireworks at their best from here. Please reserve tickets beforehand as their numbers are very limited!
Another special spot is the amusement park in the Asakusa area, Hanayashiki.
This place is rather far from the launch places so you cannot get a good view from the ground. However, you can watch the fireworks while you are riding the attractions in the park!
On the Bee Tower, you can enjoy the fireworks launched from both of the two launch places. From the Space Shot, which shoots up 60m from the ground, you can feel like you own the sky!
On Disc O, which turns around and swings to the right and left, the view will be fantastic when fireworks light up above your head. Ride these thrilling attractions and enjoy watching fireworks from an out-of-the-ordinary area.
Left: Bee Tower Right: Space Shot
Some Helpful Tips to Enjoy Fireworks
Given the sheer volume of visitors to the area during the fireworks, it is important to remember that the streets, restaurants, trains and train stations will be especially crowded before, during and after the festival.
If you are planning on seeing the fireworks in a group, designate a meeting place in advance and make sure to give yourselves plenty of time to travel.
As it will be very crowded, there may be difficulties with cell phone reception and WiFi speed. Please note that your mobile devices may have trouble connecting or may take far longer than usual to send and receive messages.
Those having a picnic or enjoying the festival foods, please remember to take your garbage home with you to throw away, or to sort and dispose of your garbage in the designated bins.
We hope you enjoy the Sumida River Fireworks Festival and create some great memories of the event!
Information on Sumida River Fireworks Festival 2019
Date: Saturday, July 29, 2019
Time: 19:00 - 20:30
Nearest Station: Asakusa Station (Tobu Skytree, Tokyo Metro Ginza, Toei Asakusa lines)
Access to Venue 1: Kototoi Bridge, a 15-minute walk from Asakusa Station.
Access to Venue 2: Komagata Bridge, a 5-minute walk from Asakusa Station
Official Website: Sumida River Fireworks Festival (Japanese)

The information presented in this article is based on the time it was written. Note that there may be changes in the merchandise, services, and prices that have occurred after this article was published. Please contact the facility or facilities in this article directly before visiting.