【SUMMER】4 Tips to Enjoy Japanese Summer Tradition, Fireworks
Summer reminds me of fireworks. It's still good on TVs and pictures, but nothing can beat the intensity of the actual fireworks. If you have a chance to go, make the best out of it,by finding the perfect spot.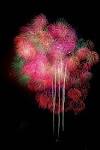 (1)Spread Out the Picnic Sheet
Here's the most standard way to watch fireworks. As you would do at Ohanami, go to the audience seat area, and lay down you picnic sheet. However, many other people are trying to reserve their spots as well, so keep in mind of the points down below.
Find a spot where buildings will not be in the way of the fireworks
Make sure to arrive at least an hour ahead(If you want the best spot, go beforehand in the daytime)
After you have decided your spot, make sure someone stays there
Don't fight over spots, compromise with others
Often you'll have drinks and snacks with you during the fireworks, so hand wipes and trash bags are necessary to clean up.You can easily find various picnic sheets, from one person sized ones to family sized ones at 100yen stores or at your local supermarket.
From 【SAKURA】15 Must-to-Bring for "Ohanami"
■Let's Buy Something from a Japanese Supermarket!- Basic –
(2) Get the Charged tickets
If you want to make sure that you get the best seats, getting a charged ticket is the best idea. No need to search for a spot in the crowd on the day. Charges vary for each type; 1000yen for the free seats, 30000yen for reserved seats with tables and chairs etc.
As expected, the distance from the launching site and the view is perfect from the charged seats.
Charged sheet area
Charged seats
Table seats
(3)Reserve an Restaurant
For people like "I love fireworks, but I can't stand the hot weather!" "I hate being in the crowd either!", making reservation at a restaurant or a beer garden where fireworks can be seen is highly recommended. It's a great setting to enjoy the fireworks; great drinks, great food, and a relaxing atmosphere.
But of course, it's expected that a lot of people will come to those places. Some already book for the fireworks a year ahead. These places are more for people who have planned to go beforehand, rather than for people who randomly visited.
(4)Watch from a houseboat
Yakatafune is an Japanese houseboat with a roof and tatami rooms built inside, used from the Edo-period for parties and dinners. You can view the great fireworks from the opened windows of the boat. Some boats have roof decks, where you can enjoy the fireworks in the cool breeze. Inside there are usually rooms for two, and some boats are even available for chartering. The fees are from 10000yen, and if you happen to charter one with a group, you can fully enjoy the fireworks in a relaxing atmosphere.
On board, you might be able to have a Geisha to come and dance, or enjoy the Kaiseki(traditional Japanese course meal). It's a little bit pricy for students or backpackers, but it is highly recommended for people who want to thoroughly enjoy the Japanese summer.
Final Points to Be Aware
1.Decide a meeting spot in case you get lost
Since a lot of people are gathering at the same place, sometimes phones have low network and cannot call. It's a disaster to lose sight of whoever you're with in such a place, so make sure you decide a meeting spot together beforehand.
2. Buy your returning train tickets beforehand
It gets overcrowded when the fireworks are done. It takes forever just to buy the tickets back. Be sure to purchase your returning tickets as soon as you arrive.
3.Bring Drinks and Snacks with you
Supermarkets and convinience stores around the site are usually very crowded. It's better to finish your shopping for drinks and snacks at a different station beforehand.
4.Go to the Restroom Beforehand
Portable toilets are often available at the firework sites, but it is always quite lined up. Make sure to go to the bathroom beforehand, so you don't miss the fireworks while waiting in line. Also, don't drink too much during the fireworks!

The most important thing, is to try to move well ahead of time. Make the best of your summer by preparing ahead and being aware of a few points like above; it makes a big difference!

The information presented in this article is based on the time it was written. Note that there may be changes in the merchandise, services, and prices that have occurred after this article was published. Please contact the facility or facilities in this article directly before visiting.