【SHOUTENGAI】Fluffy and Chewy Rice Flour Bread from "BEICON"
Walking for 7, 8 minutes from Togoshi-Ginza station, there is a nice looking bread shop with the tempting smell of freshly baked bread.
"BEICON" is consisted of two Japanese kanji "米, rice" and "魂, soul" Following the good smell, let's take a look inside.
100% Japanese Rice Flour: To Spread the Good Taste of Rice
"I wanted to make good bread". This thought made this rice flour bread specialty shop. There are many types of rice flour bread inside the shop.
My recommendation is "Rice Oyaki" (200 yen-). There are four flavors, きんぴら(Kinpira, sauté and simmered root vegetables ), くるみあん(Kurumi-an, walnut and bean paste), 角煮(Kakuni, braised pork), and 野沢菜(Nozawana, Japanese leaf vegetable, often pickled).
There is also a croissant made from rice flour "Komewassant (米ワッサン)" (70 yen, "Kome" is the Japanese term for rice),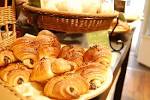 "Cream Cheese Raisin (クリームチーズレーズン)" (140 yen) and "Rice Pizza (米ピザ)" (210 yen).
Another best-buy is this "Arctic Melon Bread (北極メロンパン)" (300 yen), originally sold only in summer, but became a year-round product due to customer requests. Some whipped cream and fruit cocktail is sandwiched by melon bread and frozen hard in the freezer.
"At first it will be too hard, so please eat it at the point when you think it's the best. I like it after 30-40 minutes from taking it out of the freezer." says the shop owner. It taste like ice cream and will be nice as a dessert. This sells well on hot days!
Here's a cute bread "Panda Koala, (パンダ・コアラ)" (100 yen) .
Why Rice Flour?
All the rice flour bread looks very good. But what makes them use rice flour instead of normal flour?
"I wanted more people to know how good rice is. As I was raised in the countryside of Kyoto, I simply wanted that countryside to still exist in my kid's generation. I thought about what I could do as a bakery, and my answer was opening this rice flour bread specialty shop."
The bakery uses carefully selected rice flour from Niigata and Kumamoto that was the best in making Fluffy and Chewy bread. No preservatives, no additives and no trans-fatty acids are used, making the bread loved from not only neighbors but people rather far as well.
Allergic Free: Without Flour, Eggs of Milk
There are products that do not contain allergic ingredients such as wheat, eggs or milk. It says on each product which ingredient is not used, but only in Japanese. Please ask the shop staff for more details.
This bread is gluten-free.
Fluffy and Chewy, a Taste Only from Rice
"BEICON" will continue to make bread loved by many, valuing the taste of rice.
Picture from: MATCHAスナップvol.9 「ここ、何のお店ですか?」―戸越銀座商店街―
For those of you who like bread, or those of you that have not tried rice flour bread yet, why not try this new-type rice flour bread born in Japan?
Of course you can buy one and eat it while continuing your stroll along the Shoutengai.
Information
Rice Flour Bread Specialty Shop米粉パン専門店 BEICON
Address: 2-6-3 Togoshi, Sinagawa-ku, Tokyo
Phone: 03-3787-4776
Hours: 10:00 - 19:00
Closed on Thursdays
Access: 5 minute walk from A2 exit Togoshi station Toei Asakusa Line
/ 7 minute walk from No1 exit Togoshi-Ginza station Toukyu Ikegami Line
Menu Language: Only Japanese
Official Blog: http://beicon.jugem.jp/
The information presented in this article is based on the time it was written. Note that there may be changes in the merchandise, services, and prices that have occurred after this article was published. Please contact the facility or facilities in this article directly before visiting.