Traditionally Japanese: How To Make An Origami Crane
Have you ever wanted to make your own origami crane? Follow these step-by-step instructions to make one for yourself or a friend!
Origami is a traditional Japanese past time. Children are especially fond of origami, and learn to make their own toys in this manner from a young age. In this article, we will briefly introduce what origami is, and give instructions on how to make a paper crane.
What is Origami?
Origami is the Japanese art of folding paper to create various shapes, such as plants and animals. Of all the possible things to make however, the most well-known is the crane, which is relatively easy to fold.
The paper crane is said to represent 'peace', and there is a custom in Japan of sending 'senba-zuru' or a thousand paper cranes (which are held together by string) to those staying in hospital, to pray for the recipient's return to good health and for their longevity.
Origami has seen somewhat of a revival in recent years, as beautiful art pieces of intricate folds are coming out, and new techniques in paper folding itself are being developed around in order to create more and more complex designs.
Examples of Origami
A helmet
A balloon

A sanpou (a container to put offerings to gods or ancestors)
A helmet and a bird
A crane and crane wreath
Where Can I Find the Paper? How Much Does It Cost?
Origami paper is sold in stationary shops and at 100 yen shops, and is also available at Tokyu Hands.
Let's Make Origami!
Prepare your Origami (a square sheet of paper).
Fold the corner to meet the other corner to make a triangle.
Fold the triangle in half.
Open up one of the triangles,
and fold it down to make a square.
Do the same for the other side.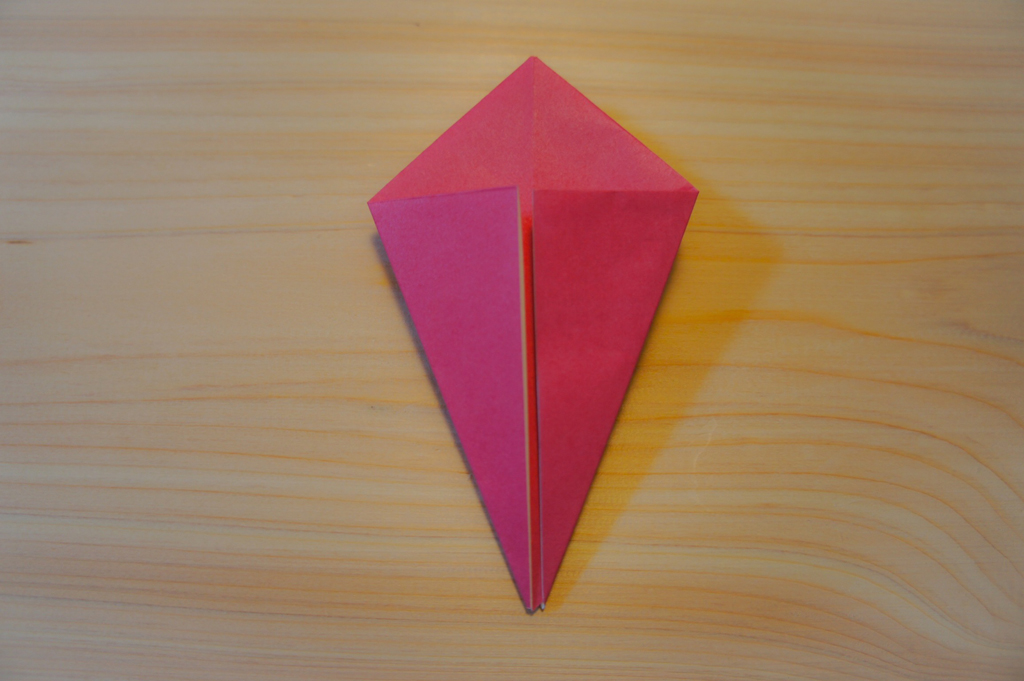 Fold the right flap and left flap towards the center, so that the paper edge lines up with the center crease.
Fold the top towards yourself.
Unfold back to the square.
Open up the square and create a diamond shape using the creases you just made as guidelines.
Do the same for the other side.
Fold towards the center.
Repeat on the other side as well.
Open up the side to fold the tip inwards and upwards.
Fold inwards.
Do the same for the other side.
Fold the tip inwards to make the head.
Gently pull open the wings, and you're finished!
Beautiful Designed Paper Just for Cranes!
Picture from:http://takahashihiroko.com
There are also special types of origami paper designed just for making cranes. Hiroko Takahashi is the designer of such masterpieces. Her works are adored by many people, and are distinguished by the marvelous design constituted of only circles and lines.
Paper cranes made from this special origami paper are not just something nice to look at. They are completed pieces of art, finished beauty.
Origami Possibilities
Origami paper can easily be bought at a low price, as they are sold in 100 yen shops, and packages of this paper make for excellent souvenirs. Why not pick some up and make some of your own works of art too?
Information
Daiso Harajuku
Address: Tokyo, Shibuya, Jingumae 1-19-24 Village 107
Hours: 10:00 - 21:00
Nearest Station: JR Harajuku
Access: 2 minute walk from Takeshita exit, JR Harajuku station. Go straight and you will see it on your left.
Phone: 03-5775-9641
Website: DAISO JAPAN

Seria Asakusa EKIMISE Shop
Address: Tokyo, Taito, Asakusa 1-4-1 Ekimise 7F
Hours: 10:00 - 20:00
Nearest Station: Asakusa Station
Access: Inside Asakusa Station EKIMISE building
Phone: 03-5830-7760
Website: http://www.seria-group.com/

CanDo Seibu Shinjuku PePe Shop
Address: Tokyo, Shinjuku, Kabukicho 1-30-1, Seibu Shinjuku PePe 8F
Hours: 11:00 - 22:00
Nearest Station: Seibu Shinjuku Station
Access: Directly connected to Seibu Shinjuku Station or 5 minute walk from JR Shinjuku Station, central east exit
Phone: 03-3202-1160
Website: Can Do

The information presented in this article is based on the time it was written. Note that there may be changes in the merchandise, services, and prices that have occurred after this article was published. Please contact the facility or facilities in this article directly before visiting.