Stores in Harajyuku/Omotesando area for girls that love fashion!
There are stores that landed in Japan from other countries, fashionable North Europe miscellaneous goods shops, and tasty pancakes...Japan is a country where the highest fashion is collected just like New York, Paris, and Milan.  In this article, we will introduce you to shops where ages of 20~30 years old Japanese girls are all talking about!
Asoko
"Enjoy the surprise!" is the concept of this store.  There are 1000 reasonable and fashionable miscellaneous goods in this North European shop, "Asoko."  It opened in Japan in March, 2013 and it is located in Tokyo and Osaka.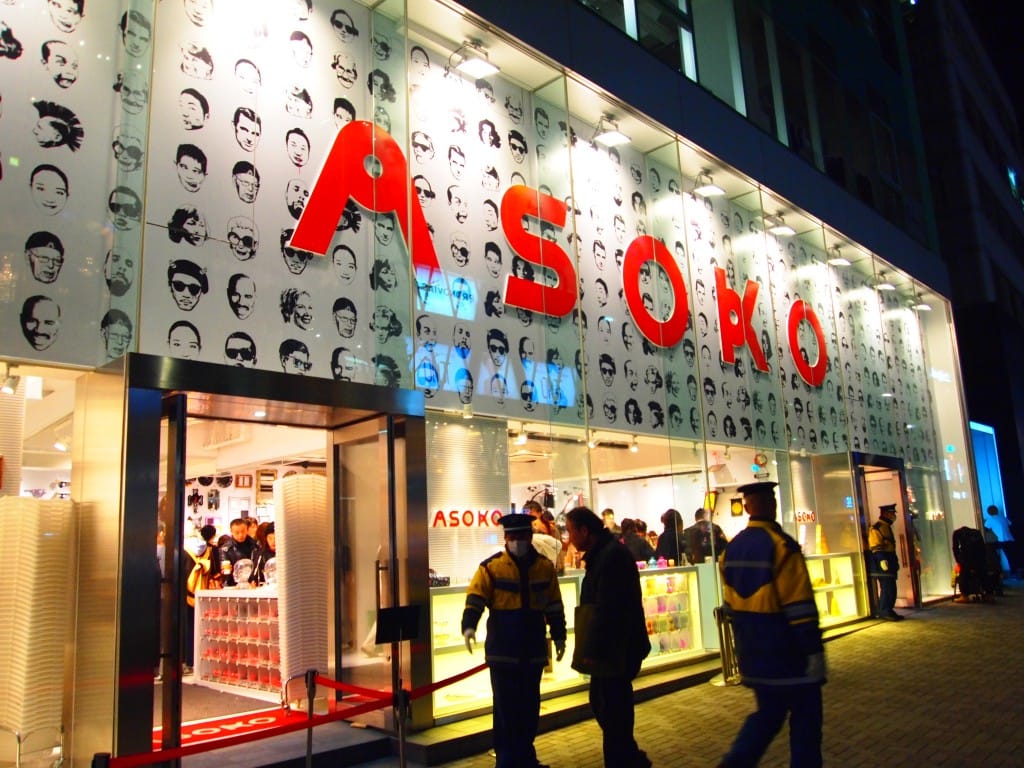 Today, there are rearranging tickets in order to get in to this store even on weekdays since it just opened recently in Harajuku.  There is no need for receiving a ticket but you will have to wait 1~2 hours if you decide not to.
If you want to enter the store without wasting time, you will have to go as soon as it opens or receive a rearranging ticket.  The time will be written on the ticket so you can have a tour around Harajyuku and Omotesando and come back afterwards.  Also, when it rains there less customers will be there so going on a rainy day is also a good idea!
Flying Tiger Copenhagen
This store is also a North European Store from Sweden.  It opened in July, 2012 and it became a big hit that all the goods were sold out in 3 days and so they had to close the store on the 4th day.  Fashionable girls love this place!
The reason for its popularity is because it is very "cheap and fun," and also because the products are very "colorful and full with humor."  There is not even one product that costs more than 2000 yen, so you will definitely buy too much!
But, please be aware of the line for the cash register.
Garret Popcorn shops
Garret Popcorn shops is from Chicago in the United States, and it is full with expensive sweets.  There is always a long line even though more than half century has passed after the opening.  This store opened in Tokyo, Harajyuku in February, 2013.  1 year has passed but girls in Tokyo still love this place.
Seems like there is no line?  Nope, there is a big line.
Here it is.  There is a line a bit far from the store.  The line is so long that it might reach the Harajuku Station even right after it opens on a weekend.  You will smell the popcorn while you wait in line!
This photo is taken from the Garret popcorn stores original HP
The main product is called the "Chicago mix", which includes heavy cheese tasting popcorn that will definitely go with a drink, mixed with crispy caramel tasting popcorn.  The taste are the same, but if you buy a bagged one it will cost 380yen~ and if you buy a canned one it will cost 1,200yen~.  Depending on the package, the price will change so we recommend you to buy different packages accordingly.
Clinton St. Baking Company Restaurant
"Clinton St. Baking Company" was ranked "N.Y.'s number one pancake" in the New York Magazine.  This store opened in Omotesando and this is the first store that opened outside New York.  The blueberry pancake is very famous, representing the "Clinton Street."
This homemade pancake has a light surface but the inside is very sticky and soft.  The price is 1500 yen, but you will be able to eat a good amount of blueberries and the sweet maple butter is worth it!!
This restaurant is very famous that every one in New York knows about it so of course, the line is very long all day every day.  But, imagine starting out your day with this wonderful pancake.  Wouldn't it be great?
Try visiting theses popular places in Harajuku/Omotesando.  You will definitely have a great time!
Information
Asoko
Address: 6-27-8, Jingumae, Shibuyaku, Tokyo
Access: JR Yamanote line "Harajyuku Station" 7 minute by walk/ JR Kaku line "Shibuya Station" 7 minute by walk
Tel: 03-6427-9965
Hours: 11:00 A.M.~8:00 P.M.
Closed days: None
Flying Tiger Copenhagen
Address: 4-3-2, Jingumae, Shibuyaku, Tokyo
Access: Tokyo Metro "Omotesando Station" Take the A2 exit and 2 minute by walk
Tel: 03-6804-5723
Closed days: None
Garret popcorn shops

Address: 1-13-18, Jingumae, Shibuyaku, Tokyo
Access: JR Yamanotesen, "Harajuku Station" 1 minute by walk
Hours: 10:00 A.M.~9:00 P.M.  Open every day
Clinton st. baking company restaurant Tokyo
Address: Minami Aoyama Building, 5-17-1 Minami Aoyama, Minatoku, Tokyo

Access: Tokyo Metro "Omotesando Station" Take the B1 Exit and 6 minute by walk

Hours: 8:00 A.M.~11:00 P.M.

 

The information presented in this article is based on the time it was written. Note that there may be changes in the merchandise, services, and prices that have occurred after this article was published. Please contact the facility or facilities in this article directly before visiting.