Japanese Cultural Finds Under 1000 Yen - Only At Tokyu Hands!
Japanese culture is taking root all around the world and the number of visitors to Japan keeps increasing. If you are looking for unique Japanese souvenirs under 1000 yen, then a trip to Tokyu Hands is in order!
Japanese food, kimono fabrics, anime, manga, kawaii goods… traditional, 'Wa'-based Japanese culture is taking root around the world, just as the number of tourists coming to Japan each year is increasing. It's not surprising that many of those that come to visit this country want to take a piece of its culture back home with them, to incorporate this harmonious spirit into their own lives.
If you are one of the many people interested in Japanese culture, then why not pay a visit to Tokyu Hands? Although it is best known as a variety store, selling lots of DIY, craft and daily items, Tokyu Hands also has an extensive selection of Japanese souvenirs and unique cultural items to choose from.
In this article we will focus on Wa-themed goods that are available for 1000 yen or less that we found while shopping at Tokyu Hands. These affordable items make for great souvenirs for family, friends, or even yourself!
Origami from an Unexpected Material
First let's follow the warm scent of wood to the timber area.
Where we found something a little bit different than your standard origami paper: Orijyu.
Origami is the traditional art of paper folding, where intricate folds turn paper into animals and plants, but orijyu is actually a very thin piece of wood. It's a very unusual experience, folding wood instead of paper.
You can actually feel the texture of the wood with the tips of your finger while folding. But strangely enough, the feeling of folding itself is not that much different from the sensation of folding paper. You're sure to have your opinions on the texture of wood change after feeling orijyu wood.
With every fold, the fresh scent of wood comes out, and you just might find yourself feeling like you're sitting in the woods by the time you've finished. Each piece of orijyu is cut from a natural tree, meaning that no two sheets share the same pattern or texture.
Here is our very own wooden crane! If you'd like to make one of your own, then please pick up some orijyu and follow the instructions provided in the following article: Traditionally Japanese: How To Make An Origami Crane
Orijyu
Price: 553 yen +tax
Size:150×150mm
Amount:5 sheets per package
Beautiful Japanese Characters Written with Brushes
Next we found something very interesting on the stationary floor.
Fude, or brushes, are an essential Japanese cultural item that originally came from China. These brushes are ideal for writing calligraphy with, but are not used as frequently as they once were; mainly this stems from the amount of preparation and clean-up that proper calligraphy practice requires.
However, there is a very useful alternative to these brushes that saves all this time and trouble: fudepen. A fudepen is a brush-style pen, where the tip of the pen is made from fibers similar to those of a traditional brush, allowing the user to write with it as easily as they would with a brush.
The body of this Bimoji Fudepen ('Beautiful character fudepen') is just like a real brush as well.
Fudepens are now much more common that fude themselves, and are used particularly when someone wants to express themselves to a special someone. With a fude pen it is easier to express the main features of Japanese calligraphy, the pauses and strokes of the brush, than it is with a brush itself for those who have not been trained in calligraphy. The characters look more traditional, and are perfectly suited for seasonal greetings or special messages.
Fudepens are available in a variety of colors and sizes as well, so they are perfect for sending messages of all kinds. Why not pick one up and try your hand at calligraphy as well?
Bimoji Fudepen
Price:250 yen +tax
Art brush(Pale Orange/Yellow Orange/Olive Green)
Price:500 yen +tax
Express your Wa-Spirit in One Letter with a Hanko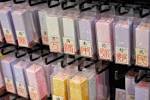 Another item we found on the stationary floor were these little hanko seal stamps wrapped in colorful Japanese paper. Each one has a kanji or hiragana letter carved on it.
結 Yu
This kanji is used to represent the connection between people or things, and is seen the Japanese words for marriage, result, conclusion, and tying a string.
忍 Shinobu
This kanji represents a unique aspect of Japanese culture, as it is the symbol for ninja, and is used in words like to bear, patience and so on.
遥 Haruka
This character is often used in expressions like distant sky, or far away, and holds a sense of eternity to it.
There are many, many other hanko stamps available here as well, so take a look and see which character speaks to you!
Hanko like this are often used when making cards or for special occasions, but there are also other forms of formal hanko used when signing contracts, for marriage registration, or even stamping when you receive a delivery at the door.
One Character stamps
Price: 550 yen +tax
Tenugui and Towels Combined
Then we found a colorful towel, but it's not your standard type of towel by any means.
It turned out to be a special type of towel, known as a chiyogami towel, which combines traditional tenugui with Western style towels. Tenugui are a woven cotton type of towel, that does not have a plush surface to it, while the Chiyogami towel has one tenugui side and one fluffy towel side to it. The water absorption ability of this towel is as good as a regular one, but this towel is only half as thick, meaning it dries in half the time. This combination of East and West is ideal, and makes for an item that many might find will come in handy.
The patterns and packaging for these towels are inspired by Chiyogami, a colorful type of Japanese paper typically printed with traditional patterns that is often used to make origami or paper dolls. The Chiyogami towels themselves come in a variety of patterns too, mainly modern takes on traditional designs. Although ideal for drying your hands or using as a handkerchief, you could also use these in the very Japanese way, by putting it on your head while you are relaxing in a hot spring.
Chiyogami Towel
Price:700 yen +tax
Approximate size: 35cm x 80cm
Material:100% Cotton
Create an Onsen at Home
On the toiletries floor, we came across a section where there were dozens of colorful packets of bath salts and powders on display.
And there we found a familiar place name.
Hakone, Kusatsu, Yufuin, these are the names of famous hot spring areas in Japan!
Although we're certain that you'll get to enjoy plenty of time in hot springs while in Japan, it may be difficult to do so again overseas, but thanks to these bath powders, you can take a part of the hot spring experience home with you. Each package costs 100 yen, plus tax.
Just fill your bathtub up with hot water, pour the powder in, and get in. If you close your eyes, you can imagine that you're back in the hot spring of your choice in Japan once again.
While there are hot springs overseas, the deep connection between the Japanese and their onsen, which in some areas is a daily event, just cannot be beat, and many might find themselves feeling unable to relax and de-stress if they didn't have a long soak in the bath every day.
If you'd like to take part in that sort of deep relaxation, then treat yourself to some of these hot spring inspired bath powders.
Onsen Ryoko(Bath Powder with Herbal medicine) Hakone/Kusatu/Yufuin 
Price:100 yen +tax
Bring Japan Home with You, Thanks to Tokyu Hands
You'll find many other uniquely Japanese cultural items at Tokyu Hands to choose from, and with most of them costing under 1000 yen, you can surely bring a variety of goods back home with you too! Most of these items shouldn't take up too much space either, so you can easily fit many of them in your suitcase or carry-on.
These items make great souvenirs for yourself or others, so the next time you are at Tokyu Hands, take a look around and find some ways to bring a piece of Japan back with you. Enjoy having a little bit of Japan in your daily life.
To learn more about Tokyu Hands, please check out our special feature and read the Complete Guide To TOKYU HANDS too.
Information
Tokyu Hands Shibuya Branch
Address: Tokyo, Shibuya, Udagawa-cho 12-18
Hours: 10:00-20:30
Closed: None
Wi-Fi: Available on 7A and 5A floors
Credit Cards: Available
Nearest Station: Shibuya Station
Access: Walk straight towards the north from JR Shibuya Station Hachiko Exit. On the left hand you will see Seibu A and B towers. Turn left between them, and go along Inokashira-dori. On the right side, you will see Tokyu Hands ahead of you
Phone: 03-5489-5111
Website: Tokyu Hands Shibuya