【Interview】Yui Sakakibara; Why Anime Songs are Loved Around the World
Yui Sakakibara, (well known as Yuinyan) has made an great impact as an anime song singer, voice actress, and dance choreographer for this past ten years. We had an opportunity to ask her about her 9th album "Amazing" which will be released on August 27th as her 10th anniversary celebration, and also about the worldwide anime song fever as an world famous singer herself.
Back to Basics on the 10 Year Mark
−−First, tell us about the concept and your personal feelings towards the upcoming 9th Album "Amazing".
This time as it was my 10th anniversary as a singer, I tried to put out "the Original Yui Sakakibara". After all, I guess Yuinyan is all about being fierce and sexy.lol.
Initially I was planning to create an album more fierce looking, but I realized that it needs to be more sexy to make it more me. So I made the album cover real sexy, and tried to reflect my personal strory strongly in the main song "Amazing".
By the way, I titled the album "Amazing" because the word has an meaning like "unexpected", and I'm an unexpected person myself. lol.
−−As long as the first song Amazing, the second song Endless Fighter is also your original.How is this song?
This song is actually one of the soundtracks of OVA of Ikkitousen. The sound was first sent to me, and then I worked on the lines, but I was shocked by the complexity of the melody notes.
When I wrote the lyrics to exactly match the notes, it turned out to be like an essay.lol. The song itself is really fast, and has many notes. I almost thought it was impossible to sing along.
If I was just trying to sing it emotionally, I only have to sing it soft and mellow, but I needed to sing real powerful. It's because the song was an soundtrack for the anime "Ikkitousen" which the main theme was to "stand up for your beliefs" so, I needed to sing especially powerful and put some punch in the lyrics.
I needed to sing intense, but the song was so dang hard to do so!!lol. That's why I had it retake many times at the rocording sessions. But as a result, it turned out to be a very passionate song to match the anime story very well.
−−It seems like song title Endless Fighter is representing the making process itself.lol.
That's so true! lol. But it does match the album concept well, as it sings well about destiny. There are also many other songs singing about "fighting for something" included in the album, so overall the album carries a very positive message.
−−Did you make it itentionally positive, to present your positive feelings towards the future as an refelection of this ten years?
No, I didn't really plan to make it that way, but as I collected the songs that my fans most requested, it just turned out to be a very positive album. So it's really unintentional.
Check out the real us aswell!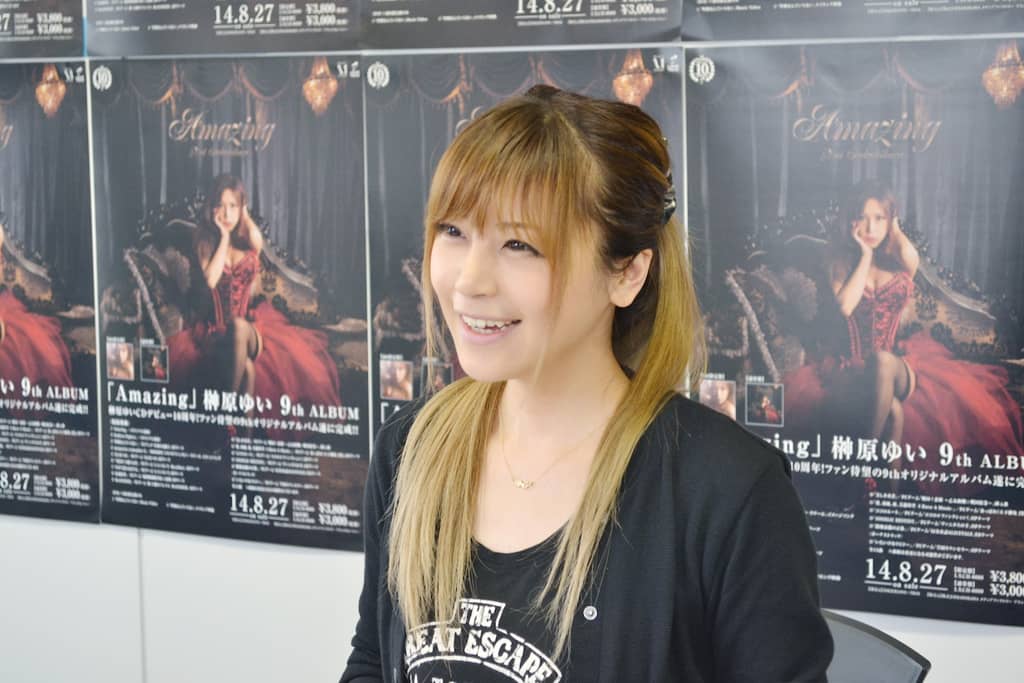 −−The third song Seiken nante iranai is also an OP song of an anime,but hasn't it been a while since you worked on an OP for an anime?
Yes, I actually included the OP song for "Seikoku no Ryukishi" aswell, and also the music video in the limited editions. I really wanted people to watch the full version of the music clip! Clips from behind the scenes are also included, and it is actually really funny.lol.
−−What kind of clips are included from behind the scenes?
You can see the real me and the dancers. We always turn our switches on when we are about to film the music clips, but we're really relaxed and laid back once it's done.
I think the behind the scenes shows our close relationship, but also shows how serious we take our work. Some of the clips are from when I didn't realize it was filming, so it captured the real me.lol.
−−Overall, the album seems perfect to represent your tenth year.
It is indeed! All of the songs and music clips have great impact!
How Yuninyan thinks about the worldwide Anime Song Fever
−−In these past ten years, you have held tours abroad, but are you thinking of having more in the future?
Of course!! I've had a concert in Hongkong once, and twice in Taiwan, but all of my fans there were so nice! Not only do they know all of my songs, they remembered every line of the lyrics, and would sing along with me.
It became a whole big chorus, and it just touched my heart to see such a view. In Japan, the whole crowd would unite by clapping, or response to my call, but in concerts abroad, the whole crowd gets together by singing. It's very touching to see my foreign fans singing in Japanese.
−−That's amazing! Do you have a country you would like to visit?
I hope to sing in the states or europe. Especially in France, where events like Japan Expo is held. But I feel bad because I can't speak English at all. When I went to Taiwan, I couldn't speak Chinese nor any English, so as soon as I got back I did search for english conversation classes.lol.
−−On the other hand, do foreign fans come to concerts in Japan?
I know some do. I have fans telling me at the spring concerts or birthday concerts that they take the plane every time when there is a big concert. Big fans from abroad seem to be very close to the Japanese fans, so whenever they come to Japan, they seem to be hanging out together, and the other way around when the Japanese fans go to Hongkong or Taiwan. It's great to hear that there is some international exchange going on among my fans!
−−It's amazing that international exchange is being done through you. How did you find the Japanese Anime Songs being loved in other countries?
I really found how big Anime and games are for Anime Songs. Of course it's nice that some people become fans through artists like me or my songs, but with the Animes and Songs, it's way exciting!
I think this is the same abroad, and that's why Anime Songs are loved all around the world. So as I know this excitement, I know I can never leave the Anime Song scene.lol.
−−Thankyou. Lastly, what is Japan like for you, and which part would you like to let the world know?
hmm... I guess Japan is quite a strange country. But I think that's the fun part and the fascinating part of Japan. I think a lot of times, what we think is common in our every day life turn out to be shocking for foreigners.
But I find those common traits also fascinating! For example, when I sing my new song for the first time in a concert, I'm always surprised to see how everyone claps together.lol.I think those small things, are very Japanese and also the fascinating part.
I mean, think about Akihabara! It's wierd that there's so many Anime characters there.lol. But that's also Japan's fascination, and we need to let the world know more about it.
Yui Sakakibara's compilation of her 10 years, the 9th album "Amazing" will be released on August 27th(wed). The limited editions include the music video of "Seiken Nante Iranai" and the making clips! Don't miss it!
Information
Official website:http://www.sakakibarayui.com/
Twitter:https://twitter.com/YuiSakakibara
Yui Sakakibara"Amazing" Special Website:http://www.sakakibarayui.com/info/amazing/

Yui Sakakibara 9th Album "Amazing" Released on 2014/8/27(Wed)

Available two ways in limited edition and normal edition!

【Limited Edition(CD+DVD)】 3,800yen+tax
・Including DVD of Music Video "Seiken Nante Iranai"
・Including DVD of the makings of "Seiken Nante Iranai"

【Normal Edition(CD)】 3,000yen+tax

The information presented in this article is based on the time it was written. Note that there may be changes in the merchandise, services, and prices that have occurred after this article was published. Please contact the facility or facilities in this article directly before visiting.