Cool Down In Spiritual Places This Summer: Kurama And Kifune, Kyoto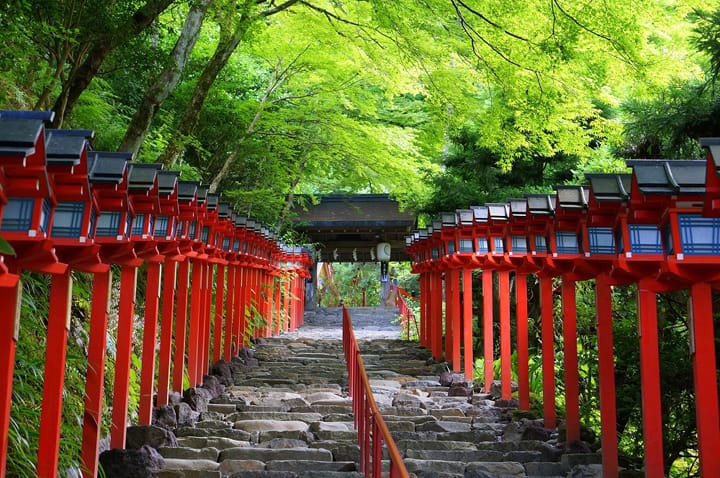 If you are looking to beat the heat, and see a charming, nature-rich side of Kyoto, then visit Kurama Temple and Kifune Shrine, two interconnected spiritual places found on Mt. Kurama in Kyoto.
Found to the north of the Kyoto basin, Mt. Kurama, a legendary mountain and power, and Kifune, the source of Kyoto's water and home of the Water God, are two mystical and spiritual places that visitors to the Kyoto area should not miss out on. These two spots are ideal for vacations in summer as they have been well regarded resorts in the Kansai region since ancient times. Let's pay a visit to this area and see the sights of summer in Kyoto.
Walking to Mt. Kurama
Hope on the Eizan line and alight at Kurama Station. Thanks to the outward-facing seats on this train, you can enjoy great views of all the fresh summer greenery of the natural tunnels formed by the maple trees along the way.
After exiting the station, you will sound find yourself facing a large Tengu mask. Kurama is also a famous home to these legendary creatures of Japanese folklore. Towards the end of the Heian era, it is said that Minamoto no Yoshitsune, who was in charge of Kurama Temple at that time, lived in this temple alongside a tengu - in fact, this tengu took part in Buddhist ascetic practices as well. You will find traces of tengu all about this station and area.
After walking for a short distance, you will soon come to the Nioumon gate. After passing through this gate, you will the standing on the sacred ground of Kurama Temple. Many visitors feel that the air seems to change the moment that you step under this passageway.
After walking for about ten minutes from the gate, you will find yourself in front of Yuki Shrine. Just behind the shrine, about 50m away, in the center of this photo, you can see three large sacred trees standing side by side.
After paying your respects at Yuki Shrine, head up the stone steps and you will reach Kurama Temple. By the way, it is possible to reach this area by Japan's shortest cable car. The distance it travels is only about 200m, and costs just 100 yen.
The sloping stone steps almost seem to go on forever.