Shopping at "Asakusa FUJIYAMA" for an Old-Town Mood
"Asakusa Park Six District", it has been the lead of the Japanese entertainment since before the WWII. On its street you can find photos of the top talents of this area and this is where "Asakusa FUJIYAMA" sits.

Japan's No. 1 Mountain as the Motif
This small shop just opened last July and has many nice design goods that carry a old flavour. During summer, the store will prepare a bench in front of the store with its nice hospitality. Even though Asakusa is a crowded area, you can take your time shopping here.
As you can imagine from the name of the store, these are some goods of with Mt.Fuji as the motif. From ceramics to bags ,you can all sorts of original items in this store. This heart-warming Mt.Fuji badge is handmade by the grandmother of the store owner.
Classic items, but not tiring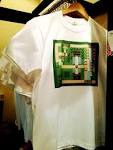 T-shirts displayed near the entrance are eye catching.There are many Japanese designs such as cutely redesigned monsters, Daruma, Sushi, and Ukiyoe, but this one is especially memorable! Asakusa area is drawn in the design of RPG (role-playing game). Hana-yashiki and Skytree are drawn as well. And at the map where you can find a drawn Mt.Fuji, that's the location of this store.
Hand made Sushi earrings and straps are popular among foreign visitors. Why not buy different designs of these items with your friends? Traditional toys such as origami, otedama, and tops are colorfully designed and cute.
There are many Japanese coin cases and recycle bags. Even choosing one colorful washcloth from the wide variety is fun!
The Wonderful Details
When you ask to wrap your purchase as a gift, this origami ribbon will be used. That's the heart of Edo, good job.
The store specifically sticks to "made in Japan." Except for some items, "Japanese goods made in Japan" gather here. For example, handmade organic soap that looks like real food; original Mt.Fuji form and traditional glass beadmaking are goods cooperated with stores near by. You will not find these items in any other stores; this place is concentrated with items that represent Asakusa.
Inside the store, there is a rest area where you can have warm tea. Try this tea that carries a slight hint of cherry blossom and enjoy the old town of Asakusa.
Information
Asakusa FUJIYAMA
Address: ASAKUSA DENKIKAN 1F, 1-chome 42-4, Asakusa, Taitouku, Tokyo
Phone number: 03-5830-3522
Hours: 11 am to 8 pm
Official website: http://www.asakusa-fujiyama.jp/company.html
( to see in English, clink on the link above, and then click on the Google icon on the page. You should see drop down menu with one choice. That should give you English version of the website.)