You Can Find a Great Gift at "Kyukyo-do" in Kyoto
Have you ever sent a post card during your travel? We will be happy when you get your message over the sea without expectation. There is a special shop for post cards and Japanese paper craft, Kyukyo-do. I interviewed about "Gift" at Kyukyo-do in Kyoto.
Kyukyo-do which has history for 350 years
Kyukyo-do started an enterprise in 1663 in the edo era as a pharmacy. This shop has specialization for Japanese incense, the tool for Japanese fine arts and calligraphy, letter pads, golden stickers and Japanese paper crafts.
After a while, They started to sell brushes for calligraphy and fine arts as they can import them from China with medicines. This is the reason why they started to sell such stationeries.
We can find many Japanese traditional beauty everywhere in the shop.
How we can choose for gift to my family and close friends? I asked to Yusuke Tanaka of Kyukyo-do.
Mr. Tanaka said "It will depend on who you will give to. For example, how about this inkstone case if your friend does Japanese calligraphy? I think it is good idea to put an inkstone and a paper weight in the case. "
I will be thrilled if I get gift like this. I heard that it is popular the product which has very Japanese taste for foreigners.
Why don't you send a message for your loved one with this beautiful post card?
Enjoy to choose the letter pads
I am enthusiastic of actually writing letters, but I choose the letter pads carefully when I write for my seniors. There are so many kind nice taste letter pads in Kyukyo-do.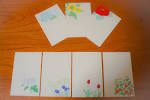 This is a card by silk screen.
The color is so delightful. You can frame it and decorate in your room.
The people who write a letter by hand is decreasing in Japan. But I think there is a special respect in hand written letter.
What does it mean?What is this?How can I use this design? Will this card be suitable for her? I can enjoy this process before I start to choose,write, and send to my family and friends.
When you visit Kyoto, please spend a time in Kyukyo-do, enjoy it!!
Information
Kyukyo-do Kyoto
Address:520 Honnou-ji mae, Aneno-kouji noboru, Chukyo-ku Teramachi, Kyoto
Open:10:00-18:00
Regular closed: Sunday
(* Public holyday is open)
(* If it gets long weekend, the Sunday will open)
(* No closed day in December.(We close at 17:00 at 31t.))
Credit card: Available
Access: 5 Minutes walk from Kyoto-Shiyakusyo 5th exit, Tozai line Subway/15 minutes by car from JR Kyoto station/ 15 minutes walking from Haramachi sation, Hankyu line.
Language: Small conversation is fine.
Phone:075-231-0510
HP:鳩居堂Homepage No English site.

The information presented in this article is based on the time it was written. Note that there may be changes in the merchandise, services, and prices that have occurred after this article was published. Please contact the facility or facilities in this article directly before visiting.