9 Cherry Blossom Flavored Items You Should Try This Spring!
In spring you can not only admire the beautiful cherry blossoms of Japan on trees but also see, smell and taste them in various different sakura-themed treats. In this article, we introduce you to nine of these unique snacks and drinks.
Cherry blossoms (sakura) are seen as the true sign of spring in Japan. Wherever you look you will encounter items dyed in a soft pink color or decorated with the famous Japanese flower to welcome the warmer days. Naturally, this especially includes items in the snack aisle.
In this article, I will introduce you to nine sakura-flavored snacks you can find during the spring season.
1. Sakuramochi - The Classic Spring Sweet Treat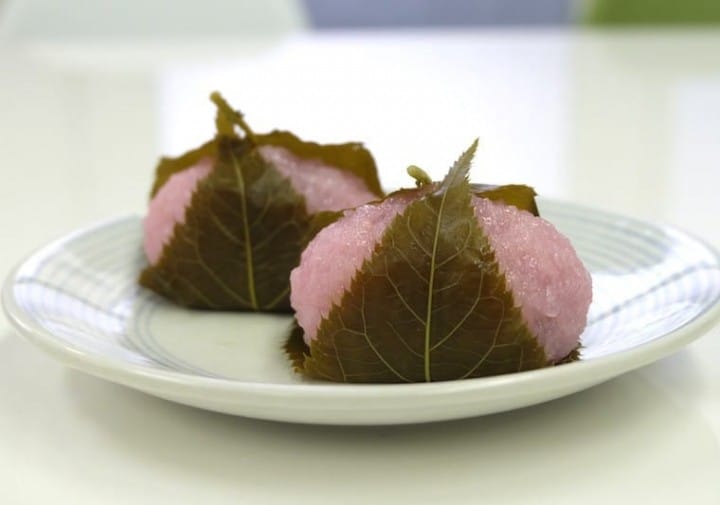 Photo from Did You Know?! Sakuramochi In Kansai And Kanto - Regional Differences
Sakuramochi is an original Japanese spring snack. It consists of a glutinous rice cake (mochi) filled with sweet bean paste (anko) and wrapped in a salted sakura leaf. The leaf is edible, adding a slightly salty flavor to the sweet mochi that stays even if you remove it.
Photo from Did You Know?! Sakuramochi In Kansai And Kanto - Regional Differences
You can find sakuramochi in two different versions. The round Domyoji sakuramochi, which has the red bean paste inside, originated in Kansai (western Japan). In the other hand, the Chomeiji sakuramochi consists of a flat mochi wrapped around the anko filling and is common in Kanto (eastern Japan).
Sakuramochi can be found at supermarkets and convenient stores, and of course, at Japanese sweets specialty stores all around Japan during the cherry blossom season (March - April).
Sakuramochi can be found at supermarkets, convinience stores and mochi shops and rage between 100 and 200 yen.
2. Sakura Flavored Mochi Chocolate - Chocolate Inspired by Sakuramochi
Photo from 6 Sakura Flavored Snacks Available At Convenience Stores
Mochi chocolate is a popular Japanese snack which was inspired by traditional daifuku (soft rice cakes filled with sweet bean paste). Instead of sweet bean paste, the soft mochi has a melty chocolate filling.
The sakura flavored mochi chocolate is inspired by sakura mochi. The pink mochi rice cake is slightly salty and the core is creamy white chocolate.
Photo from 6 Sakura Flavored Snacks Available At Convenience Stores
This sweet treat provides a nice twist on the traditional snack. Each pack comes with eight bite-sized portions. A perfect snack for sharing!
Sakura flavored mochi chocolate can be found at most convenience stores for about 250 yen.
3. Sakuramochi Ice Cream - Great for the Warmer Days of Spring
Sakuramochi ice cream is great when it is warm outside and you need something refreshing but still fitting the season.
This particular sakura mochi has a plain mochi (rice cake) on the outside and is filled with a lightly cherry-flavored ice cream infused with salted sakura leaves. A thin layer of smooth red bean paste separates the mochi from the ice cream.
The creamy sweet ice cream and the squishy plain mochi are a great combination and the saltiness of the sakura leaves adds an interesting twist. This is a great refreshing snack to enjoy under the blooming cherry tree!
Can be found at Kaldi Coffee Farm for about 200 yen
4. Sakura Jelly - Beautiful Blossoms Encased in Pink Jelly
This is probably the most impressive looking treat on this list. It showcases one or two cherry blossoms inside a light pink jelly.
Once you open the plastic case you will be greeted by a soft cherry fragrance. The jelly itself provides the same cherry flavor. It is not too sweet, nor artificial. It is actually kind of refreshing.
The flower inside is edible, so you don't have to worry about trying to pull it out while eating. This dessert truly evokes the beauty of the Japanese spring.
This beautiful jelly costs about 400 yen for a set of three at Don Quijote.
5. Sakura Castella - A Spongy Cake Infused with Sakura Leaves
Castella cake was first introduced by Portuguese merchants in the early Edo period (1603 - 1868) but has since become a Japanese staple. It's a fluffy cake sweetened with honey which results in a light treat that's not too sweet. Castella has seen many Japanese makeovers over the years. You can get it in various tea flavors as well as infused with Japanese azuki beans.
The sakura castella features a plain base infused with shredded salty sakura leaves. The leaves are the same kind you find wrapped around sakuramochi and they give the sweet castella a salty edge and an pleasant texture.
If you can find it, I highly encourage you to try it. It would also make for a unique souvenir.
I found this castella at the Kaldi Coffee Farm for about 450 yen. They offer different castella flavors throughout the year that are definitely worth checking out.
6. Sakura Kinako Kit Kat - The Spring Version of the Cult Chocolate
Sakura flavored KitKat has become a recurring theme in the yearly spring line up. In 2019, you can even get two different versions, Sakura Roasted Soybean, and Sakura Japanese Sake.
The cherry blossom and roasted soybean powder (kinako)-flavored KitKat where first introduced in 2017 and have been around ever since. The chocolate has a slightly roasted flavor with a soft sweet note and a faint cherry blossom smell. If you are searching for a strong cherry blossom flavor, you should probably choose another snack from this list but if you like kinako then you should definitely give this version a try.
The other version is new for 2019 and inspired by the popular Sake flavored KitKat. It has a lower alcohol content than the original with 0.07%  but children and people who don't drink alcohol should still avoid it.
The sakura pink chocolate contains powdered Japanese sake and the cream between the wafers is cherry blossom scented and flavored. As soon as you open the package you will sense a strong sake and cherry blossom scent. It tates exactly like it smells and sake fans will not be dissapointed.
These particular KitKats can be found at Don Quijote and other selctected supermarkets for between 400 and 600 yen.
7. Sakura Azuki Chocolate - Red Beans Covered in Chocolate
Soft azuki beans covered in white chocolate are a popular sweet treat. However, in spring, it is adapted to reflect the season, so the chocolate is flavored like as salty sakura leaf.
While the texture reminds of sakuramochi, instead of mochi you have chocolate, so the inspiration for this sweet should be quite clear.
The sakura azuki chocolate is produced by Kaldi Coffee Farm and a 43gr bag costs about 130 yen.
8. Sakura Marshmallows - Cute, Fluffy and Pink!
These sakura flavored marshmallows come in the shape of sakura flowers. They are not only cute to look at, but they also have a faint cherry taste to them. They would probably taste great in a cup of hot chocolate on a cold spring night.
If you have been in Japan in autumn you might have seen similar marshmallows before. In the fall season, the same company makes maple flavored brown marshmallows in a similar shape.
In any case, they would make for a cute snack to brighten up any hanami party.
Sakura marshmallows can be found at Kaldi Coffee Farm and at some selected Supermarkets for about 150 yen per bag.
9. Sakura Tea - Beautiful Flowers in Your Cup
The last item is especially beautiful to look at. It is a kind of flowering tea. All you need to do is remove the pickled flowers from the package and immerse them in hot water to see them bloom.
The flavor is very faint and dominated by the saltiness of the flowers, so you might want to add a little bit of your favorite sweetener.
The great thing about this particular sakura tea is that the instructions are written in English. I recommend not to add more hot water than suggested on the package as you might end up with a flavorless tea otherwise.
This tea will make a great souvenir for any sakura lover for sure and you can also use the individual packets for gift bags.
I paid about 400 yen for a pack of 6 sachets at Kaldi Coffee Farm.
Enjoy the Cherry Blossom Season with All Your Senses!
With these items, you can see, smell and taste the cherry blossom season. They will surely get you into the mood for spring. Why not taking some of them home as a souvenir to share the beautiful Japanese spring with your family and friends?

The information presented in this article is based on the time it was written. Note that there may be changes in the merchandise, services, and prices that have occurred after this article was published. Please contact the facility or facilities in this article directly before visiting.