The Most Flavorful Sesame Ice Cream On Earth! Gomaya Kuki In Harajuku
At Gomaya Kuki in Harajuku, you can taste incredibly flavorful sesame ice cream made with approximately 9000 sesame seeds used in each cup of ice cream. In this article, we introduce you to this unique sesame sweets shop and its flavorful treats.
Sesame Seeds Turned into Sweet Treats
Since ancient times, sesame seeds have been used to flavor food all over the world. In Japanese cuisine, sesame seeds are used in various dishes, such as being used to season vegetables or made into salad dressing.
This time we will introduce a cafe that offers ice cream and other sweets featuring sesame seeds as their main ingredient. Gomaya Kuki is located in Harajuku and operated by the popular producer of sesame seed products, Kuki Sangyo. Here you can eat unusual and delicious sesame-flavored sweets!
Superb and Flavorful Sesame Ice Cream
Gomaya Kuki's flagship item is the sesame ice cream, which is made using around 9000 seeds per cup. It is available in white sesame or black sesame varieties. You can choose between ultra-strong or strong in both versions. The black sesame ice cream is also available in salty, while the white sesame ice cream has a version with assorted grains.
You can only order cups, not single scoops. For each cup (500 yen), you can select two varieties. The manager's recommendation is the combination of ultra-strong black sesame and strong white sesame. This way you can compare the difference between the ultra-strong black sesame, which is the most popular variety, and the comparatively lighter strong white sesame.
You can top the ice cream with the free toppings. Boost the flavor using sesame oil and sesame seeds. The instant you take a spoonful, the sesame taste spreads in your mouth. Because it is made with plenty of sesame seeds and sesame oil, rather than being heavy as you might expect, it is surprisingly refreshing. We fullu enjoyed it to the last spoonful!
Sesame Ice Cream Tempura - A New Item!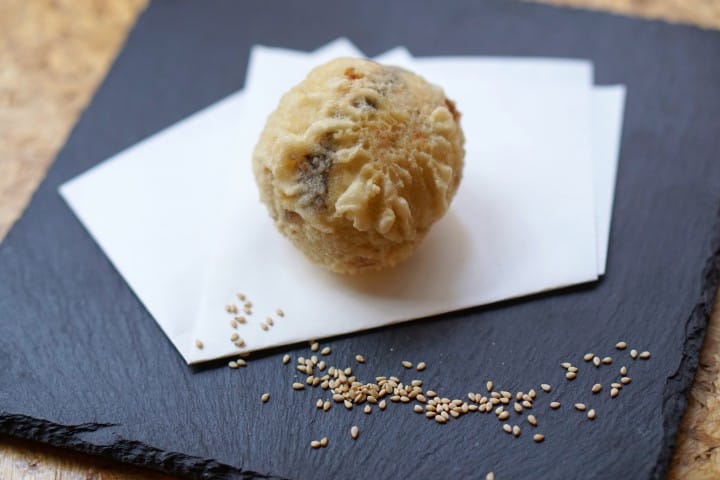 Photos courtesy of: favy
Ice cream and tempura must sound like an absurd combination to many people. At Gomaya Kuki, there is ultra-strong ice cream (black and white) tempura, battered and fried for (500 yen a piece). The tempura is fried using Kuki Kinshira sesame oil, the same sort used in high-class tempura shops. The inside is cold, while the outside is fluffy and crispy, so you can enjoy various textures in a single bite.
Photos courtesy of: favy
In addition, we recommend the crunch-coated sesame ice cream tempura (550 yen a  piece), made by coating ultra-strong sesame ice cream tempura in sesame seeds and frying it. Because the tempura is coated in plenty of sesame seeds, the fluffy and crispy texture becomes crunchy, making it an irresistible treat for sesame lovers.
Take a Coffee Break at the Counter
The Harajuku location also has counter seating where customers can relax. If you purchase any of the following items, you can use the counter seating.
A Decadent Japanese Parfait at the Gomaya Kuki Cafe
Photos courtesy of: favy
The sesame ice cream parfait (1000 yen) is covered in an extravagant selection of typical Japanese toppings like rice flour dumplings and red bean paste. There is a smooth green tea pudding underneath the sesame ice cream, making it irresistible for the lovers of Japanese sweets. It's topped off with sesame oil, which gives the sesame flavor and extra boost. You can choose the ice cream variety and create a parfait to your taste.
Exquisite Fluffy Pancakes with Sesame Ice Cream
Photos courtesy of: favy
Slowly oven-baked pancakes pair perfectly with sesame ice cream! You can top these moist, thick pancakes with your choice of ice cream. This dessert costs 1000 yen including one scoop and if you would like to add another scoop of ice cream it will cost 1200 yen. Naturally, we recommend two scoops! The combination of the light pancake and flavorful sesame ice cream is simply delightful.
Don't Miss Out On These Unique Sesame Sweets
Gomaya Kuki is a five-minute walk away from Harajuku Station, past Laforet Harajuku, in an area with plenty of cafes and other stores. When you come to Harajuku, we recommend giving the superb sesame ice cream at Gomaya Kuki a try!

In collaboration with Kuki Sangyo Corp.

The information presented in this article is based on the time it was written. Note that there may be changes in the merchandise, services, and prices that have occurred after this article was published. Please contact the facility or facilities in this article directly before visiting.