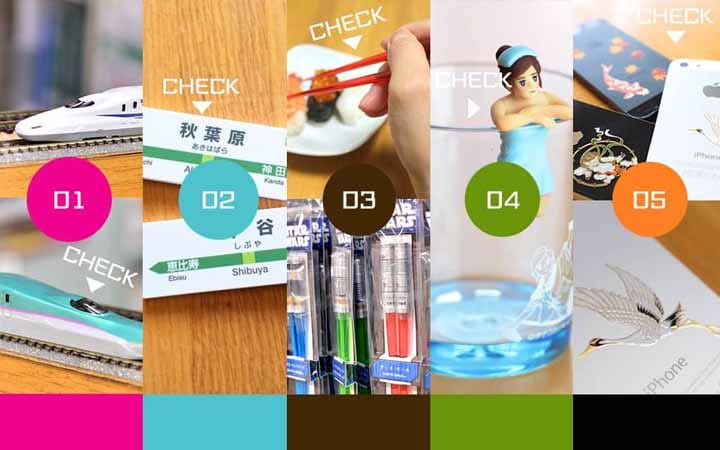 Uniquely Japanese! Fun Pop Souvenirs From Tokyu Hands
Souvenirs come in many forms, but these uniquely Japanese pop items are amazing and sure to be memorable gifts for anyone - even yourself!
When you hear the phrase "made in Japan", what is the first thing that comes to mind?
Cars? Electronics? Stationery, perhaps? There are many high-quality and user-friendly products made in Japan, but these are not the only points to goods that the Japanese themselves are proud of. Making something that is weird but attractive at the same time is another one of the skills of Japanese artisans.
Today we'd like to introduce some of the many uniquely Japanese pop items available at Tokyu Hands.
Shinkansen at Home
Take a look at these reproductions of Japan's shinkansen trains. The level of detail included in them is sure to surprise you.
The "Hayabusa" is the shinkansen that attracts attention from people all around the world. Running between Tokyo Station and Shin-Aomori Station in the far north, this train achieves speeds of up to 320 km/h, making it the fastest in Japan. Thanks to its unusual shape and bright green color, it is a popular train among model fans as well.
Here you can see the shiny white "Nozomi" train here too.
The elaborate details of these models cannot be conveyed completely through pictures. Please check it them out for yourself.
E5 series Shinkansen "Hayabusa" Basic 3 cars set
Price: 9450 yen +tax
E700A Shinkansen "Nozomi" Basic 4 cars set
Price: 11,700 yen +tax
Shibuya or Akihabara? Mini Station Signboards
The public railway system is the main mode of transportation in Japan, one that most visitors will be very familiar with after spending some time here. In Tokyo, one of the most commonly used lines is the JR Yamanote Line.
Here you can see the mini Yamanote line station signboards for the fashionable Shibuya area, and for the otaku-holyland of Akihabara. Each comes complete with the correct adjacent station names printed on them as well - they are identical to the real thing!
They say that the most popular one is Shibuya, but you can also find ones for every station on the line, whether it is a major or minor stop. Why not pick up one for Otsuka, or the grandma-centric shopping spot, Sugamo?
Station Keychain
Price: 500yen+tax
Eat like Jedi!?
Is that a lightsaber...!?
No, not exactly. It's a pair of chopsticks, necessary for eating a proper Japanese meal.
Thanks to these chopsticks, you can incorporate the fantasy world of Star Wars into your daily meal time. They are available in Darth Vader, Luke Skywalker, Yoda and many other character versions.
George Lucas is a big fan of Japanese movies, and you can find the influence of Japanese movies in many scenes of his films. Just like Lucas, why not incorporate different cultures together? Eat sushi with your favorite lightsaber!
Lightsaber Chopsticks
Price: 1000 yen +tax
Figure Toys from Japan
Capsule toys can be found in supermarkets or game centers, and are also known as "gacha-gacha" or "gacha-pon". Each capsule costs between 100 and 300 yen, with some very special, limited edition ones selling for 500 yen a piece. At Tokyu Hands, there is a capsule toy corner, where you will find many children and adults getting some of these fun toys and figurines.
"Fuchico" is one of the most popular series to have come from these capsule toys, and features a woman that can hang from the lip of your cup (fuchi meaning rim of the cup, and -ko being a common ending for Japanese women's names).
This "Fuchico - hot spring" is literally a figure of a lady enjoying hot spring. Her cute face is even flushed from the hot water.
No cup to display her on? No problem. There is also a boxed series that comes with a cup. Have fun and make your own display featuring these and other cute capsule characters.
Attention to detail can even been seen on the back of the little figurine too, which may be surprising as these only cost 500 yen. The figurine manufacturing technology of Japan can never be underestimated.
Fuchico - Hot spring
Price: 500 yen +tax
Traditional Handicrafts for Daily Use
There are many smartphone goods to choose from in Tokyu Hands. Unique cases and decorative stuffs can be found there, but we would like to recommend the Hotsuma maki-e or gilt stickers.
Embossing with lacquer is one of the traditional decorative techniques in Japanese art. Maki-e involve adding gold or silver powder or leaf to the lacquer before it dries, creating brilliant works that stand out against the sleek dark surface around them.
These gilt stickers can be applied directly to your phone or on a case, and, despite only being a sticker, give it a rather sophisticated and refined look. These come in a variety of patterns, including cranes, goldfish, Japanese deities and more. Which type would suit you best?
Hotsuma Gilt Sticker
Price: from 477 yen +tax
Pop Items Born from Diligence
"Not necessary. But intriguing."
No matter how unusual the item, each is made with a level of diligence that the world has come to expect from products made in Japan, even simple keychains or figurines. You can find many other pop items sold at Tokyu Hands, in styles beyond those that we've shown you today. Why not have a treasure hunt through the store and see just what sorts of fun and unusual items you can find?
To learn more about Tokyu Hands, please check out our special feature and read the Complete Guide To TOKYU HANDS too.
Information
Tokyu Hands Shibuya Branch
Address: Tokyo, Shibuya, Udagawa-cho 12-18
Hours: 10:00-20:30
Closed: None
Wi-Fi: Available on 7A and 5A floors
Credit Cards: Available
Nearest Station: Shibuya Station
Access: Walk straight towards the north from JR Shibuya Station Hachiko Exit. On the left hand you will see Seibu A and B towers. Turn left between them, and go along Inokashira-dori. On the right side, you will see Tokyu Hands ahead of you
Phone: 03-5489-5111
Website: Tokyu Hands Shibuya