Try A Rich Tasting Lamb-Based Ramen At MENSHO TOKYO
Today we introduce you to MENSHO TOKYO, a ramen shop located just a stone's throw away from Tokyo Dome. Here owner Shono-san takes ramen and tsukemen to a whole new level with lamb-based dishes and unusual condiments such as roasted green tea powder.
Just a thirty minute train ride from Shinjuku Station and we soon arrive at Korakuen Station. In the nearby vicinity, which has a large recreation playground including Tokyo Dome and an amusement park, there's a ramen shop called MENSHO TOKYO.
This ramen/tsukemen shop is location number five for owner Tomoharu Shono. We've been told that here they serve ramen with a lamb-based soup stock.
In Japan, ramen soup stock is usually made from chicken, fish and seafood, and pork bones. Using a lamb-based ramen or tsukemen is highly unusual so I wonder what kind of flavor it has?
A Red Noren and Highly Original Interior
画像提供:自家製麺 MENSHO TOKYO
MENSHO TOKYO is marked by a red-colored noren (shop curtain) hanging across its entrance.
According to owner Shono-san, the shop's noren was dyed using a traditional method that has continued since the Edo period. Apparently this deep and rich color can't be duplicated with modern day dying methods.
So now, tempted by the beautiful deep red noren, let's step inside the shop.
When you first step inside the shop, what immediately jumps out at you is a large chandelier hanging from the ceiling, that's decorated with many sardine fish.
More than just an interior fixture, this chandelier feels more like a work of art, and all the sardines were attached one by one by the shop staff.
Also, in back of the counter seating, you can see a glass-enclosed room that serves as a research laboratory. Here research on ramen and tsukemen is conducted, and the findings are reported on Shono-san's homepage for food and ramen lovers around the world.
Lamb Tonkotsu Tsukemen: Colorful and Attractive!
Lamb Tonkotsu Tsukemen (with all the toppings) 1080 yen
One of the innovations coming from this research lab is a dish overflowing with originality, Lamb Tonkotsu Tsukemen (with all the toppings). Decorated with light pink-colored slices of lamb, this is a colorful and attractive dish.
The chashu lamb is flavored with a variety of spices and seasonings, dipped in lemon, then slowly cooked under low heat. The more you chew the lamb meat, the more the full flavor comes out, and the refreshing taste of the lemon gently emerges on your tongue.
Next, let's try some of the noodles. The slightly yellow-colored noodles are made in the kitchen every morning, so whenever you place your order you can be assured that they'll be fresh.
Just like other kinds of food which can change if left for too long, when noodles are served a day after they're made, some of the air inside escapes and their texture becomes rather hard.
Now we'll dip some of these noodles into the soup sauce and give them a try. The noodles have a nice chewy texture, and the gentle aroma of the lamb and the smooth, full-bodied umami (*1) flavor of the pork bones really stands out.
The reason I kept reaching for more and more noodles might have been due to the deep aroma of all the spices, which collectively give the soup its rich and sophisticated taste.
One of the condiment toppings (photo below) is hojicha, or roasted tea powder, which has a delicate sweetness and slight bitter taste to it. In Japan, using green tea powder as a topping is unusual, but in this particular case it fulfilled its role as a spice in splendid fashion.
*1 Umami: refers to a rich, savory flavor that's often referred to as 'the fifth taste' as it is not sweet, sour, bitter or salty. The flavor is apparently caused by the interaction of glutamates (a kind of amino acid) found in the food, with taste receptors on the tongue.
Attracted by the rich tasting soup and the tantalizing aroma of the spices, in a matter of moments I completely finished off the tsukemen.
With a taste I've never experienced before, and a new style of noodles that gives you a sense of tsukemen's potential, I wonder how this special dish came to be? The answer can be found hidden in the following words of owner Shono-san: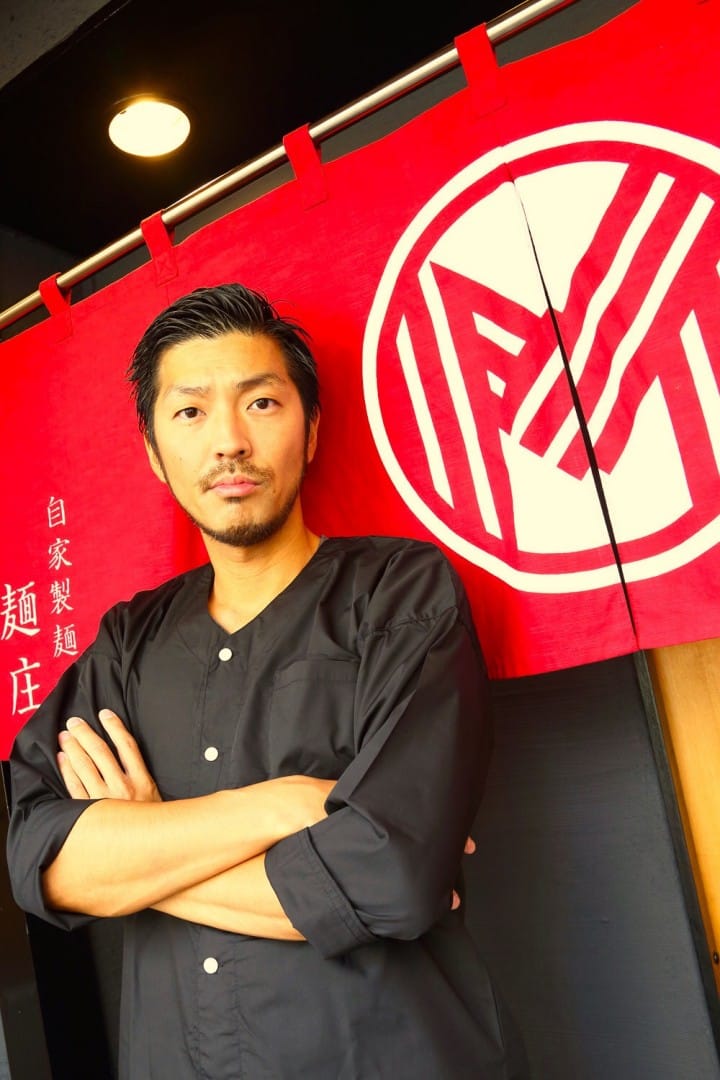 画像提供:自家製麺 MENSHO TOKYO
"In Japan I get a sense that within the world of noko, or thick, rich tasting ramen and tsukemen, new and original versions have stopped being born. But despite this, I'd really like to come up with some new creations in this category of thick, rich ramen.
I believe that there's still lots of unexplored territory when it comes to ramen flavor and taste! So I want customers to be delightfully surprised and moved by my ramen and tsukemen creations."
The superb noodle dish that I had the pleasure of sampling, is the result of Shono-san's inquiring mind that is constantly searching for new and better ideas. By all means, on your next visit to Tokyo, stop in at MENSHO TOKYO and savor some of these delicious noodles.
Information
MENSHO TOKYO
Address: Tokyo, Bunkyo, Kasuga 1-15-9 1F
Hours: 11:00-15:00, 17:00-23:00
Closed: Open every day
Wi-Fi: Not available
Other Languages: Japanese only
Nearest Station: Korakuen Station (Marunouchi Subway Line, Nanboku Subway Line) or Kasuga Station (Oedo Subway Line)
Access: 1 minute walk from exit A4 of Korakuen Station, 3 minute walk from Kasuga Station
Phone: 03-3830-0842
Website: MENSHO TOKYO (Japanese)