5 Best Breakfast And Brunch Spots In Tokyo For An Early Morning
Looking for a delicious breakfast or brunch spot in Tokyo? Here are five amazing restaurants that open early and will satisfy all your breakfast needs in popular areas like Harajuku, Shibuya, and Shinjuku.
Where to Enjoy Breakfast and Brunch in Tokyo
Many Tokyo hotels offer continental breakfast, but many travelers want to enjoy breakfast and brunch out during vacation. Maybe you have plans to meet up with some friends for brunch in the city, or maybe you're trying to get an early start to the day. No matter what the reason, you're in luck when it comes to finding delicious breakfast and brunch spots in Tokyo's Shinjuku, Omotesando, and Shibuya areas.
Here are our top five spots to enjoy a delicious breakfast or brunch in Tokyo.
1. Sarabeth's Shinjuku: Enjoy a Melty Eggs Benedict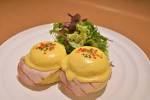 Classic Eggs Benedict
Sarabeth's is a famous breakfast and brunch restaurant with a location located right by Shinjuku Station, inside of the shopping mall Lumine 2.
Sarabeth's makes an especially delicious Eggs Benedict. The perfectly soft-boiled egg melts to mix deliciously with the ham and soft English muffin below it. The Hollandaise sauce adds just the right touch of flavor, which will leave you impressed with its overall gentle, but satisfying, taste.
Fluffy French Toast
Not to mention, their French toast is full of flavor and has just the right amount of sweetness. Ripe strawberries, cream, butter, and syrup add to the deliciousness of this classic, satisfying dish.
Note: If you are visiting the store before 11:00, please take the escalators located behind the JR South Gate ticket gate kiosk and enter from the second floor. The shutters in front of the escalators open at 8:30.
2. Clinton Street Baking Company: Have a Comfortable Breakfast on a Terrace
Pancakes with Blueberries
Clinton Street Baking Company is a well-established restaurant with a full menu of satisfying breakfast and brunch options. Pictured above are pancakes with warm maple butter, topped with blueberries and sprinkled with powdered sugar.
The refreshing acidity of the blueberries perfectly compliments the overall sweetness of the pancakes, making for a well-balanced taste. The springy texture is so delicious that you'll end up gobbling down your food. We recommend trying a bite first without adding the maple butter.
Pancakes with Bananas and Walnuts
Diners can also choose pancakes with bananas and walnuts. They are another must - you might find it hard to decide between the two!
3. Bills Omotesando: Savor the World's Best Egg Dish
Scrambled Organic Eggs and Toast
Bills Omotesando is a restaurant in the Omotesando and Harajuku area with a highly-rated breakfast menu. The "world's best egg dish," a claim backed by several international reviews, including from the "New York Times," is found here. It even looks beautiful, with the slightly browned toast and fluffy, soft scrambled organic eggs. Here is where you can taste that real staple breakfast you were seeking.
Pancakes and scrambled eggs may be everyday foods overseas, but those made at Bills are something special. You'll just have to try them and see!
Reservations: Reservations accepted for 15:00 and after. Please make your reservations through phone or through the website.
4. Café Kaila Shibuya: Indulge in a Hearty Hawaiian Breakfast
Café Kaila is originally from Hawaii. If you are planning to visit, then you may want to order Kaila's Pancakes with all the toppings for a fruit-filled late breakfast. Wonderfully filling, the sight of so many strawberries, bananas, caramelized apples, and more adorning your pancakes can seem almost too good to be real.
Kaila's Pancakes (all toppings included)
The whipped cream and rich maple syrup on the side add to the already delectable flavor.
5. BLU JAM CAFE Daikanyama
The menu at BLUE JAM CAFE Daikanyama near Shibuya is one that can satisfy all diners with its variety and options for different dietary needs Started in the Los Angeles area, the restaurant offers brunch and breakfast choices starting at 8:00 until closing time (21:00).
Diners can choose from pancakes, French toast, eggs, omelets, and even Mexican dishes like chilaquiles. There are many Vegetarian, vegan, and gluten-free options on the menu too, making it a great place for breakfast with friend and family.
The dishes here are on the larger side, so bring a large appetite to enjoy the restaurant.

Grab Breakfast in Tokyo
These breakfast and brunch spots in Tokyo offer energizing dishes full of flavor great for the beginning of a full day. Restaurants operating early in Tokyo and Japan can be difficult to find, but if you are planning on sightseeing and shopping in Shinjuku, Omotesando, and Shibuya, you can enjoy an early start.

Model: Mari Asai @v_Maari_v
Photography: Takuro Komatsuzaki @takurokoma


The information presented in this article is based on the time it was written. Note that there may be changes in the merchandise, services, and prices that have occurred after this article was published. Please contact the facility or facilities in this article directly before visiting.