The Delights Of Choosing Japanese Stationery At Tokyu Hands
This article features Ms. Misato Kan, a popular stationery sommelier, and her top choices for stationery products from Tokyu Hands. Tokyu Hands has an incredible selection of fun and functional stationery items to choose from.
Tokyu Hands has a large assortment of objects which attract a wide range of customers.
In this post, we will interview Ms.Misato Kan, who works as a "stationery sommelier". Ms. Kan often appears on stage at stationery related media and events, and introduces "stationery that make our days exciting" through her website.
Stationery Sommelier Misato Kan
A stationery specialist, Ms. Kan is also a fan of Tokyu Hands. By asking her about the appealing points of Tokyu Hands, we came to know new aspects of Tokyu Hands.
"When I'm Feeling Blue, Tokyu Hands Always Cheers Me Up"
When do you usually go to Tokyu Hands?
Kan Misato (Kan): When I'm feeling blue, I always go to the stationery floor! Just seeing all the stationery makes me happy.
Did you buy anything at Tokyu Hands recently?
Kan: Yes, I bought this "Parallel Pen". It is a fountain pen type calligraphy pen. Calligraphy is the act of writing letters beautifully, using thin and thick strokes. This pen is used for writing greeting cards in Europe.
Product Name: Pilot Parallel Pen
Manual: English, French, German, Spanish, Italian, Japanese
Price: 1200 yen + tax
Kan: Fill the pen with ink and you will be able to write thin and thick strokes like this. Actually, I'm not very good at writing calligraphy (laughs). But it's really fun to write Japanese hiragana characters with it and see how the shape of each letter changes.
Kan: The Parallel Pen comes with a manual for those who want to study calligraphy. The manual is translated into six languages (English, French, German, Spanish, Italian, Japanese), so this pen can be a good present for friends from overseas.
So you can use it also for other purposes than calligraphy! 
Kan: Yes, I think you can use it as you like. Some people use this fountain pen for drawing. There are so many things on the Tokyu Hands stationery floor, and sometimes you could think "Who would use this and for what?". For example bookbinding bond in a jar, bundled string bookmarks… Thinking of how you could use things which you wouldn't normally use, is pretty exciting. I cut the string bookmarks to a just right length and use it as a bookmark for my pocket notebook.
Ms. Kan with the bundled sting bookmarks
Kan: I find myself looking for things that can be used as stationery, even on other floors. For example, I use the beaker and flask I found at the science corner as a pen stand, and the petri dish to put my fountain tips after washing. That is a completely different usage than the original one (laughs). It's very fun to look for thing like these on other floors.
"Low Price but High Quality"
What is the difference between Japanese stationery and products from overseas?
Kan: Japanese stationery is generally low priced but is of high quality. Even a cheap 100 yen ball-point pen will be easy to use, and you will never get defective products such as pens with dried ink. When you buy something in the same price range overseas, that's not always the case. Furthermore, in the case you do get a defective product in Japan, most Japanese stationery makers will investigate the reason behind that fault if you contact them. Moreover, many stationery makers sell refills, so you can use your favorite stationery for a very long time.
Nowadays, the erasable ball-point pen, FRIXION is very popular overseas, isn't it?
Kan: Yes, but Japanese ball-point pens were popular overseas for their high quality even before FRIXION. Expensive stationery is of course of very high quality, but low price items are also wonderful. I actually hope that more people overseas will try low price Japanese stationery.
Do you have any other stationery you would like to recommend to visitors to Japan from Tokyu Hands?
Kan: I would definitely recommend sticky notes. My best pick would be this animal series.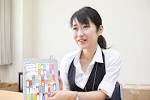 They are so cute!
Kan: They are colorful, with cute animal characters, and are sold at the affordable price of 300 yen. A package is cute in itself, but I gave a present to a friend in New Zealand once by putting all the animal characters on a notebook like this, and giving the notebook itself. My friend was delighted!
Posting sticky notes on a notebook, creating a unique gift.
Product Name: Stick Marker
Price: 320 yen + Tax
Kan: Furthermore, this post it series has just enough sticky adhesive to post them securely but take them off easily. I find the Japanese sticky notes amazing. The quality of the sticky adhesive is really superb. Because there are many variations, going to the sticky notes section is really exciting.
Alright, let's go take a look inside the store.
Kan: Sure!
Swift steps to the stationery floor.
"The Parallel Pen we mentioned before is in the fountain pen corner."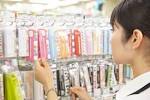 All sorts of colorful sticky notes.
We found some food shaped items in the stationery corner. "They're so real!"
Let's go take a look at the science corner.
"Actually there are many stationery items in the science corner as well. Doesn't this outer space notebook look tempting?"
"These beakers are just right as pen stands."
"I Wish That More People Find the 'Joy to Choose' and the 'Joy to Try Items' Here at Tokyu Hands"
Many visitors from overseas seem to be surprised by just how many things are sold in Tokyu Hands.
Kan: They must be. There are so many things, which are at a low price but are of high quality. Moreover, if there is anything that you want to try out, you will probably be able to if you ask the shop staff. You should definitely try the pens before buying. I hope people will enjoy trying things out.
After going around the shop together, Ms. Kan said: "Tokyu Hands really stirs up my imagination" with a big smile on her face.
"I hope people who are interested in Japanese stationery will come visit Tokyu Hands. You will be able to find the best Japanese stationery for yourself, and the best presents for friends and family."
"I hope visitors from overseas will be able to enjoy the great variety of fabulous Japanese stationary here at Tokyu Hands."
Kan Misato (菅 未里)
Stationery Sommelier.
Her website "STATIONERY RESTAURANT" introduces stationery that will surely make your days feel more exciting. Kan Misato started her career as a stationery section staff member at a major department store, embracing her great passion for stationery. She now works as a buyer and sommelier, appearing in magazines and web media introducing stationery, writing articles and as a photography assistant.
Information
Tokyu Hands Shibuya Branch
Address: Tokyo, Shibuya, Udagawa-cho 12-18
Hours: 10:00-20:30
Closed: None
Wi-Fi: Available on 7A and 5A floors
Credit Cards: Available
Nearest Station: Shibuya Station
Access: Walk straight towards the north from JR Shibuya Station Hachiko Exit. On the left hand you will see Seibu A and B towers. Turn left between them, and go along Inokashira-dori. On the right side, you will see Tokyu Hands ahead of you
Phone: 03-5489-5111
Website: Tokyu Hands Shibuya

The information presented in this article is based on the time it was written. Note that there may be changes in the merchandise, services, and prices that have occurred after this article was published. Please contact the facility or facilities in this article directly before visiting.