Report on Japan Content Showcase 2014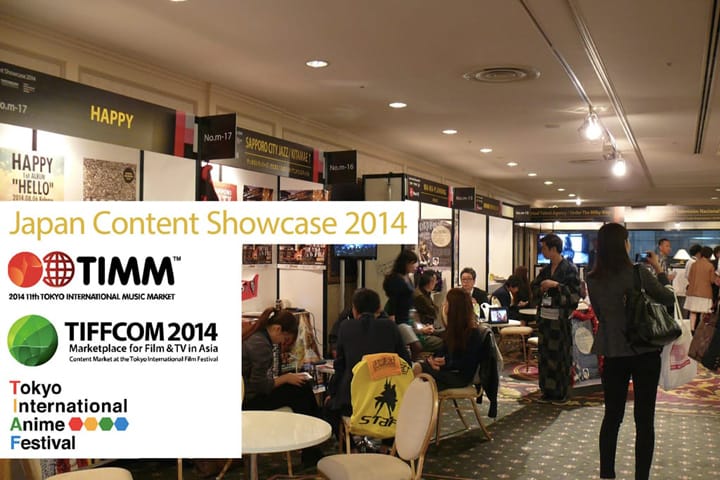 Japan Content Showcase 2014 was held on October 21~23 at Hotel Grand Pacific LE DAIBA in Odaiba.
What it Japan Content Showcase?
Japan Content Showcase is an exhibition that Japanese films, animations, and music as well as Asian films and music were displayed for international audiences. Companies and TV stations set their booths to exhibit their media contents. Many buyers and general public participants come and see the event. Originally, there were three different events for film, music, and animation as TIFFCOM (Market Place for Film and TV in Asia), TIMM (TOKYO International Music Market), and TIAF (TOKYO International Anime Festival). These three events were combined in one as Japan Content Showcase from 2013.
Check out the latest contents at Japan Content Showcase
There were many major media companies at the booth section. And many of the participants are from abroad.
There were also tables beside the booths for buyers who want to talk with the companies. Although there were many people at the venue, it wasn't too crowded and easy to walk around the booths.
This conspicuous booth is TBS that exhibits their films and TV-shows. There was a billboard of film, Lupin and an attraction of a sports entertainment show, SASUKE.
At the booth of Fuji TV, there was a jacket that Takuya Kimura from SMAP wore in his drama, HERO as a main character, Kohei Kuryu.
This is HNK booth. One of the popular contents of HNK is a morning Short TV drama. "Amachan" and "Hanako and Anne" are recent popular shows. There were many posters and brochures set at the booth.
Anime! 35th anniversary of Gundam
At the booth of PONY CANYON, there was a huge poster of "Yuki Yuna is a Hero" that is currently broadcast on TV. It was so big that I could not capture the whole poster!
For the 35th anniversary, Gundam has prepared a special booth and set a big signs of "Gundam Build Fighters " and "Gundam Reconguista in G."
Enthusiastic Gundam fans were eagerly looking at the history of Gundam and a chronological table of Gundam series.
As the tourist trade became active, Japan Content Showcase will definitely be a vehicle for its prosperity.
Information
Japan Content Showcase
Date:Every October for three days
Language:Janapese and English
Website:Japan Content Showcase 2014

The information presented in this article is based on the time it was written. Note that there may be changes in the merchandise, services, and prices that have occurred after this article was published. Please contact the facility or facilities in this article directly before visiting.