A Kyotoite's Recommended Travel Route For Saga And Arashiyama
Visiting Arashiyama and Saga for the first time? Here is a Kyotoite's guide to seeing and getting the most out of your visit!
Have you ever visited Saga (嵯峨) and Arashiyama (嵐山)?
I suppose some have never visited and others have visited, but couldn't see all the tourist spots.
For those, I, born in Kyoto, will introduce to you a recommended route for touring Saga and Arashiyama.
First of all, I will show you the list of places to see and the route to visit them below.
The starting point is Hankyu "Arashiyama station".
Togetsukyo Bridge (渡月橋)
↓
Chikurin (竹林)
↓
Nonomiya jinja Shrine (野宮神社)
↓
Jyoujyakkou-ji Temple (常寂光寺)
↓
Nison-in Temple (二尊院)
↓
Giouji Temple (祇王寺)
↓
Adashino-nenbutsuji Temple (化野念仏寺)
↓
Okouchi-Sanso villa (大河内山荘)
Eight places in total. Considering the time to see them, it takes about 3-4 hours to tour around the places.
First of all, to Togetsukyo Bridge
Now, let's head to Togetsukyo Bridge from Hankyu "Arashiyama station", the starting point.
By the way, it's 6:30am now. Too early for anyone to stand in front of the station.
From this station, just walk along the road to get to Togetsukyo Bridge.
Now we start to see a river on the right-hand side. At this time of this season, the morning sun hasn't risen.
If we keep walking by looking at the river, we start to see Togetsukyo Bridge on the right-hand side.
This is Togetsukyo Bridge; and mountains of Arashiyama you can see from the Bridge. From the mid November, trees start to turn crimson.
From Chikurin to Nonomiya jinja Shrine
After you cross Togetsukyo Bridge, just keep walking to head for Chikurin and Nonomiya ninja Shrine.
Cross the bridge and keep walking straight along the road.
If you keep walking for a few minutes, you start to see a signboard on the left-hand side.
After you find the signboard and a stone pillar, turn left. It's a bit hard to find them, so try to see them carefully.
After you turn left, you can see a straight street. Beyond that point, you can find an entrance to Chikurin.
As I came here early in the morning, nobody was here. Normally, it gets very crowded in the day time, so it is recommended to visit here early in the morning.
When you look up, you feel like you can hear whispers of bamboos. To get to Nonomiya jinja Shrine, just keep walking straight in Chikurin. Very simple.
We arrived. This is Nonomiya jinja Shrine, famous for the god of good match, children, and wisdom.
This shrine is famous as a place where Saiou (a woman chosen from the Imperial family), who works for Ise Shrine on behalf of the Emperor, cleansed herself before heading to Ise.
The gorgeous garden is still there. The atmosphere there is outstanding.
From Jyojyakkou-ji Temple to Nisonin Temple
Now let's head to the next places: Jyoujyakkou-ji Temple, the "No-fence-temple", and Nisonin Temple, famous for two statues of Buddha.
After leaving Nonomiya jinja Shrine, keep walking straight along the road. Please be aware of two corners and a signboard.
Turn left here,
And by keep walking straight on this road, you can see Jyojyakkou-ji Temple right there. Turn right here,
And by keep walking straight, there is Nisonin Temple.
From Giouji Temple to Adashino-nenbutsu Temple
Next places are Giouji Temple from "Tale of the Heike" and Adashino-nenbutsu Temple with Sai no Kawara.
This time again, there are only 2 corners to turn. After leaving Nisonin Temple, keep walking straight.
If you keep walking on this road, you'll see Giouji Temple. Turn right here,
Turn left here,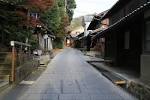 And by keep walking on this gentle upslope,
You arrive at the stairs leading to the entrance of Adashino-nenbutsu Temple.
To get there on foot, it takes approx. 45min. For a round trip, it takes about 1.5 hours. If you walk slowly, it takes less than 2 hours. If you see inside of each places, it takes 3-4 hours.
As there are many shrines and temples on this route, you can enjoy yourself fully. Also you can just walk from the station, so there is no need to pay for transportation expenses. There is also a rickshaw service in Chikurin; if you want to enjoy the atmosphere or you are just curious about rickshaws, it could become a good memory for you to hop on one.
Relax with great view and Matcha
If you get a little tired by walking a lot, I recommend you to drop by Okouchi-Sanso villa.
You can find it by walking straight on the road, which is on the left side of Nonomiya jinja Shrine.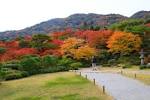 Here, you can enjoy the magnificent view of its garden,
And Matcha green tea (you need to pay for this).
Why don't you relax a bit by looking at the view?
Finally
As a person from Arashiyama, this route is the most recommended one.
On the route, there are thousands of places to see and restaurants. You can enjoy typically-Kyoto meals, Matcha ice cream, dango dumplings and so on.
Come, see, eat and try to enjoy Saga and Arashiyama with full force.

The information presented in this article is based on the time it was written. Note that there may be changes in the merchandise, services, and prices that have occurred after this article was published. Please contact the facility or facilities in this article directly before visiting.