Tamashii Nations Akiba Showroom - A Figure Museum With No Entrance Fee!
The Tamashii Nations Akiba showroom is the official showroom in where Bandai, the maker of Japanese toys, plastic model kits, and so on, showcases a brand of their expanding figures known as Tamashii Nations.
The Tamashii Nations Akiba Showroom is the official showroom where Bandai, the maker of Japanese toys, plastic model kits, and more, showcases a brand of their expanding figures known as 'Tamashii Nations'. This is a space in where you can view the most popular Tamashii Nations' figures for free. You can even take as many photos and videos as you'd like.
When exiting Akihabara Station through the Electric Town Exit, on your left, you'll immediately see the east west passageway that connects to the Tsukuba Express Line. The Tamashii Nations Akiba Showroom is inside this passageway.
Anyone Can Enter!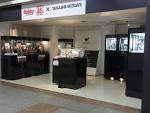 Pictured above is the free showroom. This is one showroom that isn't partitioned by an entrance, so you can see the figures that are on display from the outside. This is an open space that you can enter from pretty much anywhere.
Recently, there have also been collaborative exhibitions going on with Hobby Japan, a monthly hobby magazine.
Past Exhibitions
In the past, as pictured below, there have been a variety of different exhibitions.
Pictured above is one of the most elaborate stages that was set up of all their past exhibitions. This was an exhibition for a line of figures based upon the Kamen Rider TV series - it was a smash hit that drew hundreds of Kamen Rider fans!
Pictured above are events that were held for series' such as "Macross" and "Fafner in the Azure".
Here are Japanese cartoons that were a big hit with ladies: "TIGER & BUNNY" and "Kuroko's Basketball".
Once You've Seen All the Exhibits
At the Tamashii Nations Akiba Showroom there's a notebook where you can write a message of moral support to the creators. If there's a particular display that you like, be sure to leave them a message.
Fully Appreciating the Figurines
No matter how good a photograph is, it just can't capture the exceptional detail and care that goes into each minute part during the assembly of a figurine or model. By carefully studying each work in this free showroom, you're sure to have a new appreciation for the care taken by each creator!
Why not visit the free Tamashii Nations Akiba Showroom and see which new works are on display during your trip?
Information
Tamashii Nations Akiba Showroom
Address: Tokyo, Chiyoda, Kanda, Sakuma, 1-6-1
Hours: weekdays 12:00-20:00, weekends/holidays 10:00-20:00
Nearest Station: Akihabara Station, various lines
Access: 1 minute walk from the Electric Town Exit of Akihabara Station
Website: http://tamashii.jp/akiba_sr/?wovn=en

The information presented in this article is based on the time it was written. Note that there may be changes in the merchandise, services, and prices that have occurred after this article was published. Please contact the facility or facilities in this article directly before visiting.