Hakuryukan: a Secret Garden in Kyoto
The Hakuryukan (white dragon garden) is a nearly secret garden in Kyoto that only admits 100 visitors per day. Let's explore it's beauty together!
Have you ever heard of Kyoto's Hakuryuen?
There probably aren't many who have heard this name before. And that may be a matter of course, as it was only opened in 2012. But what's amazing about it is its exclusivity: it only opens for a month and a half for the fresh green of spring, and a month for the foliage in November. Not only that, but every opening is limited to only 100 participants per day.
Despite the massive amount of tourists in Kyoto every autumn (said to be over five million), the event keeps its limit at 100. Why enforce such a strict rule? We've dedicated this article to asking why.
Why 100 Visitors in 1 Day?
You'll likely begin to get a feeling for why the moment you set foot on the premisses.
This stone pillar for instance,
 
 
or the stairs,
 
 
or in the spaces between the stairs,
 
 
even the cobbled roads...
 
The secret to the limit is none other than moss. Normally, moss will not grow over such a wide area, and for it to grow so completely over an entire surface is very rare. Kyoto houses several Japanese gardens, but the chance to see something like this is hard to find.
In other words, the purpose of the 100 person rule is to help protect and raise the moss.
Hakuryuen was actually designed and created fifty years before it opened. Until then, gardeners would look after it daily, and created it slowly with care. You can feel their years of effort and care while on the grounds.
 
Moegi and Vermillion
The moss is wonderful, but the foliage is also a must-see. Here it's better to show rather than tell.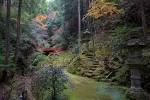 Things to Keep in Mind
The lineup at 8am
 
While viewing at Hakuryuen you will need to keep two things in mind. Specifically, photography and tickets.
With the 100 person limit, tickets are hard to come by. How do you get them?
①They are only sold at the information center at Eizan Dentetsu's Demachi Yanagi Station
②Only one is available per customer.
③Tickets are only available for that day.
The tickets are called "Hakuryuen Special Viewing Tickets" (白龍園特別観覧きっぷ). The thing you should pay the most attention to is the fact that you do not buy them at Hakuryuen, you buy them at the Demachi Yanagi Station.
They start selling them at 9am, but often sell out the moment they become available. You'll have to line up first thing in the morning if you want them. You will want to be in line at least an hour beforehand. If you can, its best to get there even sooner than that.
The next point is photography. Taking pictures is generally allowed, but the shrine at the back of the garden is not to be photographed. Camera stands are also banned. Please be careful to follow the rules while you're enjoying the park.
Where is Hakuryuen?
Next we'll explain where the park is, and how you get there. The nearest station is Eizan Dentetsu's "Ninose" Station. It's about an hour from Kyoto Station, and roughly 30 minutes from Keihan's Gionshijo Station.
There is only one gate. You can get there by passing through it and walk straight.
 
 
When you go straight, you'll run into a split in the road. Turn right. When the park is open, there are signs to help you stay on path.
 
 
And if you continue on this road,
 
 
you reach your destination. It takes about 5 minutes. The close proximity of the station makes for an easy journey.
Say goodbye to the crowds
Kyoto is home to many places famous for their foliage. But with fame comes crowds
"I want to enjoy the scenery in peace"
If you've ever felt this way, Hakuryuen is the place you want to be.
With carefully grown moss and burning red foliage, free to be enjoyed in peace and quiet, there's no place many would rather be.
This season's events are already over, but next season's event is already set in motion. The contrast of the green verdure of the moss and the foliage is wonderful.
At the foot of Kyoto's mountain, Hakuryuen awaits.
Information
Hakuryuen
Address: Kyoto-fu, Kyoto-shi, Sakyou-ku, Kurama, Ninose-cho 106
Phone:075-702-8111(Eizan Densha Railroad Sales Division 9:00~17:00, except for Sat/Sun and national holidays)
2014's Fall Opening: 11/1~11/30 (the events for 2014 are all finished. For upcoming events please view the official webpage.)
Price: 2000 yen ("Hakuryuen Special Viewing Ticket", which is a combination of 1 day's worth of train fare as well as the entrance fee. The train fare is good for the whole day, and allows you the freedom to ride as you wish.)
Nearest Station: Eizandententsu "Ninose" Station
Access: Straight out of the gates at the station, turn right, and keep heading in that direction for 5 minutes.
Official Webpage: http://www.aono-kids.com/index.html

The information presented in this article is based on the time it was written. Note that there may be changes in the merchandise, services, and prices that have occurred after this article was published. Please contact the facility or facilities in this article directly before visiting.