Tokyu Hands x Kyara-ben! Arisa Shirai And Her Adorable Lunch Boxes
Bento boxes are an important of the Japanese lunch experience, and kyara-ben, or character bentos are one way in which cooks get to show their love and creativity in the kitchen. Arisa Shirai shows us how thanks to Tokyu Hands!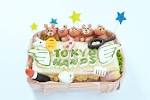 For many people, the process of making your lunch for school or work the next day follows a standard pattern. But in Japan, making abento for yourself or a family member is a labor of love, as these lunch boxes are meant to be decorated; a feast for the eyes and stomach.
In recent years, many people have taken to making kyara-ben or character-based bentos. Today, we traveled to Tokyu Hands Shinjuku with Arisa Shirai, who has won several kyara-ben competitions and teaches her own bento-design classes. We're going to look at some of the goods that we need to make these decorative lunches ourselves.
Finding Bento Goods at Tokyu Hands Shinjuku!
The entrance of Tokyu Hands Shinjuku, right in front of the South Exit of Shinjuku station."I'm sure we'll find a lot of great stuff!" says Ms.Shirai.
On the 4F of Tokyu Hands Shinjuku we found the bento section right away. I was rather surprised to see just how many different products they had.
A beautiful and airtight bento box with a traditional cherry blossom design.
Good quality Thermos bottles with high heat insulating effects.
Lovely cocktail sticks which would make food look even cuter.
And these are...?
Have you figured out what they are for? We will use them later, so keep an eye out for them!
"I want to buy all of those Bento goods!" says Ms.Shirai. Not only does Tokyu Hands have a wide selection of bento related goods, they also have various kitchen products to choose from as well. Today, Ms. Shirai purchased the following:
A place mat (460 yen +tax)
Nico Nico Punching trio (1410 yen +tax)
Chuboos! scissors and tweezers set (900 yen +tax)
Leaf cocktail sticks (240 yen +tax)
Character sauce container (300 yen +tax)
Stainless steel mug (1980 yen +tax)
Colour lunch box (1000 yen +tax)
Lancia lacquered chopsticks and case (navy) (800 yen +tax)
Lettuce designed dish container (189 yen +tax)
Heart cocktail sticks (200 yen +tax)
Now, Let's Make a Kyara-ben!
By using what we bought at Tokyu Hands, we will tell you how to arrange familiar ingredients.
Cherry Tomatoes and Heart-shaped Wieners
First, pierce the mini tomatoes with the leaf cocktail sticks, then cut the mini wieners in half, and twist them into place, holding them steady with fried pasta.
Cherries and heart are completed!
A Flower Made from an Omelette
After making a thin Japanese style omelette with potato starch, fold it and cut one side of the omelette with scissors.
After finishing the cuts, start rolling the omelette.
Lastly, pierce the omelet with fried pasta to hold it in place!
Your flower is complete!
Characters Made from Eggs
These are quails eggs that have been colored with curry powder and bits of carrot.
Scoop out the surface of the eggs a bit and then put the pieces of the carrots inside like this.
With the point of a toothpick dipped in mayonnaise, stick tiny circles of seaweed to the surface of the eggs above the carrots.
There, done! Now you've made Piyo-chan, a character invented by Ms. Shirai.
Animal-shaped Rice
Now, we use the mysterious tool we purchased in advance. Put the seaweed in it and push down hard.
Click! The seaweed is cut into this shape. Now you know what this tool is?
After putting these shapes on the rounded rice, we've made a panda face!
Now it's Time to Start Filling the Bento
Shape rice with dried bonito flakes into a bear shape and pierce the Piyo-chans with the cute cocktail sticks. Then you can add the other ingredients we made as you see fit.
And once you've put your thermos of hot green tea and some chopsticks on the placemat, your first kyara-ben is complete!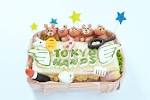 This time, Ms. Shirai invented and prepared a special Tokyu Hands Kyara-ben for everyone!
The words Tokyu Hands, are made from a fish cake, while some of the many items you can find at Tokyu Hands have been reproduced using a variety of different ingredients. Isn't that amazing?
Interview with Ms. Shirai
Ms.Shirai makes such cute bentos, so we just had to ask her about kyara-ben and Japanese bentos.
First of all, why did you start making kyara-ben?
Arisa Shirai: At first, I started making kyara-ben to cheer up my father, who worked very hard. And seeing how happy he was because of them made me feel really great too!
What do you keep in mind when you are making your kyara-ben?
Shirai: I always try to make bento that would make myself and people who see my bento happy. I want people to feel appreciative of the ingredients and their variety when looking at it too. Also, I always use safe ingredients which do not contain artificial coloring in my cooking.
Why do you decorate bento, knowing that they will just be eaten?
Shirai: For me, the bento is a form of communication. Even if you can't tell your message directly to a person, the person would be able to feel what you want to express through the care you put into the bento itself. Perhaps, the culture of kyara-ben or food decoration has developed in Japan because Japanese people are not very good at verbal communication.
Any message for those who want to make kyara-ben in the future?
Shirai:Just try to have fun. Don't try to make everything perfect from the beginning. Start with what you can do. That's important. By arranging bento, it is crucial to increase your gratitude and interest towards "food" itself.
Arisa Shirai
A university student, she started cooking when she entered the university. She has won a TV program's kyara-ben contest twice, and has won several competitions in sweets decoration and party food categories. In the 2014 Obento World Competition, she placed second. At the moment, while holding her Kyara-ben classes, she provides a catering service and introduces her business in mass media. She aims at making good-looking, tasty and heart-warming dishes for everyone.
Ms. Shirai's Cooking Blog
To learn more about Tokyu Hands, please check out our special feature and read the Complete Guide To TOKYU HANDS too.
Information
Tokyu Hands Shinjuku Branch
Address: Tokyo, Shibuya, Sendagaya 5-24-2, Times Square Building 2-8F
Hours: 10:00-21:00
Closed: None
Wi-Fi: -
Credit Cards: Available
Nearest Station: Shinjuku Station
Access: Take the South Exit from JR Shinjuku Station, walk straight towards Takashimaya Times Square, cross the bridge on your left and the entrance will be right in front of you
Phone: 03-5489-5111
Website: Tokyu Hands Shinjuku