Tokyo Fashion Yearbook -January-
The weather of Tokyo in January is: Average maximum temperature 10.6℃/minimum temperature 2.5℃/humidity 45%/ rainfall 24.5mm (Data in 2014) Although December is cold enough, January is even colder and drier. You definitely need to wear a coat and warm
Are you wondering what to wear to go to Tokyo?
Every month, MATCHA conducts shooting at Yoyogi Park to check Tokyoites' clothes. This time is the 3rd issue of Tokyo Fashion Yearbook --- Tokyo Fashion in January!
You definitely need protections against cold!
The weather of Tokyo in January is:
Average maximum temperature 10.6℃/minimum temperature 2.5℃/humidity 45%/ rainfall 24.5mm (Data in 2014)
Although December is cold enough, January is even colder and drier.
You definitely need to wear a coat and warm up hands, legs and a neck.
Today's shooting date and weather are following:
Date : 17/01/2015 (Sat) 11:30-13:00
Weather: cloudy
Maximum / Minimum temperature : 11.6℃/3.4℃

Location: Yoyogi Park and Meiji Jingu Shrine in Shibuya-ku, Tokyo
Temperature while shooting : 11℃
Although it was very cold and windy on this day, many people were taking a walk and working out.
Tokyo Fashion in January
(Ms.Y and Mr.H)
They were taking a walk.
Ms.Y on the left wore a down jacket under the mountain parka and the muffler around her neck. However, she regretted that she should have brought gloves too.
Mr.H on the right wore a sweatshirt under his long coat. Moreover, he wore gloves and the knitted hat to keep himself warm.
(the Gs )
This family visited Yoyogi Park for the first time this year.
As their son can walk now, they chose clothes that he can soil.
Mr.G wore an undershirt, shirt and sweater in his coat.
Mrs.G wore an undershirt, shirt and knitwear in her coat. She even wore a muffler around her neck.
Their son wore tights under the trousers.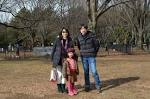 They came to the park for a kite-flying event.
They all wore down jackets to keep themselves warm.
They descided to wear turtleneck clothes or knitted sweaters to protect themselves against cold. The lady's ugg boots look so warm.
(The Ks)
Yoyogi Park is the walking course for this couple.
They put on turtleneck sweaters and down jackets because they heard the temperature would be 10℃. They brought mufflers and gloves too.
Mrs.K put disposable heating packs in her shoes to keep her feet warm.
They came for a dog run.
They wore proper cold-protection clothes so that they wouldn't feel cold while looking at their dog.
This gentle man wore a turtleneck shirt and corduroy shirt under his coat. The lady wore a T-shirt and flannel underwear under her coat.
(The As)
They came to Meiji Jingu Shrine for their first shrine visit.
The gentle man wore a neck warmer and the lady wore a turtleneck fleece and muffler.
What should I wear in January?
So, it is definitely cold in January. Many people seem to have worn down jackets and long coats.
You need a warm coat. You can wear layers of clothes and knitted sweater under your coat. Also, if you warm up your hands and legs, your whole body feels warm. You can wear a turtleneck clothes, muffler and gloves. It might be recommended to put on thick or wool-made socks.
You can also use disposable hand warmers. As they are not too big, you can put them in your pocket or put them on your shirt.
The hours of sunlight in January in Tokyo are approx.6 hours; the temperature starts to be low from 15:00. It gets dark between 16:30- 17:00. If you go out in the afternoon, try to put on more clothes. If you need to stay outside for a long time, it is recommended to bring a jacket, muffler, gloves, knitted hat and so on.
In rainy and windy days, the sensory temperature goes down. On the shooting day, because the wind was blowing at 6.7 meters per second, we felt colder than the actual temperature (11℃). When you watch a weather forecast, please check the wind velocity as well!
Please keep yourself warm and enjoy the winter in Tokyo!