"Taiko no Tatsujin!" The Japanese Drumming Game
Many people think games are for one person to play by themselves on a T.V. or smartphone.  Therefore, I would like to introduce you to Game Centers!
Game Centers have big screens, loud volume, and a unique atmosphere!  One of the games that everyone enjoys (children to adults) is the "Taiko no Tatsujin."
Warming Up the Festival! Wadaiko (Japanese drum)
What is your image of a Japanese festival?
The first few things that come up to my mind are Yukatas, scooping goldfish, cotton candy, and wadaiko.  Wadaiko is an important factor in a Japanese festival because it heats up and makes the festival fun!  You will find men wearing a headband, playing these drums at Japanese festivals!
[caption id="attachment_2495" align="aligncenter" width="490"]

Photo: Japan Taiko Foundation
The pleasant rhythm and the powerful appearance.
You'll definitely want to bang on or even touch these drums, but there usually isn't much of a chance.  Release your stress, play along to music, or play it with the ones you love.
This is when "Taiko no Tatsujin" will make your dreams come true.
What is "Taiko no Tatsujin"?
"Taiko no Tatsujin" is a game where you hit the drum that is set in front of the screen.  It is a music and rhythm game.
There are many songs that are divided by genre into eight different folders.  The eight genres includes J-POP, anime, vocaloid, classic, game music, and Namko Original.
The newest version of Taiko no Tatsujin 14 includes 175 songs!  You can play different songs every time!
Challenge Yourself with Hidden Command!
The basic rule of how to play the game is to hit the drum when you see a musical note to the rhythm.  When you see a red one, hit the middle.  When you see a blue one, hit the side.
After you choose a song, choose the level.  There are three levels; "easy," "normal," and "difficult."  Try hitting the side of the drum for "difficult" and...?
There it is!  The hidden command, "Oni!" (level above difficult)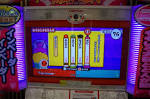 A Game Families Can Play Together!
If you choose a song that can be supported by your father or your mother, the parent and child can play using each drums with a cost for only one person.
As you can see, Taiko no Tatsujin can be played by a beginner to pro.  If you come to Japan with your family, try playing it with your parents!
Who Can Get Higher Score?  The Battle Starts NOW!
There are battles where confident players battle each other.  Not only the score is important in this game, but the amount of times you can hit the drum in a certain time also counts.

The amount of hits you can make in one second.  Not possible for a human being... You'll never know the maximum number of hits you make, but if you try, your score will definitely increase!

So, put your soul into that drum stick and lets start hitting!

The information presented in this article is based on the time it was written. Note that there may be changes in the merchandise, services, and prices that have occurred after this article was published. Please contact the facility or facilities in this article directly before visiting.