KitKat Mint, Peach Mint, And Mint Yogurt - Summer Limited Treats
Mint-flavored KitKats are part of the summer sweets line-up in Japan every year. This year they even come in two variations infused with real powdered rum!
KitKat's summer releases over the last couple of years have always included limited edition mint versions. This year KitKat has announced even two mint KitKat versions to cater to a larger audience. Both of them will be part of their Adult Sweets PREMIUM line just like last year.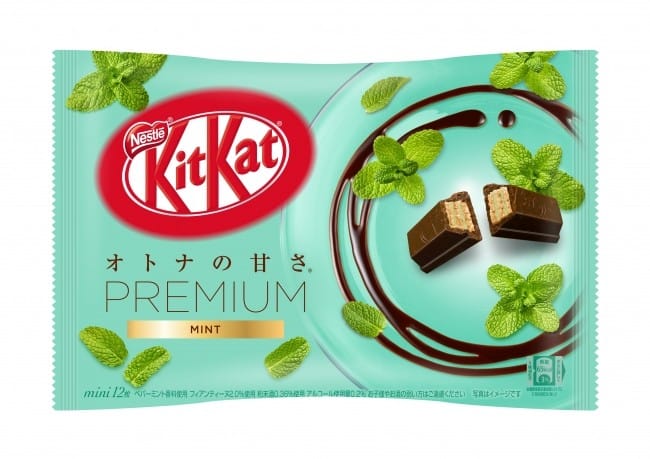 The first version is a remake of last year's KitKat PREMIUM MINT. Dark chocolate covers crispy wafers with a mint-flavored, mint-colored cream filling.
The cream of the 2019 KitKat mint is infused with real powdered rum that gives it an interesting edge. While last year's mint KitKat also included a small percentage of rum (the alcohol percentage was 0.11% to be exact), the 2019 version increased its alcohol percentage to 0.2%.
The KitKat PREMIUM PEACH MINT is new to the KitKat family. It has a base of wafers filled with rum infused mint cream as well. However, the wafers are covered in a peach flavored white chocolate instead of the usual dark chocolate. This provides an unusual flavor experience.
KitKat PREMIUM PEACH MINT was invented for individuals who would usually not gravitate towards mint chocolate. The mint just gives the fruity chocolate a refreshing aftertaste and is not the main flavor as it is in the KitKat PREMIUM MINT.
Both flavors are officially available since May 13th, 2019, and can be found in a selection of Japanese supermarkets and popular souvenir stores like Don Quijote. A bag of twelve KitKat minis costs about 600 yen. You will also be able to find the KitKat PREMIUM MINT in a box of three minis at Japanese convenience stores for about 150 yen.
Don Quijote Exclusive - KitKat MINT YOGURT
KitKat has also collaborated with the popular Japanese store Don Quijote to bring you an exclusive KitKat MINT YOGURT. This special KitKat offers the refreshing taste of mint and the tart taste of yogurt combined in creamy white chocolate. The present box with 12 mini MINT YOGURT KitKat is only available in selected Don Quijote stores for 800 yen plus tax.
KitKat MINT YOGURT does not contain any alcohol so children can enjoy as well.